World War I Centennial: Events and Exhibits
The National Archives commemorates the 100th anniversary of the First World War. Explore the experiences of Americans during this worldwide conflict through exhibits and events or visit our World War I portal page for primary source material.
Prologue Magazine
In Prologue magazine, read articles about World War I drawn from National Archives records. 
News
New App for World War I Images
We've launched Remembering WWI, an iPad and Android app for exploring, collaborating, and engaging with our extensive collection of WWI photographs and moving images. The app is now available via iTunes and in the Google Play Store.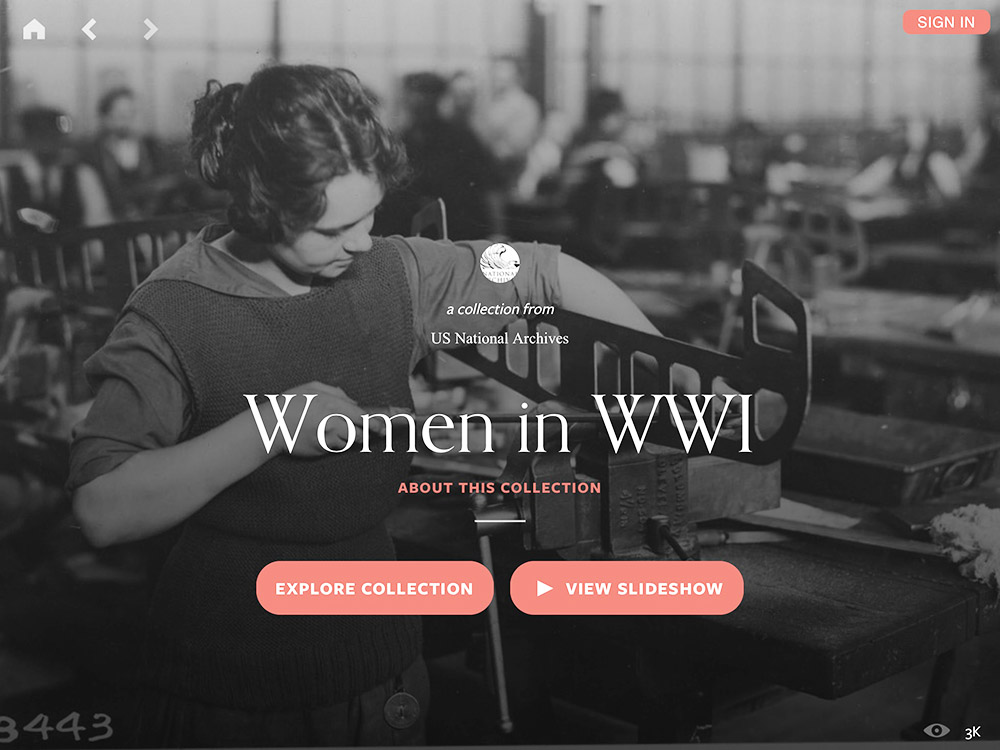 World War I Social Media Day—April 11
The National Archives will be participating in the World War I Social Media Day on April 11, 2017, hosted by the Smithsonian's National Museum of American History. Museums, archives, and other educational institutions around the world will share a day of social media activity focused on #WorldWar1 history.
Facebook
World War I in Photos: A Peek inside the Special Media Research Room
10:30 a.m.—Military historian and archivist Mitchell Yockelson showcases his favorite photographs from the war and answers your questions.
National Archives on Facebook
Facebook Live with the National Archives at New York City: Online resources for World War I Military Records
2 p.m.—Tune in to Facebook Live for a recap of our Finding Family Genealogy Series, which will be discussing online resources for veterans and military records related to World War I.
National Archives at New York City on Facebook
Twitter
​Q&A: U.S. Presidents who served during World War I
11 a.m.—Join archivists from the Presidential Libraries to learn how Presidents Hoover, Franklin D. Roosevelt, Truman, and Eisenhower served during the war.
Presidential Libraries: @OurPresidents, @HooverPresLib, @FDRLibrary, @TrumanLibrary, @IkeLibrary
Digital Catalog
Tagging mission: World War I posters
All day—Become a citizen archivist and join us to help "tag" World War I posters. By adding keywords of details and features found on the poster in our catalog, you can help make them more accessible to researchers, students, and the public. Educators and classroom teachers, this is a great way to get students involved in doing American history! New to tagging? Get started.
Transcription mission: Fire and Orientation notes by Harry S. Truman
All day—Calling all military history buffs! Help us to transcribe Harry S. Truman's handwritten notes that he took during his training to learn to fire the French 75 millimeter guns that his artillery unit used while in France. Learn about the future President's experience during the war. Get started.
Events
Washington, DC
Thursday, April 13, at 7 p.m., National Archives Building. Panel discussion: 100 Years: World War I and The Weight of Sacrifice
Tuesday, April 25, at noon, National Archives Building. Author lecture: The Hello Girls: America's First Women Soldiers
Thursday, May 4, at 2 p.m., National Archives Building. Lecture: African American Soldiers in the Great War Through Photographs
Exhibits
Washington, DC
The Museum at the National Archives Building in Washington, DC, will host several temporary exhibits.
Rubenstein Gallery: The Espionage Act of  1917 (June 15–September 13, 2017)
East Rotunda Gallery: 
The 100th Anniversary of Jeannette Rankin becomes First Congresswoman (January 26–April 3, 2017)

Declaration of War by the United States on April 6, 1917 (April 4–May 3, 2017)
Selective Service Act & Draft Registration (May 4–June 7, 2017)
World War I footage digitized through anonymous donor (July 27–September 27, 2017)
Traveling Exhibits
"Over Here: Americans at Home in World War I"
2017
January 24–March 16:​ Florida Historic Capitol Museum, Tallahassee, F​lorida​
April 5–May 20:​ Atkins-Johnson Farm & Museum, Gladstone, M​issouri​
September 1–​October 20:​ Hickory Hill​,​ Thomson, Georgia
November 10–January 7, 2018​:​ West Baton Rouge Museum,​ Baton Rouge, L​ouisiana
2018
January 24–March 16:​ Mari Sandoz High Plains Heritage Center,​ Chadron, Nebraska
June 16–August 11:​ Fairfax Museum & Visitor Center,​ Fairfax, Virginia
September 1–October 20:​ Mendocino County Museum​, Willits, California
November 10–January 7:​ Oaklawn Public Library,​ Oaklawn, I​llinois
2019January 24–March 16:​ Oaklawn Public Library,​ Oaklawn, I​llinois
"Over There: Americans Abroad in World War I"