NHPRC News - September 2009
NHPRC News
September 2009
---
Inside the Commission
SAA Distinguished Service Award
At its annual meeting on August 14 in Austin, Texas, the Society of American Archivists awarded the 2009 Distinguished Service Award to the National Historical Publications and Records Commission.
Established in 1964, the SAA award recognizes an archival institution, education program, nonprofit organization, or governmental organization that has provided outstanding public service and has made an exemplary contribution to the archival profession.
"The NHPRC records grant program has arguably done more to advance our nation's archives and records programs and the archival profession than any other program or organization," the SAA noted. The NHPRC "supports the application of strategic, analytical thinking to the management of historical records, and it encourages the archives profession to develop a coordinated vision and standardized practices."
Read the Press Release.
Upcoming Conferences and Meetings
Executive Director Kathleen Williams and Publications Director Timothy Connelly will be attending the annual meeting of the Association for Documentary Editing at the Abraham Lincoln Library in Springfield, IL on October 15-17. Director for State Programs Daniel Stokes will be attending the Tribal Archives, Libraries and Museum Conference in Portland, OR on October 19-22.
The next meeting of the National Historical Publications and Records Commission is scheduled for November 20, 2009 at the National Archives in Washington, DC.
October is Archives Month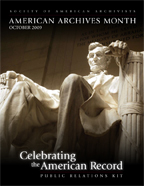 American Archives Month is celebrated every October-along with National History Day-and archives and schools across the country are joining in this effort to to raise awareness about the value of archives and archivists. For more information on how you can participate, visit the Society of American Archivists website. In Washington, DC, the 2009 Archives Fair will be held at the National Archives (downtown facility) on Wednesday, October 7th from 11 a.m. to 3 p.m. Daniel Stokes, Director for State Programs, will be manning a booth at the Fair, with information on the grants programs at the NHPRC.
Sadly, on July 29, 2009, Stuart Rochester, Office of the Secretary of Defense Historian, died after a decade-long battle with melanoma. Dr. Rochester, who had been appointed to the Commission in March 2009 as representative from the State Department, was 63. His 1998 book, Honor Bound: American Prisoners of War in Southeast Asia, 1961-1973, co-written with Frederick Kiley, is considered the definitive account of the story of hundreds of American captives, among them future Senator John McCain (R-AZ), former Alabama Republican Senator Jeremiah Denton and Medal of Honor recipients George "Bud" Day and Humbert "Rocky" Versace. Dr. Rochester served with the Pentagon Historical Office for nearly 30 years, becoming its deputy historian in 1987 and chief historian in 2008. Dr. Rochester's books included Takeoff at Mid-Century: Federal Civil Aviation Policy in the Eisenhower Years (1976) and American Liberal Disillusionment: In the Wake of World War I (1977).
---
Grant Deadlines
The following Grant opportunities are currently available online: