NHPRC News
June 2022
Inside the Commission
National Archives Awards $4.8 Million in Grants for Documentary Editing and Archival Projects
Acting Archivist of the United States Debra Steidel Wall has awarded 37 grants totaling $4,805,764 for projects in 19 states and Puerto Rico to improve public access to historical records. The National Archives grants program is carried out through the National Historical Publications and Records Commission (NHPRC).
A complete list of new grants is available online.

Grants went to 17 documentary editing projects to publish the papers of key American figures and movements, including Jane Addams, George Washington, Walt Whitman, and Frederick Douglass. Three new projects were funded by the NHPRC for the first time:
Collected Papers of Albert Einstein, scientist and humanitarian
Papers of William Short (1759-1849) diplomat, financier, and philanthropist
Chinese American WWII Veterans Online Resource, drawn from the records of 22,000 Chinese and Chinese Americans who served in the United States military.
Five grants went to projects to increase public engagement with historical records:
Curriculum development for the Last Seen: Finding Family after Slavery project that aims to publish historical ads placed in newspapers across the United States by formerly enslaved people searching for family members and loved ones after emancipation.
Alaska's See Stories for teacher training in using archival materials that documents the history of enslavement of the Indigenous People of Alaska.
Hunter College's Puerto Rican Heritage Cultural Ambassadors, a free self-paced, multimedia online course on Puerto Rican history and culture based on archival holdings.
A collaborative project for the public television series The Future of America's Past, focused on engaging grade 6-12 teachers and their students in exploring American history and geography through digital humanities projects.
A series of augmented reality walking tours centered around the history and archives of Chinese American heritage in San Francisco and Northern California
Public access to historical records is the focus of 15 projects:
The papers of archaeologist Edgar Hewett at the Museum of New Mexico
Columbia University Documenting COVID-19 online repository
Virginia Tech's Archives of American Aerospace Exploration
Southern Mississippi University collections related to children's literature, women, people of color, and politics
Illinois Supreme Court case files from 1818 to 1865
The papers of archaeologist Joe Ben Wheat at the University of Colorado
Collections at the Jewish Theological Seminary of America
Records of Alternate ROOTS, a regional arts service organization, from 1975 to 2017
Records of the Los Angeles Free Press, a leading underground newspaper of the 1960s
Papers of Puerto Rico Governor Sila M. Calderon (2001-2005)
Records documenting Soviet Jewry at the American Jewish Historical Society
Robert Martin and Associates Collection (1920-2013) from one of the county's longest-serving civil engineering firms
Arizona business filings for the period 1912-1980
New York City's Regional Plan Association records from the 1960s to1980s
Case files from the records of the B&O Railroad Relief Department.
NHPRC Executive Director Christopher Eck presented the grant applications and policy issues to the full Commission. Acting Archivist of the United States Debra Steidel Wall is the Chair of the Commission. Established in 1934, the NHPRC awards grants for preserving, publishing, and providing access to historical documents.
---
Debra Steidel Wall named Acting Archivist of the United States
Debra Steidel Wall joined the National Archives in 1991 as an archivist trainee with a specialty in film. She served as the agency's Chief of Staff from 2008 to 2011 and was appointed Deputy Archivist of the United States in July 2011. Debra became Acting Archivist of the United States in May 2022 upon the retirement of Archivist of the United States David S. Ferriero. She also serves as the Acting Chair of the National Historical Publications and Records Commission.
Learn more about Debra's career at the National Archives at https://go.usa.gov/xumkq
---
Grant Deadlines
For projects that ensure online public discovery and use of historical records collections.
Final Deadline: October 8, 2022
For projects that encourage public engagement with historical records.
Final Deadline: October 8, 2022
For projects to publish documentary editions of historical records.
Final Deadline: October 8, 2022
---
News from the Field
Lincoln Memorial Centenary
One hundred years ago, on May 30, 1922, the Lincoln Memorial was dedicated in a public ceremony that included a number of notable figures: the President of Tuskegee Institute, Dr. Robert Moton; Chief Justice and former President William Howard Taft; President Warren G. Harding; and Abraham Lincoln's son, Robert Todd Lincoln, who was also a former secretary of war and ambassador to Great Britain. The audience of over 50,000 people included Civil War veterans from both North and South, and the ceremony was broadcast on radio across the nation.
The National Archives has a great deal of material--including a silent film--related to the dedication, and you should read this blog by Audrey Amidon on the Unwritten History blog. Among the many images is this tribute by cartoonist Clifford Berryman commemorating Memorial Day with Uncle Sam carrying a wreath for the dedication of the newly completed memorial for Abraham Lincoln.
An NHPRC grant to the Ohio History Connection is processing the papers of Warren Harding, and they have an interesting take on the advent of radio and how it changed public perceptions of politicians and statesmen. You can read all about it at https://www.ohiohistory.org/hearing-president-harding/
And you can hear President Harding's speech on the "American Soldier" as he accepted the Republican Presidential nomination, June 12, 1920: https://www.loc.gov/item/2004650661/
---
Infiltrating the KKK in Reconstruction Mississippi
With support from the NHPRC, the Civil War & Reconstruction Governors of Mississippi (CWRGM) project is creating access to a collection of documents that will trace the history of Mississippi during the war and its aftermath.
In a blog post for the project, Lucas Somers sets the stage for one of the more compelling stories in the collection: the increased role of African Americans in the political life (shown here is James D. Lynch who became the first African American Secretary of State of Mississippi in 1869), and the backlash against such power through the rise of the Ku Klux Klan, that attacked and threatened formerly enslaved people and their allies.
"By the time Mississippi native James Lusk Alcorn became the first elected Republican Governor in Mississippi in March 1870, white vigilante violence had become a serious threat to the Black constituents upon whom his election relied. To address this, Alcorn organized a small group of detectives known as the Mississippi Secret Service Bureau, appointed a man named Lewis M. Hall to serve as its leader, and tasked them with investigating the KKK's terror campaign throughout the state. Concurrently, the federal government began enacting its own plans for combatting white violence throughout the South with the Enforcement Acts."
One of those detectives was John J. Gainey, and you can read his undercover report on how he infiltrated the Mississippi KKK at https://cwrgmblog.org/governor-alcorns-secret-service-infiltrates-the-ku-klux-klan-part-1
---
Japanese American Digitization Project
An NHPRC grant to California State University, Dominguez Hills is supporting a project to digitize and make accessible 10,400 archival records relating to 20th century Japanese-American history from 19 collections, including photographs, organization and family manuscript collections, and oral histories held at eight institutions throughout California.
While spanning the 1920s through the 1980s, the collections to be digitized will emphasize World War II incarceration and post-war years as part of the California State University Japanese American Digitization Project. This digital collection, generated by a consortium of California State University Archives, and an expanding group of partners from other institutional archives, libraries, museums, and cultural heritage organizations, features documents, oral histories, photographs, and other archival materials relating to the history of Japanese Americans. There is a special focus on their experiences in California and the incarceration of people of Japanese ancestry during World War II. Touching on a wide range of topics, the CSUJAD brings disparate local archival collections together in this searchable online collection of national importance. Please see http://www.csujad.com for extended information about the collections and associated contextual resources.
Densho, an organization committed to preserving Japanese American History, will partner with project participants to build and enhance a Names Registry, an online, searchable database of those Japanese Americans forced to relocation camps.
You can read more about the project at https://csujad.com/
---
Jefferson's Night Out
One of the interesting aspects of Founders Online is the insight the documents give to the lives of America's Founders and other notable figures in the late 18th century. On April 12, 1789 Thomas Jefferson went to an Easter concert in Paris, featuring the celebrated mezzo-soprano Luiza Todi, who sang a rondo by Giuseppe Giordani and "Se il ciel mi divide" from Piccinni's Allesandro nelle Indie. Also on the program were two Haydn symphonies and works by Henri Berton, J. L. Duport, and Johann Friedrich Eck. Todi would later be described as "the Singer of All Centuries" in Antoine Reicha's book Traité de melodies.
How do we know this? Jefferson kept a memoranda book on all of his expenses, and through the diligent efforts of the editors of the Jefferson Papers, many of those entries have been annotated. In the fateful year of the French Revolution, Jefferson's memoranda books and the editorial notes paint an interesting counterpoint to the political unrest in the streets of Paris.
You can find it in the footnotes in Founders Online at https://founders.archives.gov/documents/Jefferson/02-01-02-0023.
---
Women's Division of the American Jewish Congress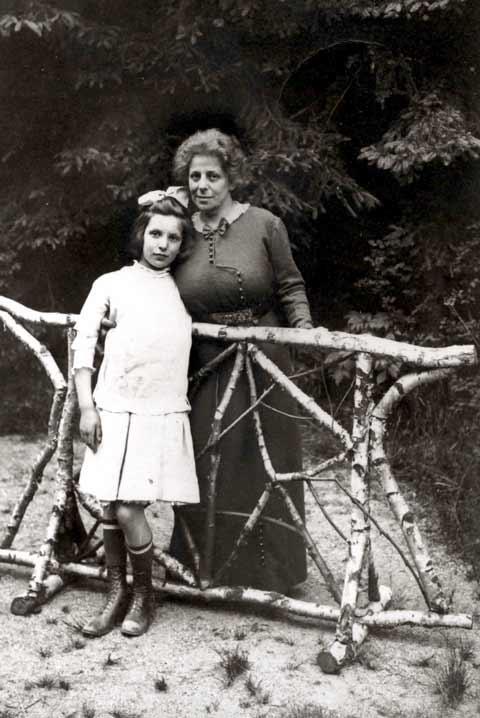 Women have played a major role in fighting the good fight. This is Louise Waterman Wise with her daughter, Justine Wise Polier, courtesy of the American Jewish Historical Society. Louise founded the Women's Division of the American Jewish Congress in 1933 in the midst of anti-semitism and fascism on the rise in the world. The women's division provided information, refugee housing, and, later, hostels for Allied soldiers during World War II. The American Jewish Congress House was the first home welcoming thousands of refugees escaping Nazi persecution.
A recent grant from the NHPRC to the American Jewish Historical Society will enable archivists to process an accretion of 100 linear feet from the American Jewish Congress. In addition, it will digitize 750 photographs and 200 hours of audio-visual materials and revise and improve the existing finding aid. These materials document meetings, conferences and other events such as 1933 mass rallies protesting Nazi persecution of German Jews and the 1963 March on Washington, as well as speeches by Daniel Moynihan and Bella Abzug among others.
You can read more about the extraordinary Women of the American Jewish Congress at https://ajhs.org/blog/women-american-jewish-congress
---
Cats in History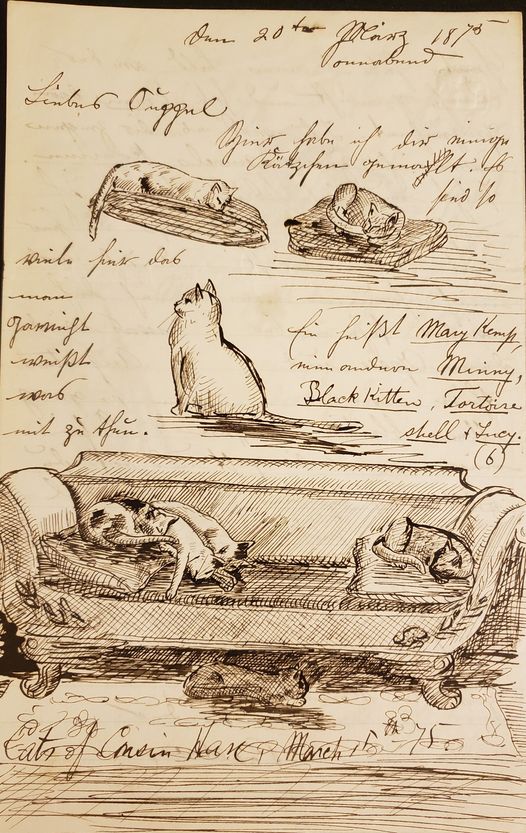 This charming 19th century letter shows, with the exception of the cat in the center of the page, what cats do best. Resting.
The cats are named Mary Kemp, Minny, Black Kitten, Tortoiseshell, and Lucy, and were drawn by Poultney Bigelow, son of John and Jane Bigelow, included in a letter from March 15, 1875.
Housed in the Special Collections Department of Schaffer Library, Union College, are 20,000 letters from the John Bigelow collection. With a grant from the NHPRC, archivists there are enhancing the current finding aid and online access to the correspondence of John Bigelow (1817-1911), author, abolitionist, newspaper editor, diplomat, and influential public servant. He served as Consul General at Paris (1861-65) and Minister to France (1865), was co-owner and co-editor with William Cullen Bryant of the New York Evening Post, and was a founder and the first president of the New York Public Library. The letters, which range in date from 1833 to 1935, were gifted to Union College on behalf of the family in the mid 20th century by Bryan Conrad (widower of Bigelow's granddaughter Charlotte Kenner Harding). Also included in the gift were other personal papers and thousands of books from his personal library. These documents collectively form one of the two largest archives of John Bigelow's papers in the world, the other being at the New York Public Library.
Most are original autographed signed letters (or in some cases copies of letters) sent directly to John Bigelow; some are copies of letters written by him; several thousand are letters sent among members of his immediate family and their descendants. They cover all aspects of Bigelow's personal life and public career and include the hundreds of condolence letters sent from around the world to Bigelow's daughter Grace after his death.
You can read more about it at https://schaffer.union.edu/bigelow/bigelowhome.html and tune in for highlights on Twitter at
https://twitter.com/BigelowPapers