Get a Peak Into The Never-Before-Told Story of Young Americans on Capitol Hill in "Democracy's Messengers" On March 6
Press Release ·
Wednesday, February 28, 2018
Washington, DC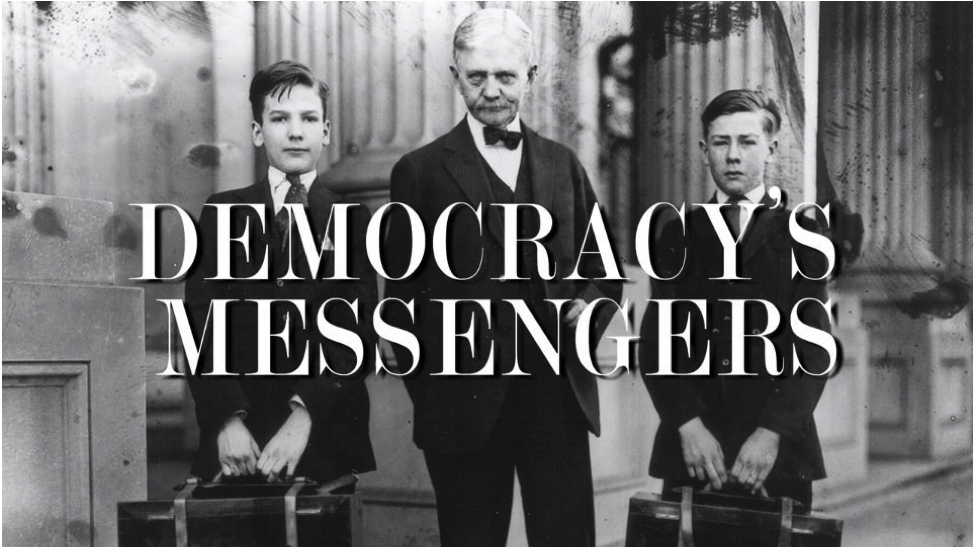 On Tuesday, March 6, at noon, the National Archives will present a screening of Democracy's Messengers: The Never-Before-Told Story of Young Americans on Capitol Hill followed by a panel discussion led by the film's producer. Register to attend online. Watch the program live streamed on the National Archives YouTube channel.
Narrated by Cokie Roberts, the film Democracy's Messengers provides a fly-on-the-wall peek into Washington's halls of power. For centuries, a select group of young people have been recruited from across the country to serve as "pages" in the U.S. Congress and the Supreme Court. The film reveals their stories and recounts the tumultuous events in U.S. history they witnessed—from the Revolutionary War to 9/11. Following the screening of the 30-minute film, producer Jerry Papazian will talk with former pages Frank Mitchell (House '65, the first 20th-century African American page), Jonathan Turley (House '79), and Camilla Bosanquet (House '91).
The program is free and open to the public and will be held in the William G. McGowan Theater of the National Archives Museum in Washington, DC.   Attendees should use the Special Events entrance on Constitution Avenue at 7th Street, NW.  Metro accessible on the Yellow and Green lines, Archives/Navy Memorial/Penn Quarter station. Reservations are recommended and can be made online. For those without reservations, seating is on a first-come, first-served basis. The Theater doors will open 45 minutes prior to the start of the program. Late seating will not be permitted 20 minutes after the program begins.
# # #
For press information contact the National Archives Public and Media Communications Staff via email at public.affairs@nara.gov.
Connect with the National Archives on:

Twitter: @USNatArchives

Facebook: USNationalArchives

Tumblr: usnatarchives

Instagram: usnatarchives