Preserving Family Recipes
Fall 2016, Vol. 48, no. 3 | Your Family Archives
By Mary Lynn Ritzenthaler
---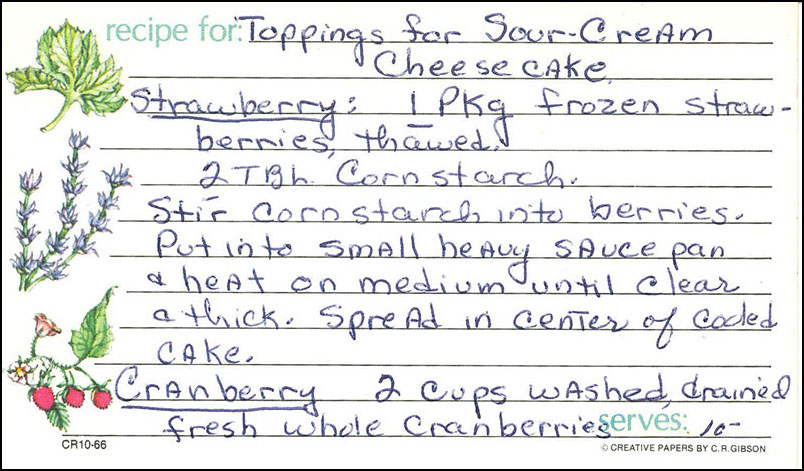 Some of the most treasured items that are passed along in a family are recipes: Grandma's apple pie or Dad's special barbecue sauce.
They evoke wonderful memories and keep traditions alive. Nowadays, recipes are easily found online, but they are not the same as using original recipe cards and note paper—with ingredients recorded in familiar handwriting and perhaps even advice as to good companion dishes.
Handwritten or typed recipes can be very personal and often show evidence of years of use. Papers and cards may be folded and torn, and they are often embellished with spills and food stains.
Here are some tips to help you hang on to those family recipes.
Do not make additional folds in the paper, and store it flat (unfolded) whenever possible. As with all paper items, handle recipes with care. Evaluate the condition of the paper, which can include anything from backs of envelopes, stationery, lined notebook paper, or card stock specially printed for recording recipes.
If you are using your family recipes while cooking, avoid splashes of water and droplets of milk or other liquids. Make sure your hands are dry and clean. Recipes written in ink may show evidence of inks running or bleeding because water or another liquid was splashed on them—or the card was set on a damp surface.
While cooking, put recipes in clear polyester film sleeves to protect them from food spills and greasy fingerprints. Another option is to use a preservation-quality loose-leaf binder style album filled with polyester page protectors into which the recipes can be filed and easily accessed. Do not use the so-called "magnetic albums" that have self-stick pages with an overlay of plastic. Over time, these will discolor paper, making it increasingly difficult to safely remove the recipes without tearing them.
The size of your recipe collection will dictate how you store them. A sizeable collection can be stored in standard archival file folders and boxes. Weak or damaged paper also can be placed in polyester sleeves and then in folders and boxes. Recipes also can be scanned and accessed electronically while the originals are kept in safe storage.
Scanning is a good way to preserve a collection of clippings while enhancing use and sharing with other family members. There is a long tradition of clipping recipes from newspapers, and these too can become family favorites and be passed along. Given that newsprint is typically of poor quality, limited handling and storage in preservation quality sleeves will protect them during handling.
Handle cookbooks gently and do not force bindings to open flat. Beloved recipes are often found in cookbooks, which may be decorated with food spills on key pages. They may also have annotations that highlight a particular favorite or that amend the ingredients or proportions.
For additional information on preserving paper and books, see https://www.archives.gov/preservation/
Mary Lynn Ritzenthaler recently retired as Chief of the National Archives Conservation Laboratory.
Articles published in Prologue do not necessarily represent the views of NARA or of any other agency of the United States Government.