The Record - May 1998
Competing Claims Resolved for Kennedy Materials

The National Archives and Records Administration and Robert L. White, a collector of materials associated with former President John F. Kennedy, have reached an agreement under which NARA will take possession of 21 items of major historical importance that White originally had intended to sell at auction.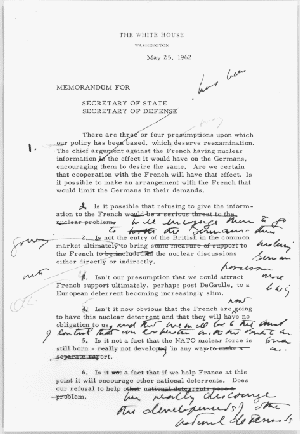 First page of May 25, 1962, memorandum to Secretaries of State and Defense, with President Kennedy's handwritten changes.
An auction of "Artifacts and Documents Relating to the Life and Career of John F. Kennedy" was scheduled by Guernsey's Auction House for March 18-19, 1998. When the auction catalog was released, NARA staff began examining items offered in the auction against existing Kennedy Library holdings and holes in the Library's collection. When it became apparent that most of the items consigned by Mr. White to the auction had come to him from President Kennedy's secretary Evelyn Lincoln, Christopher M. Runkel, NARA's Acting General Counsel, wrote the president of Guernsey's on March 10 requesting the return of materials which NARA had reason to believe belonged to the United States.
NARA employees examined the items in question on March 12 in New York City, where they were on display prior to the auction. On March 15, Caroline B. Kennedy and John F. Kennedy, Jr. released a statement in which they questioned ownership of a number of the items in the auction and also items which were in Mr. White's collection but which had not been consigned to the auction. Discussions between Mr. White and his lawyers and NARA lawyers and archivists and Department of Justice lawyers led to a settlement between the parties.
NARA received for deposit in the Kennedy Library the table President Kennedy used for signing documents in the Oval Office and 507 pages of original documents and photocopies of documents including John F. Kennedy's letters, memoranda to White House staff and Cabinet officials, telegrams, typescripts, and notes, 1953-63. The table has been installed in the Library's Oval Office exhibit and the documents are open for research. They include a telegram in which Lyndon Johnson, who had contested JFK's nomination for the presidency in 1960, congratulated him on his nomination; memoranda from JFK to his Secretaries of State and Defense; some notes that Kennedy made on foreign policy issues; and notes that the former President made in preparation for an historic meeting in Vienna in 1961 with Premier Khrushchev of the Soviet Union.
The Library also received two handwritten travel diaries from Congressman John F. Kennedy's information- gathering trips through England, Italy, Yugoslavia, Spain, Germany, January-February 1951, and France, Iran, India, Pakistan, Vietnam, Singapore and Japan, October-November 1951. These materials will be opened pending preservation work.
The agreement also enables the National Archives and Records Administration to make high-quality copies of more than 100 documents of lesser historical significance scheduled to be sold at auction. All of this material will be made available to scholars and the public in the Kennedy Presidential Library.