Contact the Office of the Federal Register
Questions about Rules & Regulations
Please contact the agency that issued the document if you have specific questions about any document that appears in the:
---
8:45 a.m. to 5:15 p.m. Eastern Time
Monday through Friday
We are closed on Federal Holidays.
 
---
Location (See our COOP Location)
 
We moved on May 15, 2017.  Take note of the new address.
Our office is located two blocks north of the Union Station Metro, at: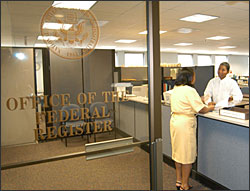 732 North Capitol Street, NW
Suite A-735
Washington DC 20401
Use our North Capitol Street address for:
Pick-up and delivery by messenger or overnight carrier
Viewing documents on Public Inspection
Appointments with our staff
Do not address U.S. Mail to 732 N. Capitol Street
---
U.S. Mail
Address your stamped envelope to:
---
For general information: fedreg.info@nara.gov
For the Legal Division: fedreg.legal@nara.gov
---
(202) 741-6000
---
(202) 741-6012
---
TTY
 (for deaf and hard of hearing) 
(202) 741-6086
---
COOP Location (See our Main Location)
National Archives, Office of the Federal Register COOP Site
Building 494, Robert C. Byrd Hilltop Office Complex
610 State Route 956
Rocket Center, WV 26726
Telephone:   (304) 726-7800 (operator); (304) 726-7862; (304) 726-7863
Directions to our COOP Site from the Washington Beltway, I-495:
From the Washington Beltway (I-495), take I-270 north toward Frederick, MD.
Take exit 32 to merge onto I-70 west toward Hagerstown, MD.
Take exit 1A on the LEFT to merge onto I-68 west/US-40 west toward Cumberland, MD.
Take exit 42 for Greene St./US-220 south.
Turn LEFT at MD-956/Patriot Pkwy (signs for MD-956 east)
Turn LEFT into the Allegany Ballistics Laboratory and proceed to security checkpoint.