NHPRC News
August 2017
Inside the Commission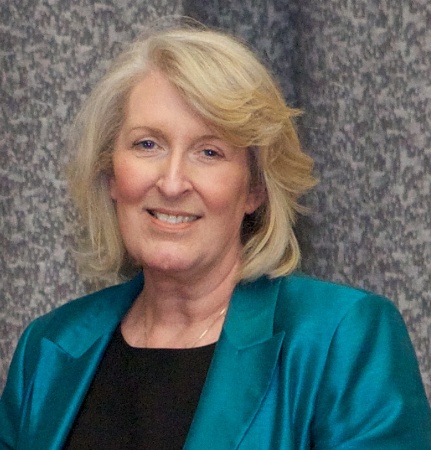 After serving more than 13 years with the National Historical Publications and Records Commission, Kathleen Williams is departing the National Archives and Records Administration for a new position as the Chief Archivist at the National Gallery of Art in Washington, DC. Her last day is August 16, 2017.
Williams joined the NHPRC in June 2004 as the Deputy Executive Director and was named Executive Director in April 2008. Under her leadership, the commission created new grant programs for digitizing historical records, public engagement with primary sources, and the Archives Leadership Institute. During her tenure, the Society of American Archivists presented its highest honor, the Distinguished Service Award, to the NHPRC. In 2015 Williams was named a Fellow of the Society of American Archivists. She has the third-longest tenure as head of the NHPRC since its founding in 1934.
"Through her dedication and hard work at the NHPRC, Kathleen has helped change the way archivists do their work and how researchers and the general public access our history.  Her direction of this grants program has unlocked the treasures hidden in archival collections all over the country; enabled the preservation and description of important records; and helped move the community into a digital future," said Archivist of the United States David S. Ferriero. "Consistently vigilant about grant successes with applicability to the work of the National Archives, Kathleen's leadership will be missed."
Williams led the complex collaboration that conceived of, designed and created Founders Online, which published online more than 178,000 searchable documents, fully annotated, from the authoritative Founding Fathers Papers projects. Some 4.4 million visitors have used the online database since its launch in mid-2013. Researchers have published more than 50 monographs citing Founders Online, as well as hundreds of dissertations and articles. In 2014 the site received the Jefferson Prize from the Society for History in the Federal Government and that year's Archivist Award. The site continues to flourish through a sustained collaboration with the University of Virginia.
Most recently, the commission undertook a two-year strategic planning process to reimagine its work, and the plan's implementation began in 2016.  Among the special initiatives in process are partnerships with other federal and private sector funders, including the establishment of Digital Edition Publishing Cooperatives through a multi-year collaboration with the Andrew W. Mellon Foundation. This approach promises to address online access to documentary editions through partnerships among academics, libraries, and archives.
"I am truly grateful for the opportunity to work with the Archivist and the Commission members on the grant programs, collaborations, and initiatives that make the NHPRC such a valuable and unique body. I am especially indebted to the talented and dedicated staff for making my tenure so productive and rewarding," Williams said.
Chief of Staff Maria Carosa Stanwich will serve as Acting Executive for NHPRC while the agency begins the process of selecting a replacement.
Grant Deadlines
For projects that ensure online public discovery and use of historical records collections.
Final Deadline:   October 5, 2017
For projects that will significantly improve public discovery and use of major historical records collections. This program has two phases. You must first submit a Preliminary Proposal, and successful applicants from the preliminary round will be invited to submit a Final Proposal
Preliminary Proposals: January 18, 2018
Final Deadline: July 11, 2018
For a project to organize and run an Archives Leadership Institute.
Final Proposals: December 7, 2017
For projects that encourage public engagement with historical records.
Final Deadline:   October 5, 2017
 
For projects to publish documentary editions of historical records.
Final Deadline:   October 5, 2017
 
Annual Report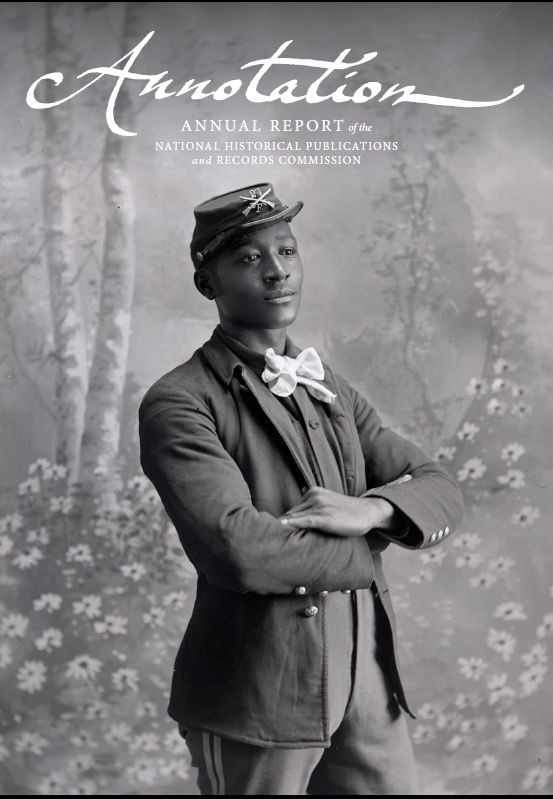 Annotation, our new FY 2015-16 Annual Report, is now available online. In addition to a message from the Archivist of the United States, it also contains an essay on the "Continuum of Access," examples of recent grants, and a copy of the Strategic Plan.
A limited number of free print copies are available. If you would like a printed copy, send an email to Keith Donohue at keith.donohue@nara.gov.
---
News from the Field
The Iron Horse
Before he was a New York Yankee and gained fame as the Iron Horse (for his endurance in playing 2,130 consecutive major league baseball games), Lou Gehrig was Columbia Lou. He attended Columbia College in New York City from 1921 to 1923, playing both football and baseball for the Lions. According to the University, he once hit a ball that bounced into the Journalism building to land at the feet of the Alma Mater statue (then located about 400 feet away).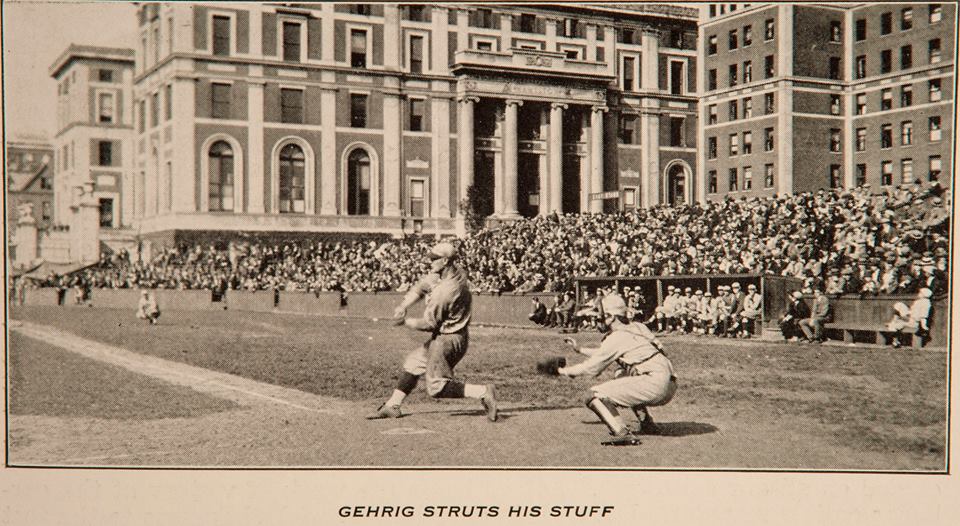 This yearbook image is from the Columbia University Archives. An 1993 grant from the NHPRC went to support the development of their archives and records management program. 
Gehrig also pitched for the Columbia team, striking out 17 in a game in 1923. After his sophomore year, he signed with the Yankees, in part because his father had taken ill and he needed the money. (His bonus was $1,500.) The Iron Horse batted .340, hit 493 home runs (including 23 grand slams), and was a member of six World Series winning teams. His legendary streak ended in 1939, after he contracted ALS. His legendary "Luckiest Man" speech was on July 4, 1939 (https://www.youtube.com/watch?v=nNLKPaThYkE). Gehrig died two years later.
This image is from the Columbia University Archives. An 1993 grant from the NHPRC went to support the development of their archives and records management program. You can visit when in New York or online at http://library.columbia.edu/locations/cuarchives.html.
Remembering Marshall Field & Co.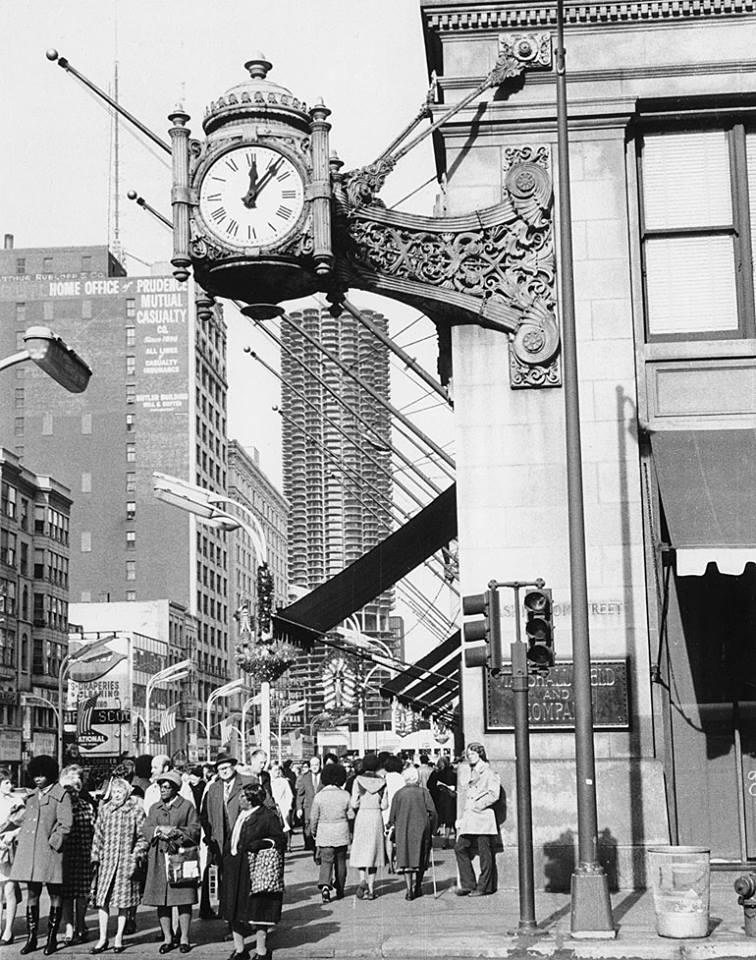 "I'll meet you under the clock." In Chicago, that meant Marshall Field's store on the corner of State and Washington.
Once a fixture of the city, Marshall Field & Company dates back to the end of the Civil War when 31-year old Marshall Field bought out the firm of P. Palmer & Company to found Field, Palmer, Leiter & Company. After the original building on State & Washington burned down in the Great Chicago Fire, Field and Leiter reopened a new store in 1879. Over the next century, the department store empire expanded, but a buyout in 1982 began a slow decline, and the chain was eventually rebranded in 2006.
Marshall Field (1834-1906) was a hugely successful businessman and a figure in Chicago, providing funds for the Field Museum of Natural History. His grandson, Marshall Field III (1893-1956) was the founder of the Chicago Sun (which became the Chicago Sun-Times), which his great-grandson Marshall Field IV (1916-1965) inherited and ran.
The Marshall Field Family Papers (1833-1985) are at the Chicago History Museum and were processed as part of a grant from the NHPRC. Here's the Finding Aid for the Fields Family Papers.
Rocket Science and Science Fiction
After reading H.G. Wells's novel The War of the Worlds, young Robert Goddard climbed a cherry tree on the family farm and dreamt of traveling into space. On October 19, 1899, he wrote "...as I looked toward the fields at the east, I imagined how wonderful it would be to make some device which had even the possibility of ascending to Mars..."
He went on to study physics and engineering. .In the fall of 1914, he accepted a part-time position as an instructor and research fellow at Clark University in Worchester, Massachusetts. There he came across H.G. Wells again. He recorded his observations in a 1915 diary:
July 19...Read The First Men in the Moon by H.G. Wells in morning and afternoon, on piazza--finished it in evening."
July 29. Went down to Clark...looked over First Men on the Moon in the afternoon.
August 8. Dreamed at 6:15 A.M. of going to moon, and interested, going and coming, on where going to land respectively on moon and earth. Set off red fire at a prearranged time and place so all can see it. Was cold, and not enough oxygen density to breathe--got into chamber for a while. Saw and took photos of earth with small Kodak while there--two for stereoscopes--and glimpsed earth once during return--South America?...
August 17. Worked on vacuum system morning and afternoon. Looked at moon through telescope.
--
Goddard launched his first rocket in 1926. His work led to many of the developments necessary for flights into space. His 1919 monograph "A Method of Reaching Extreme Altitudes" is one of the classic texts of rocket science.
An NHPRC grant to Clark University enabled Clark University to acquire, restore, preserve, and organize the papers of Robert Goddard and his wife Esther Kisk Goddard. Clark has digitized the collection, and you can access them online at http://robertgoddard.clarku.edu/
50th Anniversary of Minnesota Public Radio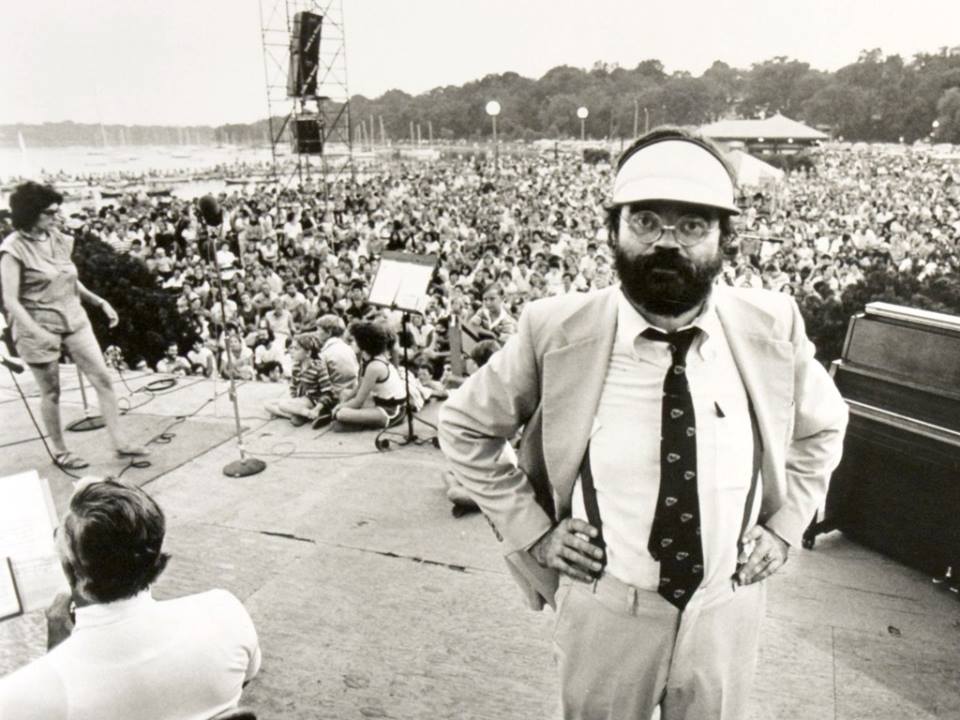 Minnesota Public Radio is celebrating its 50th anniversary, and perhaps no one is more associated with MPR than Garrison Keillor. From 1974 to 2016, Keillor hosted "A Prairie Home Companion," an old-style variety show that became a fixture of Saturday nights on the radio.
Keillor began working for what became known as MPR in 1969, as host of a Morning Show. (You can listen to a 1970 episode on Lawn Care, Sex Tips, and the Apollo 13 moon expedition).
During a fundraising drive in 1974, he announced the launch of "A Prairie Home Companion" with then president Bill Kling:
Kling: Why don't we have you do a program on Saturdays?
Keillor: Hey that's an idea.
Kling: Is that right? Alright, how about-
Keillor: Think that might start about the middle of June?
Kling: Middle of June, about 4:30 and maybe-
Keillor: I got nothing on for then, I just checked my book over here.
Kling: How about a live radio broadcast?
Keillor: Live is fine with me, back where I come from they're all live.
Kling: See it's not hard being a president, you just decide what you want to do and you sit down and you talk to the people that can do it and we've now agreed that you're going to have a- what do we call it?
Keillor: Um, call it "A Prairie Home Companion."
You can listen to a selection of Keillor's work at the Minnesota Books and Authors project funded by the NHPRC. As part of the MPR archive, they have created a collection or programs documenting the essential voice of Minnesota, with authors like Sigurd Olson, Tim O'Brien, Robert Bly, Louise Erdich, Garrison Keillor and many others. Also included are recordings of visiting authors--non-Minnesotans--but part of the station's literary pantheon. It is a fascinating mix of fiction, poetry, drama, essays, and history.
Dorothea Lange: Politics of Seeing
Dorothea Lange's iconic 1936 photograph "Migrant Mother" was taken as part of her work for the Federal government's Farm Security Administration. Images of the rural poor and forgotten during the Great Depression were distributed to newspapers across the country.
Lange (1895-1965) also worked for the War Relocation Authority creating series on the forced relocation of Japanese Americans during World War II, and later on images of Irish country life, and postwar suburban California, among many other projects. The National Archives Catalog contains over 1,300 of Lange's images.
The Oakland Museum of California houses Lange's personal archive, a gift from the artist that includes 25,000 negatives, 6,000 vintage prints, field notes, and personal memorabilia. Grants from the NHPRC helped the Museum preserve images from several collections, including fragile negatives from Lange's work.
Now on exhibit through August 27, "Dorothea Lange: Politics of Seeing" presents 130 photographs to celebrate the 50th anniversary of the artist's gift of her personal archive to the Oakland Museum of California. Drawing upon vintage prints, unedited proof sheets, personal memorabilia, and historic objects, this exhibition takes a unique approach to a beloved American photographer by reuniting photographs with comments and quotes by the people she photographed.
You can find out more at http://museumca.org/exhibit/dorothea-lange-politics-seeing
Saving Cyanotopes
The Cleveland Museum of Natural History (CMNH) is working on an NHPRC-sponsored project to introduce middle school students to environmental studies through the use of historical records in the natural sciences. Eventually the project will create a curriculum that will guide teachers to link classroom and field experiences with digitized historical records.
Central to these efforts is the digitization of the records of Arthur Baldwin Williams (1874-1951) who turned his love of nature to move from a career as a lawyer in real estate to becoming the first naturalist of the CNMH. He was also a gifted teacher who laid the foundation for nature education in the forests of the greater Cleveland area. You can see the collection at Baldwin Wallace University. 
One challenge faced by the digitizing archivists at Baldwin Wallace University was an oversize album of cyanotype photographs that Williams made between 1910-1914. Keith Peppers, who oversaw the digitization, was concerned about exposing the cyanotype prints to light (which causes fading), and with the advice of the New York Public Library, he was able to find the right techniques to digitize the full cyanotype album.