NHPRC News
April 2021

Inside the Commission
Commission to Meet May 18
The National Historical Publications and Records Commission will meet virtually on May 18, 2021 to recommend grants, discuss public policies, and approve NHPRC processes and procedures. policy discussions.
Continuing Operations
In response to the national health emergency, staff at the National Historical Publications and Records Commission have been working remotely since mid-March, 2020. We are continuing to monitor open projects, and based on Office of Management and Budget guidance, we are looking for ways to assist your organizations. Please share with your Program Officer via email with any concerns you have due to the COVID-19 restrictions. You can find contact information on our website at https://www.archives.gov/nhprc/contact.html
---
Grant Opportunities
For projects to plan and develop a working collaborative designed to enhance the capacity of small and diverse organizations with historical records collections.
Final Deadline: June 9, 2021
For projects that will significantly improve public discovery and use of major historical records collections.
This program has two phases. You must have submitted a preliminary proposal and been invited to submit a Final Proposal
For projects that strengthen the nation's archival network through activities undertaken by state historical records advisory boards.
Final Deadline: June 9, 2021
For projects to develop and administer basic and advanced Institutes for Historical Editing.
Final Deadline: June 9, 2021
For projects to publish documentary editions of historical records.
This program has two deadline options:
Final Deadline: June 9, 2021

Final Deadline: October 7, 2021
For projects to publish collaborative digital editions in African American, Asian American, Hispanic American, and Native American History.
Final Deadline: June 9, 2021
---
News from the Field
"I think I must write a book"
"I think I must write a book. I am almost afraid to undertake a book so early and with so little experience in composition. But it has been a cherished dream, and I feel an influence that I cannot resist calling me to the task. . . . The object of my writing would not be so much the elevation of the colored people as the elevation of the whites--for I consider the unjust spirit of caste which is so insidious as to pervade a whole nation, and so powerful as to subject a whole race and all connected with it to scorn and social ostracism--I consider this a barrier to the moral progress of the American people: and I would be one of the first to head a determined, organized crusade against it." -- Charles W. Chesnutt, written May 1880 in his journal at age 22
After establishing himself as a successful legal stenographer, Chesnutt began that career as a writer, publishing stories, sketches, and essays in newspapers and magazines, becoming the first African-American fiction writer to appear in the Atlantic Monthly. In 1899 Chesnutt published two story collections, The Conjure Woman and The Wife of His Youth and Other Stories of the Color Line, as well as a biography of Frederick Douglass. His novels The House Behind the Cedars (1900), a tale of racial "passing," and The Marrow of Tradition (1901), inspired by the 1898 race riot in Wilmington, N.C., sold poorly, and in 1901 Chesnutt resumed his stenography business. He published another novel, The Colonel's Dream (1905), an attack on the convict-lease system, and continued to write and speak against racial inequality. Chesnutt died in Cleveland on November 15, 1932.
The NHPRC recently awarded a project to edit and publish The Complete Correspondence of Charles W. Chesnutt. Upon completion, this comprehensive digital archive will consist of transcriptions of all incoming and outgoing letters (estimated at 1,250 letters), including all drafts, and digitized images of the original documents. The Center for Digital Research in the Humanities at the University of Nebraska-Lincoln will publish 200 transcribed and annotated letters with their respective images to The Charles Chesnutt Digital Archive.
---
Records of a Horse Thief
Ida Laherty (Inmate #901), age 16, became one of the first women incarcerated at the Idaho State Penitentiary when she began a sentence for Grand Larceny in 1903. She remained one of the youngest women to serve time there. Born in Washington, Ida lost her father when she was 11 years old, and her mother was left to raise six children alone. Ida left home at 15, settling in Moscow, Idaho. There she met and fell in love with a young man from Reardon, Washington named William Loomis.
One day, Loomis hatched a plan for Ida to hire a team of horses for one day from a livery stable in Moscow and ride by herself to Sprague, Washington where William would meet her and the two would sell the horses for a large profit. On October 2, 1902, Ida drove the team to Sprague and waited for him to arrive (he never did). Several days later, Ida was arrested as a horse thief.
When Ida first entered the prison, guards described her as an "ill mannered" child. A warden once caught a male prisoner sneaking through her window. He boarded the window to prevent them from communicating.
The local branch of the Women's Christian Temperance Union petitioned the Board of Pardons with over 376 signatures on her behalf. After serving three months, Ida was released from prison and turned over to the local Florence Crittenton home, a social welfare organization.
A grant from the NHPRC to the Idaho State Historical Society supported a project to arrange, describe, and make more readily accessible prisoner files and inmate photographs from the Idaho State Penitentiary for the period 1880-1947. You can access a PDF of the Catalog of Women Inmates
Last year "Numbered: Inside Idaho's Prison for Women" was published, which takes a closer look at the 216 women, and you can hear an interview with the authors on Boise State Public Radio.
You can hear a lot more about Ida on the Behind Gray Walls podcast.
---
Global Public Health
T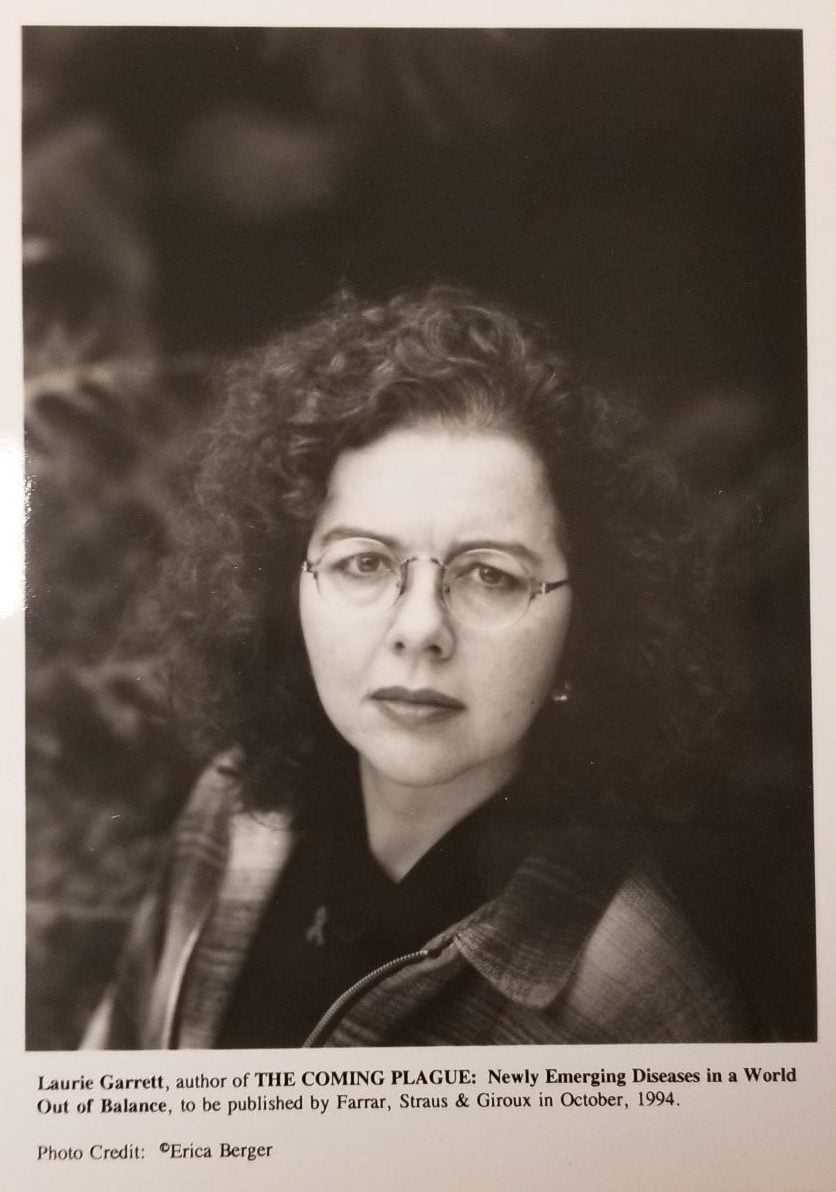 hrough a grant from the NHPRC, the University of California, San Francisco Archives and Special Collections has processed the papers of Laurie Garrett, author of The Coming Plague: Newly Emerging Diseases in a World Out of Balance (1994) and Betrayal of Trust: The Collapse of Global Public Health (2000). Garrett is a Peabody, Polk, and Pulitzer Prize award-winning journalist. She won the Pulitzer Prize for Explanatory Journalism for her work chronicling the Ebola virus in Zaire published in Newsday.
This sizable collection consisting of more than 150 linear feet spans from the mid-1970s to 2013. It documents a broad array of subjects related to global health, newly emerging and re-emerging diseases – primarily the HIV/AIDS epidemic, SARS, avian flu, Ebola, Anthrax, and influenza – and their effects on foreign policy, national security, and bio-terrorism. It is part of UCSF's NHPRC project Evolution of San Francisco's Response to a Public Health Crisis: Providing Access to New AIDS History Collections.
The collection's finding aid is available publicly on the Online Archive of California. The digital collection of the Laurie Garrett papers is also available publicly on Calisphere at https://calisphere.org/collections/27372/.
---
Mississippi Civil War and Reconstruction Records

The Civil War & Reconstruction Governors of Mississippi (CWRGM) project hopes to revolutionize how scholars, teachers, students, and the public study this era of Mississippi's history.
Grounded in nearly 20,000 documents from the state's governors' papers, CWRGM begins in late 1859 on the brink of secession and ends just after Reconstruction in the early Jim Crow South as elite white Mississippians regained control of the state and abandoned the civil rights advances of the past two decades. Organized around nine administrations, the collections touch on nearly every major issue of the age and include voices from every possible constituency.
The NHPRC is proud to support the work of the CWRGM, which launched in 2019 and scheduled for completion in 2030 through a partnership between the Mississippi Department of Archives and History, the Mississippi Digital Library, and the University of Southern Mississippi (USM) History program, the USM Dale Center for the Study of War & Society, and the USM Center for the Study of the Gulf South.
With the launch of its first full phase — totaling about 4,000 documents — in June 2021, CWRGM will be a keyword-searchable digital documentary edition, freely available online, that includes high-resolution images of original documents next to their transcriptions, ore metadata, keyword searchability, tagging to spotlight connections within the documents, and contextualizing annotations. It will feature authors and publications that utilize the collection, a blog and podcast, and lesson plans for educators.
You can visit the beta site and read sample documents at https://cwrgm.org/
---
Reconstructing African American Local History
In collaboration with the University of North Carolina at Charlotte and Duke University, Johnson C. Smith University has been awarded a grant from the NHPRC to visually reconstruct former African American neighborhoods, destroyed during urban renewal processes in Charlotte. JCSU's team will work with Duke University's Digital Humanities Lab to digitize records from African American communities in Charlotte that were torn down in the 1960s and 1970s and re-create an augmented reality environment. The project will also trace the path of displaced families and institutions across the city.
Digitization and contextualization of materials from these neighborhoods will allow users to trace the planning and execution of federal and state sponsored urban renewal strategies as well as the geographical footprint of this lost community. Users will learn about segregation, the Civil Rights Movement, the Fair Housing Act, Black entrepreneurship, social and voluntary club life, leadership, Black families and other black institutions.
Documents, maps, and photographs will be scanned and melded into an online exhibit and virtual reality environment. Visitors to these sites will be able to understand the spatial changes in urban centers, and how systemic racism and segregation allowed the government to erase vibrant Black communities in the name of progress.
The main collection for this project is the Charlotte Planning Commission Urban Renewal Collection which contains 18 linear feet of maps created by the Commission detailing urban renewal project areas and the intended new land usage, as well as documentation on project planning, statistics on "urban blight" in the areas under study, and studies of other cities that initiated urban renewal. Other collections at UNC-Charlotte also will be used.
For the virtual reality environment, Duke University's Digital Humanities Lab and an engineer from the University of North Carolina at Greensboro (UNCG) will build 3-D modeled reconstructions of the built environments of destroyed neighborhoods. The public can explore these locations by panning, zooming, tilting, or flying/walking over in a first-person view. The result will be powerful new collaborative visual tools that aim to understand and confront the past while encouraging a call to action to preserve the future.
For more on this story, got to Charlotte Stories and QCity Metro for interviews with the project leaders.