NHPRC News
August 2022
Inside the Commission
Colleen Joy Shogan Nominated for Archivist of the United States
On August 3, 2022, The White House announced that President Biden intends to nominate Colleen Joy Shogan for Archivist of the United States. The head of the National Archives also chairs the National Historical Publications and Records Commission.
Colleen Shogan is the Senior Vice President and Director of the David M. Rubenstein Center for White House History at the White House Historical Association. For the past decade, Shogan has taught a graduate course on politics and American history at Georgetown University as an Adjunct Lecturer in the Government Department. She also moderates the Emerging Governance Leaders seminar at the Aspen Institute. She served as the Vice Chair of the Women's Suffrage Centennial Commission, the bipartisan commission designated by Congress to commemorate the Nineteenth Amendment. Before her current position, Shogan worked for over a decade at the Library of Congress, serving in senior roles as the Assistant Deputy Librarian for Collections and Services and the Deputy Director of the Congressional Research Service. As a Library employee, she completed the Stennis Congressional Fellowship Program for the 112th Congress. Earlier in her career, Shogan worked as a Senate policy staffer, beginning her service through the American Political Science Association (APSA) Congressional Fellowship Program. Shogan served as the President of the National Capitol Area Political Science Association and was an elected member of the APSA Council.
Prior to her federal service, Shogan was an Assistant Professor of Government and Politics at George Mason University. Her research areas of focus include the American presidency, American political development, women in politics, and Congress. Shogan's Moral Rhetoric of American Presidents was named by the Wall Street Journal as one of the top five books written on presidential rhetoric. She received her Ph.D. in Political Science from Yale University. A first-generation college graduate in her family, Shogan received her Bachelor of Arts degree from Boston College. Born and raised near Pittsburgh, Pennsylvania, she is a public-school graduate of Norwin Senior High School. Shogan currently resides in Arlington, Virginia."
Professional Development
The NHPRC is delighted to announce two new opportunities for Professional Development projects: the Archives Leadership Institute and the Institutes for Historical Editing. Based on our long-time programs for archives leadership and training in historical editing, these new iterations will be designed to take advantage of technology to provide more ongoing training and to be more inviting to Black, Indigenous, and People of Color working in the profession.
The Archives Leadership Institute seeks to build the capacity of mid-career archivists as leaders both in their own institutions and in the archives field. The NHPRC envisions a program that will tailor contemporary best practices in leadership skills to issues specific to archives professionals. The Commission is especially interested in proposals that make creative use of meeting times and both face-to-face and virtual instruction. The grantee will be responsible for all project phases, from curriculum design and development through administering the program for the attendees it selects. Topics for the Institute may include issues in managing and leading change, cultural competency, strategic planning, fund raising, and advocacy.
For the Institutes for Historical Editing, the NHPRC seeks proposals to advance inclusive participation, training, education, dialog, and collaborative exchange amongst a diverse and growing community of academic and non-academic practitioners in the editing and publishing of historical records, including the related practices of digital scholarly editing, digital ethnic studies, digital history, and digital humanities.
Drafts for both programs are due by October 1, and we encourage you to contact us ahead of time to discuss your proposals.
---
Grant Deadlines
Planning grants to create collaborative digital editions.
Draft (optional): April 1, 2023
Final Deadline: June 7, 2023
For a project to build the capacity of mid-career archivists as leaders both in their own institutions and in the archives field.
Draft (optional) Deadline: October 1, 2022
Final Deadline: December 8, 2022
For a project to provide inclusive participation, training, education, dialog, and collaborative exchange amongst a diverse and growing community of academic and non-academic practitioners in the editing and publishing of historical records.
Draft (optional) Deadline: October 1, 2022
Final Deadline: December 8, 2022
For projects that ensure online public discovery and use of historical records collections.
Final Deadline: October 6, 2022
For projects that encourage public engagement with historical records.
Final Deadline: October 6, 2022
For projects to publish documentary editions of historical records.
Final Deadline: October 6, 2022
---
News from the Field
Science History
Science has long known the effects of man-made pollutants on the atmosphere and climate.
Mario Molina (1943-2020) grew up in Mexico City, Mexico. After studying chemical engineering in Mexico and polymer kinetics in Germany, he decided to apply to graduate school in the United States. He was accepted to the University of California, Berkeley, graduating with a PhD in physical chemistry in 1972. He went on to contribute a theory of ozone depletion, highlighting the chemical imbalances in the atmosphere, and was awarded the 1995 Nobel Prize in Chemistry along with Paul J. Crutzen and F. Sherwood Rowland. Their work was instrumental in the Montreal Protocol, an international treaty designed to protect the ozone layer by phasing out the production of numerous substances that are responsible for ozone depletion.
You can read an interview with Dr. Molina in the archives of the Science History Institute. Through a grant from the NHPRC, the Institute is undertaking a project called "Science, War, and Exile: Oral Histories of Immigration and Innovation." The project will make freely accessible and searchable the oral histories of 70 eminent scientists and scientist-entrepreneurs who immigrated to the United States in the 20th century. More at https://www.sciencehistory.org/oral-histories-immigration
---
Einstein Papers
Albert Einstein (1879–1955), one of the foremost scientists and public figures of the 20th century, revolutionized our views of time and space, matter and light, gravitation and the universe. The Einstein Papers Project is engaged in one of the most ambitious scholarly publishing ventures undertaken in the history of science. The Collected Papers of Albert Einstein provides the first complete picture of Einstein's massive written legacy.
Established at CalTech in 2000, the Einstein Papers project is now entering the stage at which Einstein plays an increasingly active role in the international pacifist and humanitarian movements, foreshadowing the humanitarian and civil rights activism he would embrace following his emigration to the United States in 1933. The materials to be edited and published in the coming years thus expand the project well beyond its significance for the history and philosophy of science into subjects of central importance for research and teaching in U.S. history.
Through a Publishing Historical Records grant from the NHPRC, project editors will:
Add Volume 16 (Jun. 1929-Nov.1930) of the Collected Papers of Albert Einstein to the Digital Einstein Papers website;

Advance editorial and translation work on Volume 17 (Jun. 1929-Nov. 1930), bringing that volume to near completion; and

Complete transcription of ~1,700 documents for Volume 18 (Jan.-Dec. 1931).
You can visit at https://einsteinpapers.press.princeton.edu/
---
New Site for La Florida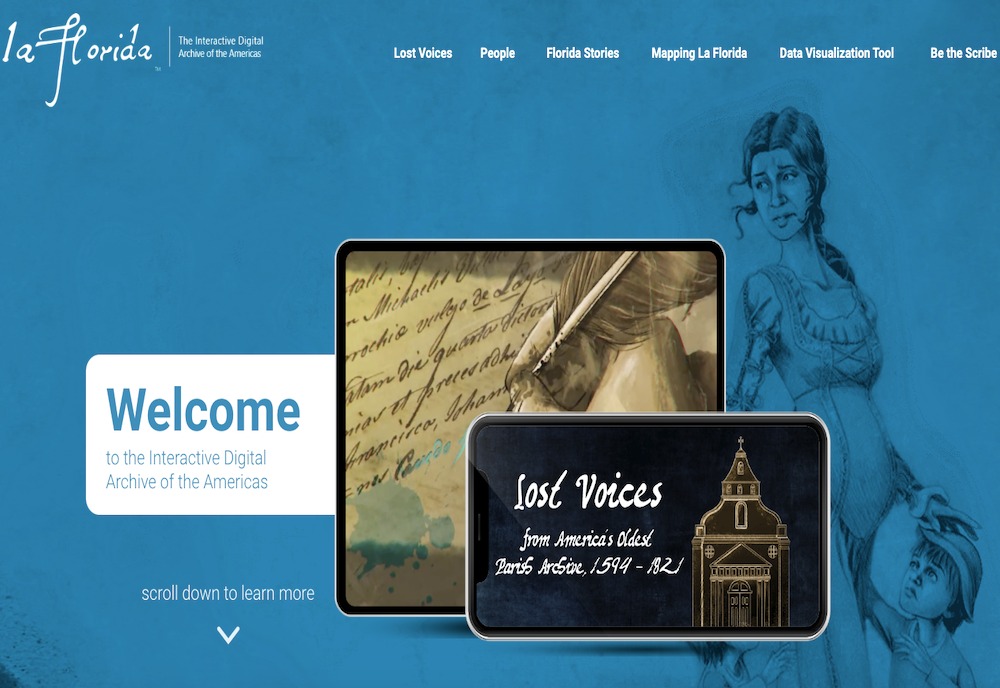 La Florida: The Interactive Digital Archives of the Americas has launched a new tool that provides insight into the daily lives and relationships of the multi-ethnic population that comprised St. Augustine, Fla. from the 16th-19th centuries.
With support from the NHPRC, the University of South Florida has digitized and translated thousands of records from the Archives of the Diocese of St. Augustine of baptisms, marriages, confirmations, and death notations, mostly written in Spanish, though interspersed with Latin and English, documenting the events from 1594-1821 for the Europeans, Indians, and Africans living there.
Titled "Lost Voices from America's Oldest Parish Archive, 1594-1821," the initiative is making St. Augustine's diocesan archives digitally accessible for the first time to a global audience. Using short videos, interactive maps, and a searchable population database, La Florida weaves together the lives and events of more than three centuries of Florida's colonial past, from Juan Ponce de León's 1513 expedition to 1821, when Florida became a U.S. territory.
The "Lost Voices" initiative is featured on the newly-revamped La Florida digital platform at http://laflorida.org
---
Joe Ben Wheat
This beautiful pictorial rug, woven in 1875, was gifted to the Colorado University Museum of Natural History. It featured as part of an exhibit on Navajo Textiles drawn from the Joe Ben Wheat Textile Collection. You can see more at https://cumuseum-archive.colorado.edu/.../collection.html
Joe Ben Wheat (1916–1997) archaeologist, curator, teacher, and author known for his expertise on blanket weavings and textiles of the Navajo and other Indians in Arizona, New Mexico, and Colorado. His research focused on Mogollon, Anasazi, Great Plains Paleo-Indian, and African Paleolithic archaeology. He served as president of the Society for American Archaeology for two years (1966–67) and was the first Curator of Anthropology for the CUMNH and held the position from 1953-1988, teaching and publishing numerous archaeological articles.
The Joe Ben Wheat archive consists of 47 linear feet of correspondence, field notes, reports, manuscripts, slides, and photographs. During his time at CUMNH, Dr. Wheat's most significant accomplishments included directing excavations at the famous and data-rich Paleoindian Olsen-Chubbuck Bison Kill Site; becoming the preeminent expert in Navajo textiles, developing a collection of nearly 1,000 weavings; and leading excavations at the largest Mesa Verde Culture site, Yellow Jacket (also known as the Joe Ben Wheat Complex). The Wheat papers also include correspondence with premier archaeologists of the time.
An NHPRC grant to the University of Colorado, Boulder will enable archivists there to arrange and describe 47 linear feet, rehouse the collection, including 6,000 slides, and digitize approximately 7,216 pages. You can read the Finding Aid at https://archives.colorado.edu/repositories/5/resources/2529
---
Edgar L. Hewett
An NHPRC grant to the Museum of New Mexico in Santa Fe will increase public access to the Treasures of Edgar L. Hewett's American Southwest collection.
The project will organize, digitize, describe, and make available online 24 linear feet (108,000 pages) of manuscript material, describe 12 linear feet of photographic material, and digitize approximately 8,000 images from the collection of Edgar L. Hewett, American educator and archeologist.
The Hewett manuscript collection contains personal and business papers covering the years 1905 to 1947, his years as an educator, archaeologist, museum administrator, author, and champion of indigenous cultures. The collection also includes records of his many projects such as his work with the Museum of New Mexico, the School of American Research, and other institutions (e.g. San Diego Museum, Panama-California Exposition, Santa Fe Fiesta, New Mexico Normal University, and various excavations). It also contains manuscripts, memorabilia, and newspaper clippings.
The Hewett image collection contains 12 linear feet – an estimated 30,000 to 60,000 photographic prints, glass plate negatives, nitrate negatives, tintypes, albums, scrapbooks, and postcards related to his expeditions, fieldwork, travels, friends, colleagues, and family. Hewett's projects spanned the Western United States and the collection includes original photographs from Colorado, New Mexico, and Utah. In addition, sections of the photo collection pertain to his archeological work in Central America, South America, Europe, and North Africa.
You can see the Finding Aid at https://nmarchives.unm.edu/repositories/10/resources/413
---
Benedict Arnold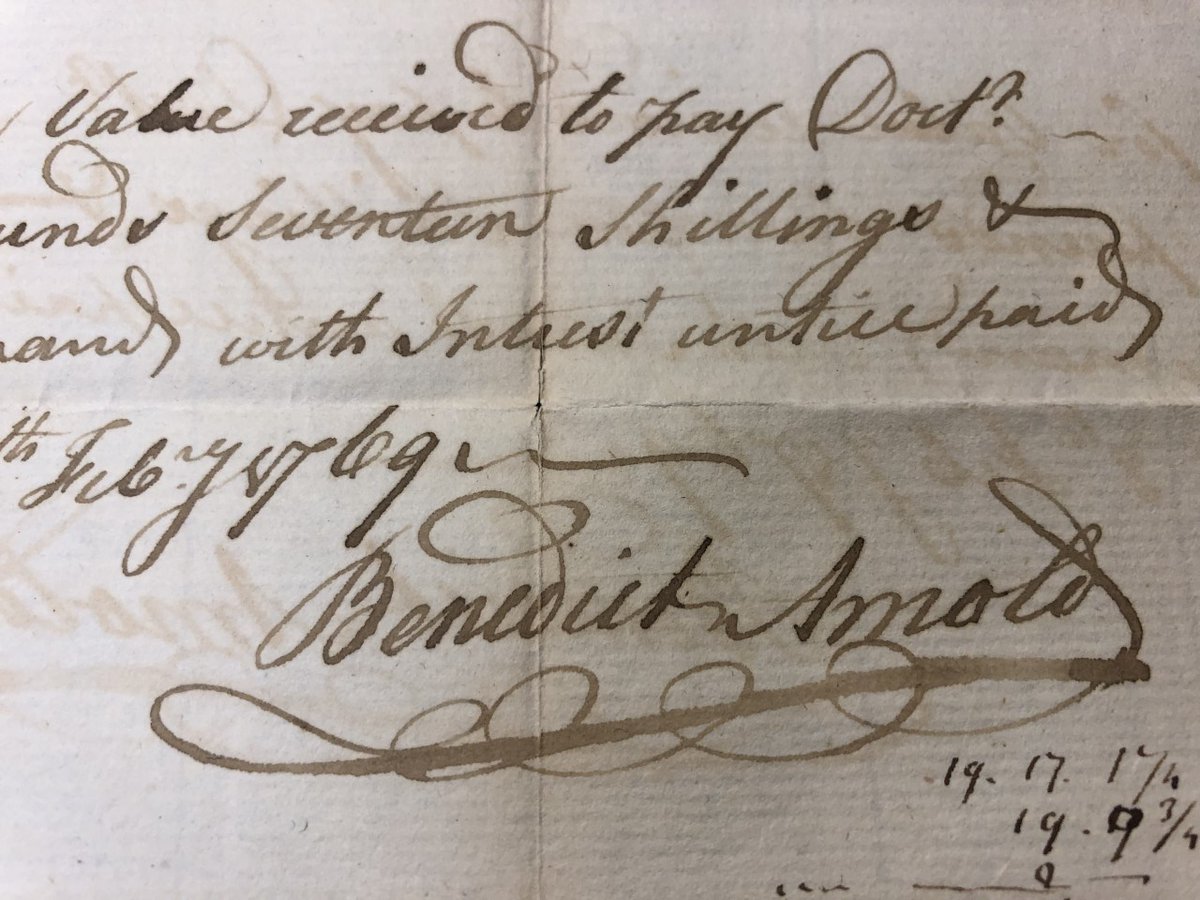 The name of Benedict Arnold became virtually synonymous with treason and betrayal after he was caught out in a plot to surrender West Point in New York and fled to the British side in the Revolutionary War. He was later commissioned as a brigadier general in the British Army and led troops in battle against the soldiers whom he had once commanded.
Born in Connecticut in 1741, Arnold was part of a wealthy merchant family, and before joining the Connecticut militia was a pharmacist and bookseller in New Haven from the early 1760s to the mid-1770s.
During Arnold's residency in New Haven, he was the plaintiff, defendant, or subject in several lawsuits, the majority concerning debt.
Our friends at the Connecticut State Library have discovered 70 cases involving Benedict Arnold (or close family members) in the County Court records, a project supported by a grant from the NHPRC grant to arrange and describe the early legal records of the New Haven County Court, 1700-1855, and the New Haven County Superior Court, 1711-1855.
You can read more discoveries about Benedict Arnold at https://libguides.ctstatelibrary.org/archives/uncoveringnewhaven/blog/Hey-Benedict-Arnold