NHPRC News
August 2023
Inside the Commission
Professional Development
Two longstanding NHPRC programs for professional development are getting a facelift.
Established in 2008, the Archives Leadership Institute (ALI) is the place where emerging leaders in the field can test their ideas about the future of archives. The University of Virginia is the new host of the ALI from 2023-2026. "We are looking for archivists who have an appetite for moving the profession forward, who want to refine their social justice lens, who want to be aware of the environment in which they work and be responsive to their communities, who desire to lead their organizations with empathy and compassion, and to be skilled in developing strong relation.hips as well as repairing fractured and broken ones," said Brenda Gunn, Associate University Librarian for Special Collections and Preservation, whose proposal won the National Archives grant from the NHPRC. More info from the University of Virginia.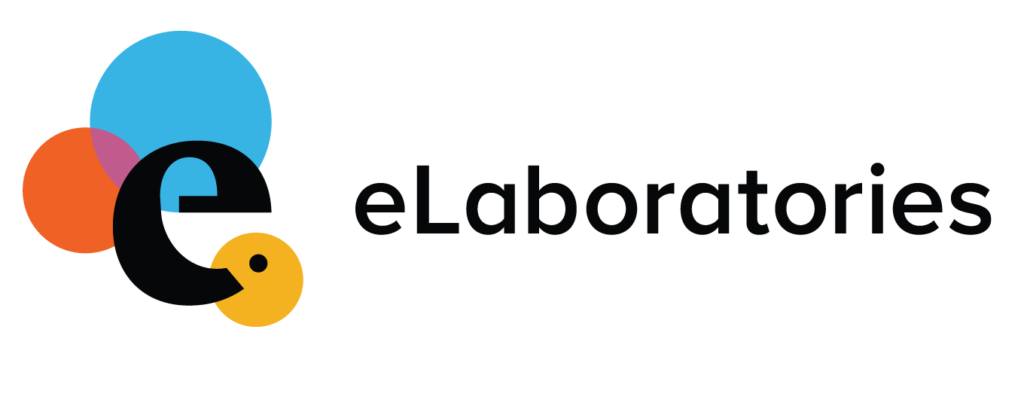 eLaboratories (or "eLabs," as we like to call it)—is an emergent space for cultivating connections, conversations, and collaborations between a diverse community of practitioners engaged in editing, recovery, or other research activities related to making source materials accessible and discoverable. Through online courses, forums, events, and more, practitioners can share their passions, grow their expertise, and shape the discourse of a vibrant, innovative, and inclusive community.
An NHPRC grant to the University of Virginia will support a three-year project to develop, enhance, and administer its new, freely-accessible professional development platform for historical and scholarly editing practitioners, eLaboratories.
---
Grant Deadlines
Note: The draft deadlines for the following categories is August 15, 2023. You may still contact NHPRC staff to discuss your proposals after that date.
For projects that ensure online public discovery and use of historical records collections.
Final Deadline: November 2, 2023
For projects that encourage public engagement with historical records.
Final Deadline: November 2, 2023
For projects to publish documentary editions of historical records.
Final Deadline: November 2, 2023
---
News from the Field
Native American Boarding School Healing
An NHPRC grant to the National Native American Boarding School Healing Coalition will support a project to digitize 20,000 pages of records (1852-1945) related to at least nine Quaker-operated boarding schools from six states held in the collections at Swarthmore College and Haverford College. This group of records are from Quaker-operated boarding schools and Quaker organizations include enrollment papers, financial information, correspondence, administrative records, and photographs.
The project is part of a larger national effort to document approximately 500 government-funded Indian day and boarding schools operated in the United States during the 19th and 20th centuries. The mission of the National Native American Boarding School Hearing Coalition is to lead in the pursuit of understanding and addressing the ongoing trauma created by the U.S. Indian Boarding School policy. For more information, go to https://boardingschoolhealing.org/
---
Reimagining Nebraska
An NHPRC grant to the Nebraska State Historical Society will support History Nebraska's project to convert its existing collection descriptions by migrating approximately 1,400 government record and manuscript finding aids from non-EAD documents into ArchivesSpace; oversee the migration of the remaining 1,500 finding aids in the collection; and link the finding aids to born-digital and digitized assets to Preservica, which currently contains over 470,900 digital assets. That will certainly change how we see Nebraska.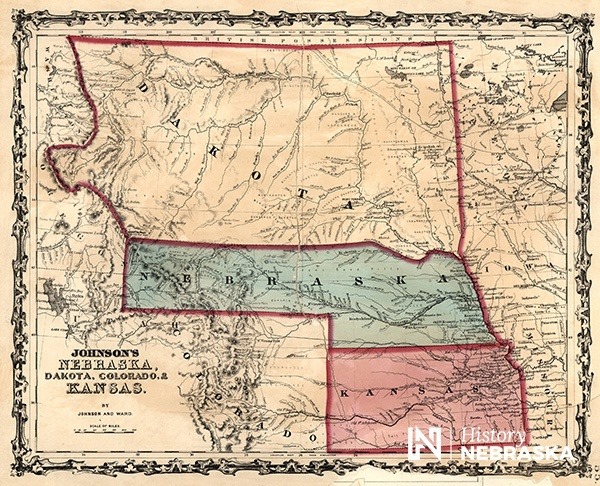 In 1854 the territorial boundaries stretched from the Missouri River to the Rockies, and from Kansas to Canada. In 1861, Congress sliced off the Dakota and Colorado Territories. This created Nebraska's present-day northern boundary along with the western Panhandle which stretched into what is now Wyoming. But not for long. Nebraska took its present shape in 1863. View more maps from the History Nebraska collection at https://history.nebraska.gov/collections/nebraska-maps
---
The Cactus League
The Buckhorn Baths Motel in Mesa, Arizona was famous for its mineral-rich waters and welcomed a vast array of guests from baseball players and movie stars, to high level businessmen and politicians.
After establishing their residence on the Buckhorn property on the northwest corner of Main Street and Recker Road, Ted and Alice Sliger built a store and gas station to accommodate the growing auto tourism. The Buckhorn became a stop in the desert to fill up on gas, buy trinkets and view Ted's taxidermy collection. In 1939, he struck an unknown hot spring reservoir.
In 1947 Bill Veeck, the owner of the Cleveland Indians (now Guardians) baseball club, was looking for a place to move for spring training and an opponent to practice against. He called up New York (now San Francisco) Giants owner Horace Stoneham, who had business ventures and a winter home in Phoenix. Stoneham knew about the Buckhorn Baths and thought the hot springs would be ideal for his players to recover from injuries and get ready for the season.
For the next 25 years, the Buckhorn Baths were the Giants' home away from home and baseball greats like Willie Mays, Gaylord Perry, Leo Durocher, Mel Ott and Juan Marichal became part of the Sliger family.
Over the years, other teams moved to the Grand Canyon State. Today, the Cactus League now features 10 ballparks in Arizona hosting 15 Major League Baseball teams for spring training.
An NHPRC grant to the Arizona historical records board will provide funds to the Mesa Historical Museum, to inventory the Museum's 5,000 feet of film footage, digitize it, and upload it to their online collections. The films include footage of the Buckhorn Baths, baseball spring training teams, Mesa school events, and early Mesa construction.
An exhibition on the Buckhorn will open at the Mesa Historical Museum on August 19. More info at https://www.mesahistoricalmuseum.com/upcoming-exhibits
---
Free Access to a Quarter Million Naturalization Records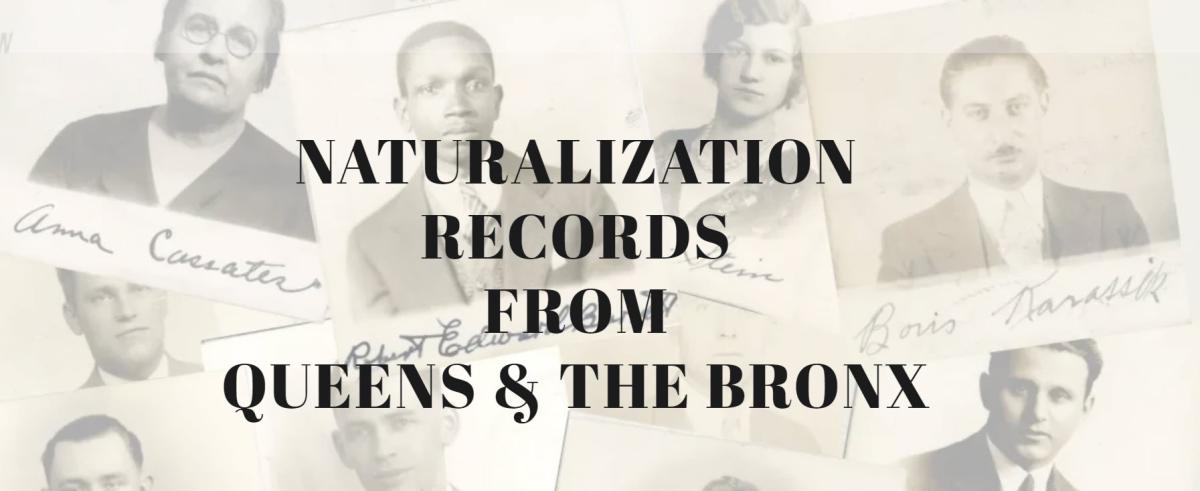 The County Clerk's offices of Queens County and Bronx County in New York have announced a collaborative effort along with the National Archives to provide free online access to over 250,000 naturalization records from Queens County (1795-1952) and Bronx County (1914-1952). This online searchable archive contains over a quarter million historical records documenting the legal process of immigration to the U.S. by foreign-born citizens and was made possible by funding from the NHPRC and the expert guidance of the New York State court system's Division of Technology.
Access is free, and the database is available at https://nynaturalizations.com/
Naturalization records typically contain the Declaration of Intention, Petition for Naturalization, Certificate of Naturalization and Oath of Allegiance, along with additional supporting information. These records have both personal and legal value. They are depictions of individuals who emigrated from their homes–setting sail for a new home with the hope of a better life–containing details such as the immigrant's age, height, weight, eye color, occupation, distinguishable markings and even photographs.
Such records are used by researchers, historians and genealogists for lineage purposes and by the public in instances where someone wishes to declare dual citizenship in their ancestral country.
---
Horizons-Upward Bound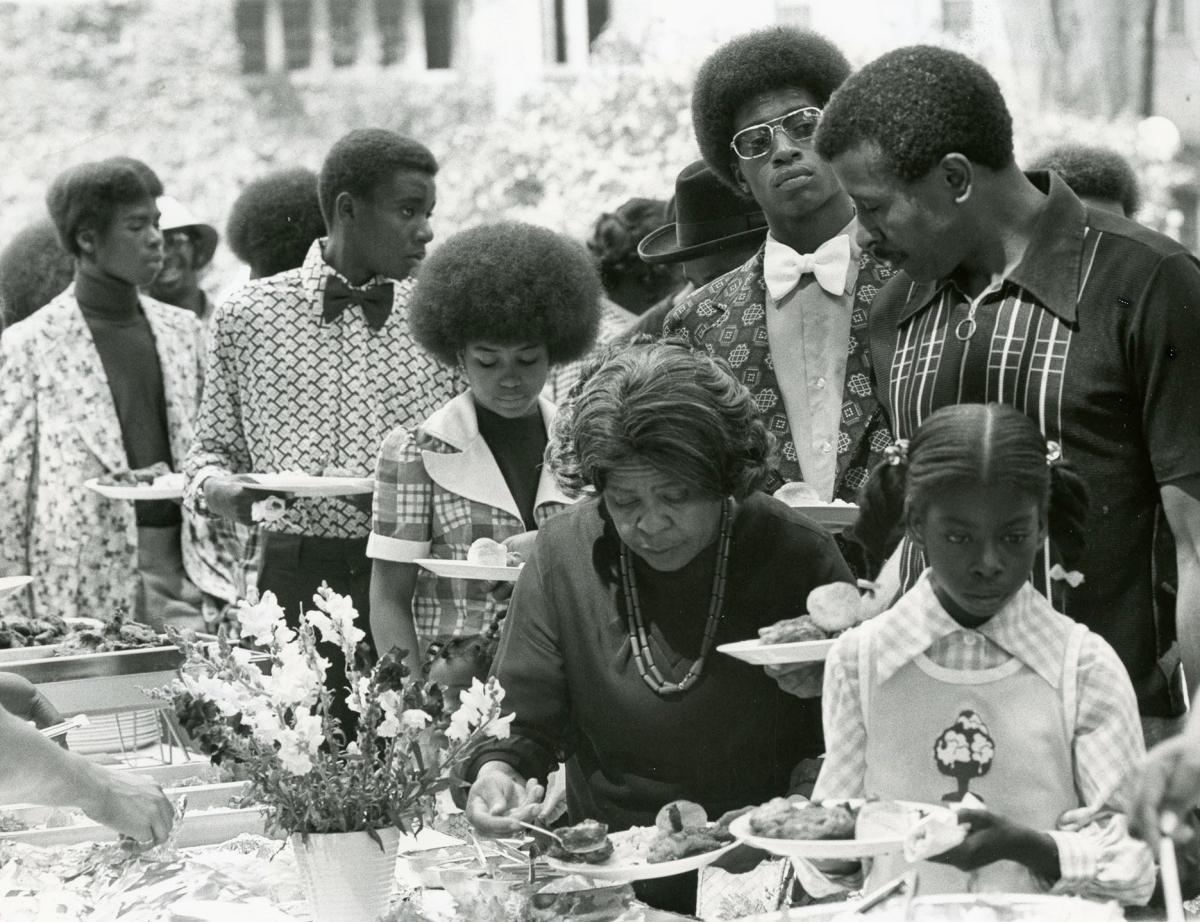 We had a certain style in the '70s and aspirations to high ideals. This photo is from "Theme Day" in 1971, celebrating the Horizons-Upward Bound Program at the Cranbrook Academy in Michigan.
The Cranbrook Educational Community has long supported IDEA (Inclusion, Diversity, Equity & Access), starting its Horizons-Upward Bound Program in 1965. HUB is one of the oldest and largest college access programs, serving low-income and first-generation high school students from Detroit (historically Metro Detroit and Pontiac) public schools by providing opportunities for academic and cultural enrichment in the pursuit of higher education, at no cost to the students. Because Cranbrook's HUB Program became a prototype for similar Upward Bound programs across the country, these records are critical to understanding its evolution and impact.
The NHPRC is supporting a project that will digitize 20.4 linear feet of administrative records, photographs, and other documents and 35 minutes of motion picture film of HUB's history from two collections. The digital surrogates will be made available via a HUB-focused gallery in the Cranbrook Center Archives online access portal.
To learn more about HUB, go to: https://schools.cranbrook.edu/.../horizons.../the-program
---
Chicago Covenants
Hard history requires confronting painful subjects. Racially-restrictive covenants were a tool used to keep neighborhoods segregated. The Chicago Covenants Project is documenting the history of this painful practice.
With support from the NHPRC, the project aims to involve Chicagoans in locating, digitizing, and creating metadata for every racially restrictive covenant in Cook County, IL; to exhibit these in a freely accessible digital archive, interpretive site, database, and interactive web map; and then to teach about the history of covenants, using a free curriculum guide aimed at secondary and post-secondary schools. Finally, with this model, the project will create a training manual and documentation of tools, processes, and workflows that can be used by other covenant research groups across the country.
The NHPRC is proud to support this project, based at Virginia Tech. You can read more about it at https://www.chicagocovenants.com/covenant-map
See also this article from the Newberry Library magazine at https://issuu.com/.../newberry_magazine_fall.../s/11309495
and this story from NPR at https://www.npr.org/.../racial-covenants-housing...
---
Philly History
We are sorry we missed this, sounds like fun. Parasols, funny hats...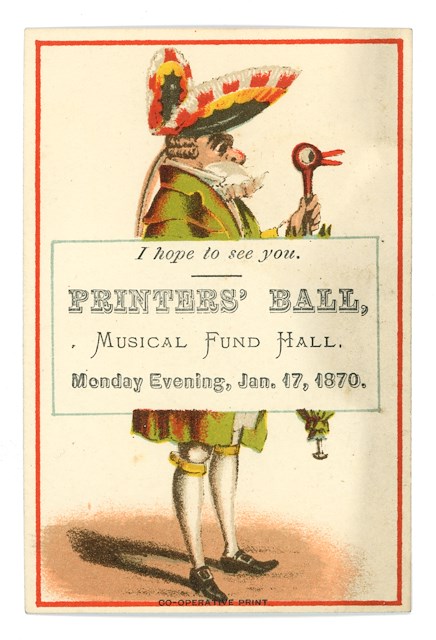 This poster is one of a series–Venetian carnivale figure holding an umbrella with a bird handle. "I hope to see you. Printers Ball, Musical Fund Hall, Monday Evening, Jan. 17, 1870–from the Atwater Kent Museum, Philadelphia.
An NHPRC grant to Drexel University will support a project to digitize the Local History Collection (formerly held by the Philadelphia History Museum as part of its Atwater Kent Collection) which contains an estimated 20,000 individual paper-based items from the late 17th through early 21st centuries, totaling 150 linear feet. The project will catalog 10,000 item-level entries to be searchable online, digitize 15,000 historical records, and create a new comprehensive descriptive online finding aid. See more at http://www.philadelphiahistory.org/
Would you like to receive updates from the NHPRC?