NHPRC News
October 2022
---
Inside the Commission
Commission to Meet on November 17
The National Historical Publications and Records Commission will meet on Thursday, November 16, 2022 via teleconference to consider grant applications and review policy. The public is welcome to send written comments to be shared with the Commission members by email to nhprc@nara.gov by November 10, 2020.
New Round of Mellon Grants
As a teenager, Sam Lone Bear of the Lakota joined the Buffalo Bill Wild West Show in 1894 and toured across the United States and Europe for over two decades. Shown here at age 22, he was one of 10 Lakota performers who posed for Philadelphia photographer William Rau in 1900. Because Sam Lone Bear could speak English, French and German, he often acted as an interpreter for the show.
The story of the Lakota performers is being preserved through "Wičhóoyake kiη aglí—They Bring the Stories Back: Connecting Lakota Wild West Performers to Pine Ridge Community Histories," a project supported by the NHPRC with funding from the Andrew W. Mellon Foundation.
We are now seeking proposals for the next round of planning grants for Collaborative Digital Editions in African American, Asian American, Hispanic American, and Native American History and Ethnic Studies. With an overarching goal to broaden participation in the production and publication of historical and scholarly digital editions, the program is designed:
To provide opportunities that augment the preparation and training of Black, Indigenous, and People of Color new to the work of historical documentary editing, especially those currently working in history or related area and ethnic studies departments.
To encourage the innovative and collaborative re-thinking of the historical and scholarly digital edition itself—how it is conceived, whose voices it centers, and for what purposes.
To support planning activities essential for successful development of significant, innovative, and well-conceived digital edition projects rooted in African American, Asian American, Hispanic American, and Native American history and ethnic studies.
To stimulate meaningful, mutually beneficial, and respectful collaborations that help to bridge longstanding institutional inequalities by promoting resource sharing and capacity building at all levels.
To sustain projects that build meaningful community and user engagement into their plans.
Grants are for up to two years and for up to $60,000 per year, and after the planning phase, projects will be eligible for implementation through NHPRC's Publishing Historical Records program.
The deadline for applications is June 7, 2023. We encourage you to be in touch with us with your ideas at whatever stage they are.
For the full grant announcement, go to https://www.archives.gov/nhprc/announcement/digitaleditions
---
News from the Field
October is American Archives Month!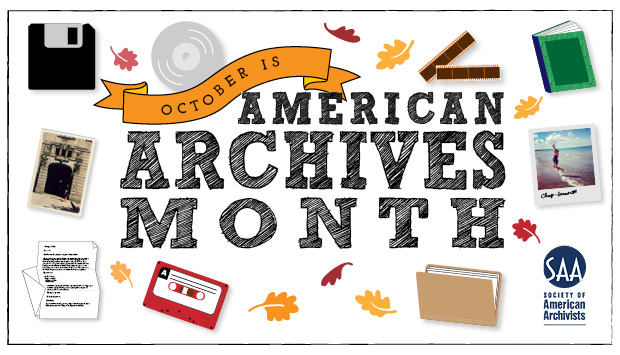 Every year as the leaves turn color, we celebrate American Archives Month with our colleagues across the country. This year's theme is "The Power of Collaboration," and we even have a grant program dedicated to bringing archives together. Although the application deadline has passed, you can get some good ideas for next year's grant at https://www.archives.gov/nhprc/announcement/collaboratives
And to find out more about American Archives Month, go to https://www2.archivists.org/.../american-archives-month... and https://www.archives.gov/news/topics/american-archives-month
---
Mountain Wolf Woman
Born in the Ho-Chunk (Winnebago) tribe in 1884, Xéhachiwinga (or Mountain Wolf Woman) told her life story to her adopted kinswoman Nancy Oestreich Lurie. Spanning seventy-five years, Mountain Wolf Woman's autobiography is a candid account of an American Indian woman, her childhood in Wisconsin, her brief stay at a mission school, her marriage to "Bad Soldier," and her religious experiences with peyote.
As part of an NHPRC grant, Pacifica Radio has digitized and provided online access to a program featuring readings from "Mountain Wolf Woman," Read by TrudieLamb, herself an Algonquin (Schaghticoke) Native American woman.
You can listen at https://archive.org/details/pacifica_radio_archives-BC0911
---
Those Hamilton Women
The Jane Addams Papers, long supported by NHPRC, is rich with the profiles of figures involved with Hull House in Chicago. The Hamilton sisters are no exception. Shown here are: Edith, Alice, Margaret and Norah between 1890 and 1895, Schlesinger Library.
Edith (1867-1963) was an American educator and internationally known author who was one of the most renowned classicists of her era in the United States, best known for her essays and best-selling books on ancient Greek and Roman civilizations. She appears occasionally in Addams's correspondence.
Alice (1869-1870) was professor of pathology at the Woman's Medical School of Northwestern University in 1897. In 1919, she became the first woman appointed to the faculty of Harvard University. Her scientific research focused on the study of occupational illnesses and the dangerous effects of industrial metals and chemical compounds. She was a social-welfare reformer, humanitarian, peace activist, and a resident-volunteer at Hull House in Chicago from 1887 to 1919.
Margaret Hamilton (1871-1969) was a close colleague and longtime family friend with Clara Landsberg, and was to become her lifetime companion. Landsberg became a resident at Hull House, in charge of its evening education programs and shared a room with Alice Hamilton. Landsberg eventually left Hull House to teach Latin at Bryn Mawr School, where Edith was headmistress. Alice Hamilton considered Landsberg part of the Hamilton family, one remarked, "I could not think of a life in which Clara did not have a great part, she has become part of my life almost as if she were one of us."
Norah Hamilton (1873 – 1945) was an artist and the director of the Children's Art program at Hull House where she lived for more than 20 years. She was a pioneer in art education for underprivileged children.
The Jane Addams Papers is a scholarly editing project publishing the correspondence and writings of Jane Addams from 1901-1935 in a freely accessible digital edition and in a selected print edition. The site has been built by editors, working with students at Ramapo College of New Jersey.
You can visit at https://janeaddams.ramapo.edu/digital-edition/
---
The Lantern Project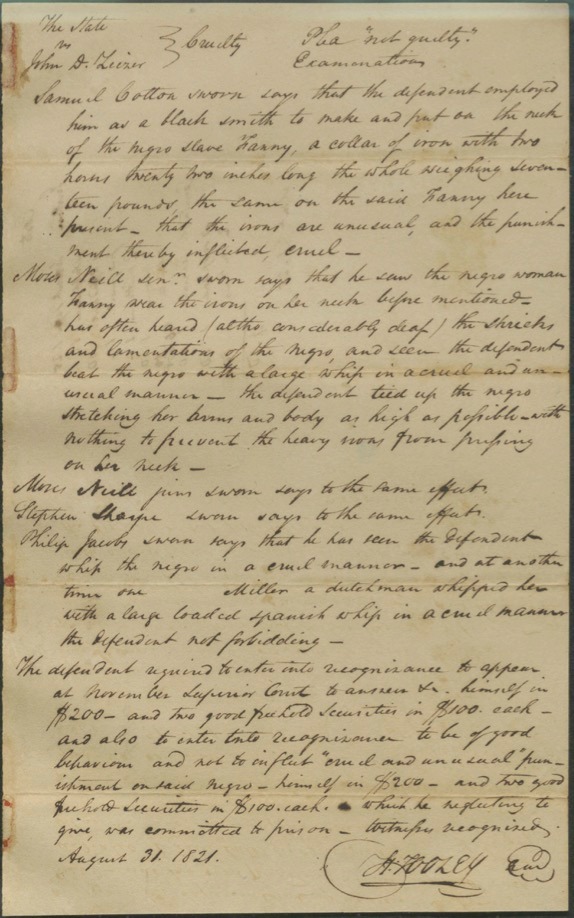 With support from the NHPRC, the Lantern Project is a collaborative project led by Mississippi State University as part of a coalition of institutions located within Mississippi and Alabama, including the University of Mississippi Libraries (Oxford, MS); Delta State University (Cleveland, MS); The Natchez Historical Foundation (Natchez, MS); Columbus-Lowndes County Public Library System (Columbus, MS); and the Montgomery County Archives (Montgomery, AL).The Lantern Project provides, for the first time, centralized and institutionally supported access to information in legal records documenting enslaved persons, including probate records, court records (orphans court, civil court, criminal court, and others), deeds, receipts, bills of sale, and other documents which were or could have been used as evidence in a trial, from across Mississippi and the Deep South.
Those records often tell horrific tales. This 1821 court case describing the unusual cruelty an enslaver inflicted on an enslaved person. In the State v. John D. Leiner a sworn affidavit "says that the defendant employed him as a black smith to make and put on the neck of the negro slave Fanny, a collar of iron with two horns twenty-two inches long the whole weighing seventeen pounds..." The State v. John D. Lenier, MSS 658 Todd A. Herring Collection, Manuscripts Division, Special Collections, Mississippi State University Libraries.
You can read more about this important project at https://scholarsjunction.msstate.edu/lantern/
"Joseph Tattle don't you Prattle!"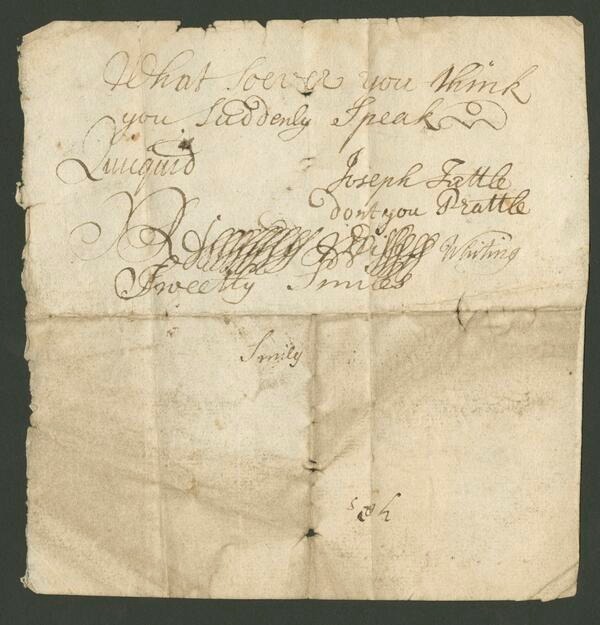 Our friends at the Connecticut State Library have recently completed 100 Years of Court Records: A Retrospective on documents from the New Haven County Court from 1700-1800 with funding from NHPRC. Highlights from the collections are at 100 Years of Court Records: A Retrospective.
We were particularly struck by the case of Jacob Robinson v. Joseph Tuttle from 1716. Robinson alleged that Tuttle called him a "whore master" in front of several people at Thomas Smith Jr.'s house.
Apparently, the New Haven County Court clerk was skeptical of Tuttle's innocence. On one of the papers, are various doodles: "What Soever you Think you Suddenly Speak"; "Quiquid" [Latin for whatever]; "Joseph Tattle don't you Prattle," and "Sweetly Smiles." -- according to the Connecticut State Library's wonderful blog.
You can see the full papers for this case in the Connecticut Digital Archive at http://hdl.handle.net/11134/30002:NHCC_Robinson-Tuttle
---
"Quoth the raven, nevermore..."
Edgar Allan Poe's famous poem "The Raven" seems an appropriate choice as we near Halloween, not only for its spooky cadence, but for the strange connection between pondering over works of forgotten lore and one of the first projects supported by the NHPRC.
It all goes back to the obsession of collector John Henry Ingram, who when he died in Brighton, England in l9l6, possessed, as he expressed it "a room-full of Poe." He had gathered the materials in an attempt to restore Poe's literary reputation, which had been sullied by the publication of the Memoir that Rufus W. Griswold had written and published in l850, a year after Poe's death. While that reputation began to turn around by the 1870s, Ingram could not shake his obsession with the master of the macabre.
According to the Finding Aid for the John Henry Ingram's Poe collection: "At that time scholars on both sides of the Atlantic were well aware of Ingram's collection of Poe materials. Both its size and value had been suggested by Ingram's four-volume edition of Poe's works, prefaced by an original and controversial Memoir, and its worth had further been proved by the two-volume biography of Poe in which Ingram had published a great deal of new and important information. So impressed was the New England editor and critic Thomas Wentworth Higginson that he addressed an anxious communication to Ingram on February l, l880, about his collection: "I hope that if you should ever have occasion to sell it or should bequeath it (absit omen! in either case) it may come to some Public Library in this country."
Ingram's Poe collection was to grow enormously through many more years, and in the end Higginson's wish was to be fulfilled: it was sold and it did come to America, to the Alderman Library at the University of Virginia."
There it was processed and, with one of the first grants from NHPRC, it was microfilmed for wider access. And Poe scholars have relied upon it to further the reputation of this American writer. The wonderful finding aid--which tells the story of Ingram's obsession in great detail--is available at https://ead.lib.virginia.edu/vivaxtf/view?docId=uva-sc/viu00220.xml
Perfect reading for the Halloween season.