Ronald Reagan Centennial
Celebrate the 100th Birthday of Ronald Reagan
Throughout 2011, the National Archives will celebrate the 100th anniversary of Ronald Reagan's birth with a variety of special programs and exhibits that explore the life and times of America's 40th president. Special social media initiatives and student/teacher outreach will also be highlights of the year-long celebration.
President Reagan's legacy is all around us. Learn more about it by following the Presidential Libraries on Foursquare. Log into Foursquare from your smartphone to discover Reagan history at your fingertips.
News and Information
Federal Agency Resources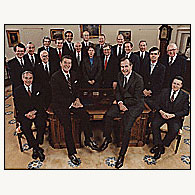 The National Archives is featuring a selection of documents that showcase President Reagan's relationship with each of the Federal agency departments that served him.
Ronald Reagan Centennial Commission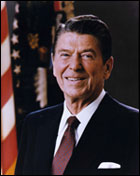 On June 2, 2009, President Obama signed a bill (H.R. 131) which created the Ronald Reagan Centennial Commission, an 11 person panel that will plan and carry out activities to mark the 100th anniversary of the president's birth.
Celebrations at the National Archives in Washington, DC
Celebrations at the Ronald Reagan Presidential Library and Museum in Simi Valley, CA