Prologue: Winter 1997
Essays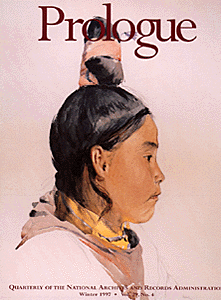 The Fair Employment Practice Committee and the Shipyard Hearings of 1943-1944
James S. Rush, Jr.
A Cold and Cheerless Habitation: Military Records and the Interpretation of Historic Interiors at Fort Point National Historic Site
Mary K. Grassick
Without Right of Conquest: The Civil War Occupation and Restoration of the Findlay Foundry of Macon, Georgia
Robert Scott Davis, Jr.
Features
Prologue in Perspective:Volunteering for History
John W. Carlin
Our Heritage in Documents: With the Compliments of . . .
William Gladstone
Prologue Portfolio: The Arctic Sketches of Russell W. Porter
Mary C. Ryan
Genealogy Notes: The United States Armed Forces and the Mexican Punitive Expedition, Part 2
Mitchell Yockelson
Departments
Publications
News and Notices
Index
Articles published in Prologue do not necessarily represent the views of NARA or of any other agency of the United States Government.
This issue is out of print and not available for purchase.