Archivist's remarks for the National Archives of Japan, March 7, 2015
Who is the Archivist?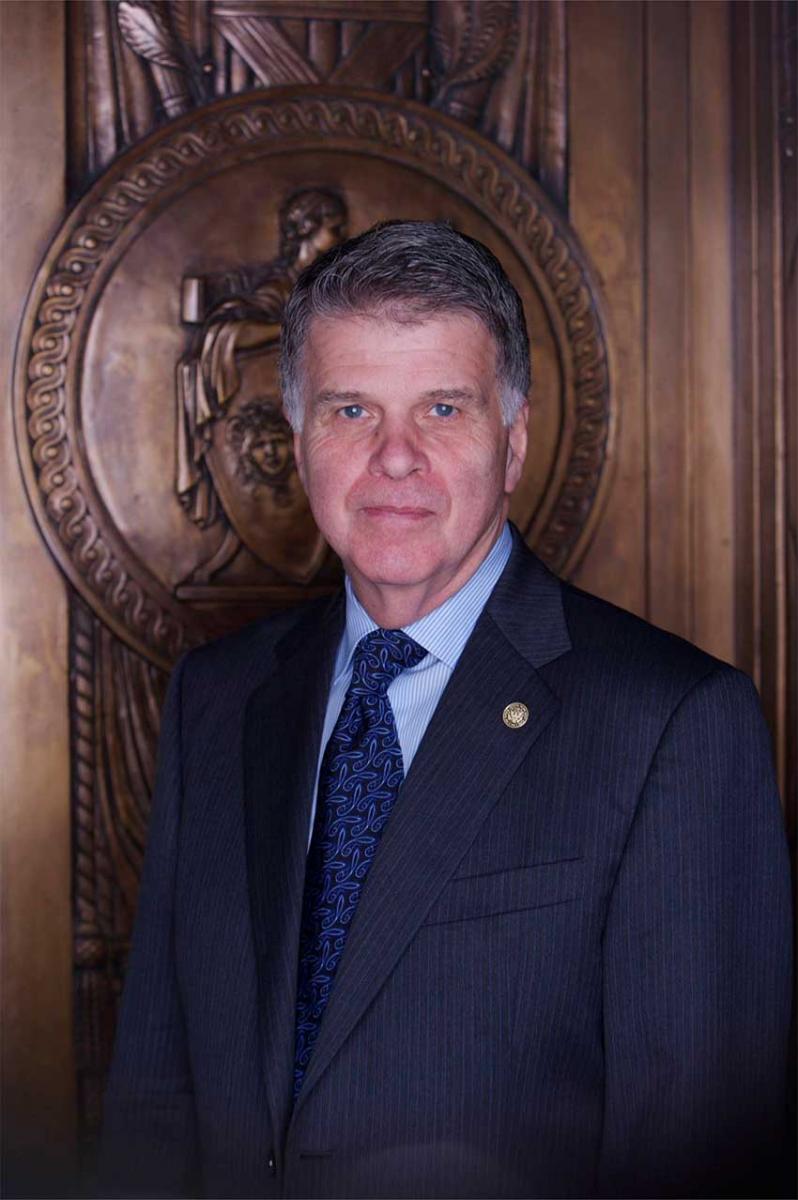 The Archivist of the United States is the head of our agency, appointed by the President of the United States.
The AOTUS Blog
What's an Archivist?
Konnichiwa! 
It is my honor to be with you here today and to participate in this symposium organized to celebrate the legacy of John F. Kennedy.  You will be hearing from my colleague, Tom Putnam, Director of John F. Kennedy Presidential Library and Museum about his work and the collections which he oversees.  In my time with you, I'd like to put that library in the context of official records management in the United States—the role of the National Archives in my country.
When we opened our doors in 1935, our mission was to collect, protect, and encourage the use of the records of the U.S. Government. And, most importantly, to make the records available so that the American public can hold its government accountable for its actions and to learn from our past.
We are the final destination of the most important records of the United States Government—that two to three percent of records deemed by departments and agencies to be important enough for permanent preservation. We are responsible for the records of 275 Executive Branch agencies and departments, the White House, and the Supreme Court. We also provide courtesy storage for the records of Congress.
Today, we have 3,200 employees in 46 facilities located across the country—from Seattle, Washington, to Boston, Massachusetts.  
Our records start with the Oaths of Allegiance signed by George Washington and his troops at Valley Forge in 1775 and go all the way up to the Tweets that are being created at the White House as I am speaking today. It is a collection of 12 billion pieces of paper and parchment (the equivalent of 1.5 million trees, which could circle the globe 84 times), 42 million photographs, miles and miles of film and video, and more than 5 billion electronic records—the fastest growing record form.
These are not static numbers:  every day we take in––or accession––more records, and we estimate the textual records grow by half a billion records each year.  
Thirteen of the 46 National Archives facilities are Presidential Libraries.  When President Franklin Roosevelt created the National Archives with legislation signed in 1934, he also created the Presidential Library System.  Those range from the Herbert Hoover Presidential Library in West Branch, Iowa to the George W. Bush Library in Dallas, Texas. Thirteen libraries in total with more than 780m pages of textual materials and 625,000 museum objects. Electronic records have grown exponentially through the last few presidential administrations.  We started collecting email during the Ronald Reagan administration. Between Ronald Reagan and George HW Bush, we have 2.5 million email messages. We have 20 million from the Clinton White House. 210 million from George W. Bush White House. And we expect the Obama administration will surpassed the 1 billion email mark before the end of 2016.
In addition to responsibility for the records of the country, three other important functions are part of the National Archives.
Five years ago, President Obama signed an Executive Order entitled, "Classified National Security Information," intended to overhaul the way documents created by the Federal Government are assigned classification codes—secret, top-secret, etc.  The Executive Order also created the National Declassification Center within the National Archives with the mandate to review for declassification some 400m pages of classified records dating back to World War I by the end of 2013.  We successfully met the goal by streamlining the declassification process, emphasizing a risk management strategy, and expanding data capture efforts.  The retirement of this backlog was an enormous effort by my staff and marked a significant step toward expanding public access to valuable historical records.  Since its inception the National Declassification Center has overseen the development of standard declassification processes and training to improve and align declassification reviews across agencies. They have taken public input into account when developing their prioritization plan, providing opportunities for public comment in a variety of media, and they hosted two public forums and two special collection symposia to update the public and share newly released historical material.  Some of those records reviewed and released include the first authorized review of the Pentagon Papers, two projects associated with the Berlin Wall, the records associated with the Katyn Forest Massacre and Brazil human rights abuses, and Visa records associated with the Shanghai Diaspora community.  An Archives website keeps the public updated on the status of declassification activities and provides opportunities for the public to suggest which records should get priority indexing.
The motto of the National Declassification Center is "Releasing all we can protecting what we must."  In that spirit, let me tell you about a couple of the records we have released:
The six oldest records, dating back to 1917 and 1918, are CIA documents which any secret agent would have killed for, hence their classified status.  Recipes for invisible ink!  One lists chemicals and techniques to create ink for "secret writing."  Another gives a list of ingredients and at the bottom of the page in large letter, "Do Not Inhale Fumes."
I mentioned the public meetings we hosted to listen to the public about what records were most important to them. A common theme from both meetings was records relating to Flying Saucers!  And we actually recently declassified an Air Force secret project report.  The U.S. Air Force contracted with a Canadian firm, Avro Aircraft Limited, to construct a disk-shaped craft designed to be a vertical take-off and landing plane capable of reaching a top speed of Mach 4, with a ceiling of over 100,000 feet and a range of over 1,000 nautical miles.  This was an Air Force program which existed from the mid 1950s to sometime in 1961.  Sad to report, after a $10m investment the saucer was barely a hovercraft and lost control if it rose above five feet.
The second special unit within the National Archives is the Information Security Oversight Office (ISOO) which oversees the classification programs of government and industry, ensuring public access where appropriate, but safeguarding national security information.  This office also reviews requests for original classification authority from agencies and does on-site inspections to monitor compliance with security requirements.  One of the growing concerns in the United States, especially among the open government community, is the over classification of records by Federal Agencies.  There are now more than 2500 different classifiers with no standardization of procedures or criteria for what is secret or top secret.  A Report to the President on this topic, managed by ISOO, has been delivered to the White House outlining 14 measures to reduce and standardize the classification process.
The third special unit is the Office of Government Information Services (OGIS).  Established within the National Archives by an act of Congress and started work in September of 2009.  OGIS is a Freedom of Information Act (FOIA) resource for the public and the U.S. Government.  It is a place where anyone can ask for assistance in their FOIA request process.  OGIS serves as the FOIA ombudsman—answering questions, tracking suggestions, and providing information.
Congress has also charged us with reviewing FOIA policies, procedures and compliance of Federal Agencies and the recommend changes to the FOIA law based on what we see.  Our mission includes resolving FOIA disputes between Federal Agencies and public requesters.
I am extremely proud of all that OGIS has accomplished in the past five years of operation.  We have put into action Congress's novel idea—applying Alternative Dispute Resolution techniques to an often highly adversarial process.  We have assisted thousands of FOIA requesters from across the country and around the globe, along with all 15 cabinet-level departments and dozens of agencies, in resolving disputes, some of which otherwise would have led to costly litigation.  And we have begun carrying our mandate to review agency FOIA policies, procedures, and compliance.       
The common theme of these three special units, as I hoped you sensed, is breaking down the barriers preventing access to the records of the country—the core mission of the National Archives which has become even more important in this Presidential Administration.          
On his first day in office, President Barack Obama issued an Open Government Directive which declared that:
 "My Administration is committed to creating an unprecedented level of openness in Government. We will work together to ensure the public trust and establish a system of transparency, public participation, and collaboration. Openness will strengthen our democracy and promote efficiency and effectiveness in Government."
This idea of "open government" is embedded in the mission of the National Archives and Records Administration. Our work is built on the belief that citizens have the right to see, examine, and learn from the records that document the actions of the U.S. Government.
The President's belief that the records of the country were vital to the success of open government, in November of 2011, he issued his Memorandum on Managing Government Records in which he said:
"When records are well managed, agencies can use them to assess the impact of programs, to reduce redundant efforts, to save money, and to share knowledge within and across their organizations.  In these ways, proper records management is the backbone of open Government."
This is the first time that a President has gotten involved in records management since Harry Truman.
The Memorandum began an executive branch wide effort to reform records management policies and practices and required each agency to:
Identify a senior official responsible for records
Provide plans for improving or maintaining its records management program, especially electronic records; and
Suggest obstacles to sound, cost-effective management policies and practices
The Memorandum mandated that the Director of the Office of Management and Budget and I issue a Records Management Directive to Federal Agencies which focused on:
Creating a Government-wide records management framework that is more efficient and cost effective.
Promoting records management policies and practices that enhance the capability of agencies to fulfill their statutory missions
Maintaining accountability through documentation of agency actions
Increasing open Government and appropriate access to Government records
Supporting agency compliance with applicable legal requirements related to the preservation of information relevant to litigation; and
Transitioning from paper-based records management to electronic records management where feasible
That directive was issued on August 24, 2011.  It outlined two sets of responsibilities—those of the Federal Agencies and those of the National Archives, the Office of Personnel Management, and the Office of Management and Budget in the support of the agencies' compliance.
And taking this a step further…On November 26, 2014, President Barack Obama signed into law the Presidential and Federal Records Act Amendments of 2014. This new law modernizes records management by focusing more directly on electronic records, and complements efforts by the National Archives and the Office of Management and Budget to implement the President's 2011 Memorandum on Managing Government Records.
Major updates to the Presidential and Federal Records Acts include:
Strengthening the Federal Records Act by expanding the definition of Federal records to clearly include electronic records. This is the first change to the definition of a Federal record since the enactment of the act in 1950.
Confirming that Federal electronic records will be transferred to the National Archives in electronic form.
Granting the Archivist of the United States final determination as to what constitutes a Federal record.
Authorizing the early transfer of permanent electronic Federal and Presidential records to the National Archives, while legal custody remains with the agency or the President.
Clarifying the responsibilities of Federal government officials when using non-government email systems.
Empowering the National Archives to safeguard original and classified records from unauthorized removal.
Codifying procedures by which former and incumbent Presidents review Presidential records for constitutional privileges. Formerly, this process was controlled by an Executive Order subject to change by different administrations.
Finally, we had Federal records laws updated to the 21st century!
Of the three pillars of the Open Government Initiative—transparency, collaboration, and participation—for us the most innovative work has been in the participation arena.
On the same day that President Obama announced his open government plan, he emphasized that "Our commitment to openness means more than simply informing the American people about how decisions are made. It means recognizing that government does not have all the answers, and that public officials need to draw on what citizens know. "
Knowing that we do not have all the answers, we are creating new ways for citizen participation at the National Archives. We launched the Citizen Archivist Dashboard as a means to increase participation and contributions to records. The Dashboard is an online portal that provides a centralized place for the public to tag, transcribe documents, edit articles, as well as upload and share scans or photographs of records.
We are in the process of launching a new online public access catalog.
This social catalog implements user contributions such as tagging, commenting, translation, and transcription. It will also feature additional functionality centered on citizen contributions as well as NARA's first application programming interface, or API.
The API will allow developer communities to use, re-use, and contribute to our data. Tags and transcriptions will be indexed nightly and fully searchable. As far as we know, we are the first archives to integrate transcription directly into our online catalog.
The National Archives launched our first social media platforms in 2009, with the launch of our researcher blog, NARAtions. We now engage the public on more than 160 external projects on 15 social media platforms, including Flickr, Foursquare, Facebook, Twitter, YouTube, Blogs, Tumblr, iTunes U, Google+, Wikispaces, Dipity, GitHub, Instagram, Storify, and Pinterest.
Our content on these platforms received more than 140 million views last year. The social media activities place the National Archives out in front among U.S. government agencies and archival institutions.
This President has put a huge premium on Innovation—encouraging agencies to innovate solution to problems.  We have created a Chief Innovation Officer position and this month we will be opening our Innovation Hub. It is a public space in our flagship building in Washington, DC, for innovative projects that involve both the staff and the public. This space will be used for citizen scanning where researchers can make digital copies of their records at no cost in exchange for giving the National Archives a digital copy. We will upload these records to our online public access catalog.
To demonstrate their seriousness about innovation, the White House has created a Presidential Innovation Fellows program where young high-tech start up geniuses spend a year working in the Federal Government on technology applications.  We have been fortunate to have two working with us.
 
The Innovation Hub will also host Wikipedia events throughout the year as well as a Wikipedia pop-up exhibit that will explain their work to the staff and public.
The National Archives is the first Federal Agency to have a Wikipedian-in- Residence.
Wikipedia is helping us make access happen in ways we have never done before. For example, an article on "Desegregation in the United States Marine Corps" was written one night after a challenge to the Wikipedia community to write a piece that incorporates an upcoming Today's Document selection. In this case, the National Archives record was the official portrait of Howard Perry, the first black Marine. We featured the article heavily in our own Today's Document page, but the entry was highlighted in the "Did You Know" section of Wikipedia's main page, which got about 5 million views in the few hours it was there!
To demonstrate the power of Wikipedia, let me share some statistics from last year.  Our online catalog had 833,000 hits.  Our YouTube content, 1.1m hits.  Flickr photo views, 45m.  Archives.gov, 86m.  4,000 articles in Wikipedia with National Archives Content, 1.1b hits.
***
Let me close with a glimpse of the future as represented by the new Strategic Plan of the National Archives.
Evidence of our commitment to open government can be found in our mission statement:  "We drive openness, cultivate public participation, and strengthen our nation's democracy through public access to high-value records."
To further this commitment, our new plan is based on four strategic goals:  Make Access Happen, Connect With Customers, Maximize Our Value to the Nation, and Build Our Future Through Our People.
"Make Access Happen" established "public access" as NARA's core purpose.  It affirms that public access is the ultimate outcome of all of our work.  Make Access Happen also signals a significant shift in strategy and purpose:  We will reach beyond the traditional role of making records available for other to discover and will make access happen by providing flexible tools and accessible resources that promote public participation.  And I have put a stake in the ground—a stake named digitization.  Our goal is to digitize ALL of our records.  You will hear about a stunning example of what can happen when you digitize hundreds of thousands of records  and make them available when Tom Putnam speaks.  Another important aspect of this strategic goal is digital preservation—an area ripe for international collaboration.  We are all struggling to ensure that the electronic records in our custody are protected in a way that guarantees their authenticity, can be migrated as new technologies emerge, can be processed by systems capable of recognizing and translating obsolete formats, and will be available to future generations—all things we can guarantee in the paper environment.
"Connect With Customers" challenges us to continuously improve customer service, cultivate public participation, and generate a new understanding of the importance of records in a democracy.  We will continuously engage with and learn from our customers—individuals, organizations, and other Federal Agencies.  We will build long-term, positive, effective relationships and provide a consistent customer service experience across programs, platforms, and locations.  We intend to be an exemplar culture in the Open Government environment.
"Maximize Our Value to the Nation" recognizes the fact that public access to government information creates measurable economic value, which adds to the enduring cultural and historical value of records.  We will continue to be an effective steward of the government resources that we hold in trust and will constantly strive to be a responsive 21st-Century Government Agency.  And we will do this by implementing new business practices to achieve greater efficiency and effectiveness in all we do to ensure institutional sustainability.
Finally, and most importantly, "Build Our Future Through Our People" is our commitment to provide the National Archives staff with the training and opportunities necessary to successfully transition to a digital environment.  We have an opportunity to "become more"—to find ways to be more supportive of our staff, better at our jobs, savvier in our decision making, and bolder in our commitment to leading the archival and information professions to ensure continued relevance and flourishing of archives in a digital society.  We will build a modern and engaged workforce, develop the next generation of leaders, and encourage our employees to collaborate, innovate, and learn.  Above all, we will provide a workplace that fosters trust, accepts risk, and rewards collaboration.