Immigration: Barriers and Access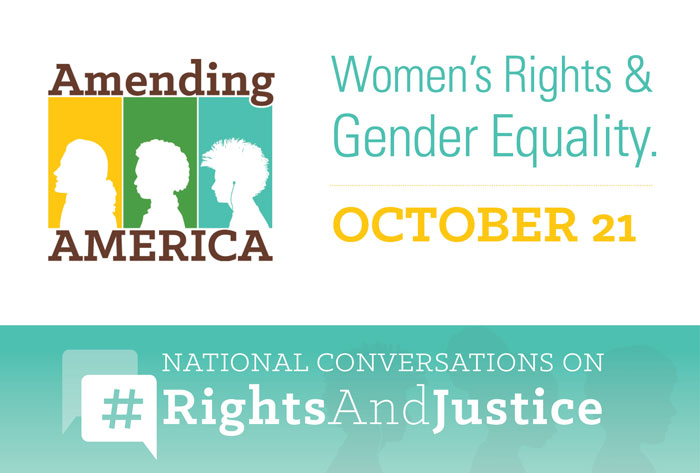 New York has been at the forefront of debates about women's rights and gender equality since the first Women's Rights Convention in Seneca Fall, New York was held 150 years ago. On Friday October 21, join the National Archives at New York in partnership with the Smithsonian's National Museum of the American Indian at the Alexander Hamilton U.S. Custom House at One Bowling Green, New York City to continue this debate.
Join the Conversation:
Schedule

At 9:30 a.m.

The National Conversation on #RightsAndJustice will open with remarks by:

Dorothy Dougherty, Programs Director, National Archives at New York;
Machel Monenerkit, Deputy Director, National Museum of the American Indian;
Congressman Jerrold Nadler (NY-10);
Melissa Mark-Viverito, Speaker of the New York City Council; and
David S. Ferriero, Archivist of the United States.

At 10:00 a.m.

Women's Rights and Gender Equality: From Eleanor with:

Soledad O'Brien, award-winning journalist; and
Anna Eleanor Roosevelt

At 10:00 a.m.

Gender Equality and Human Rights with:

Andrea Flynn, Roosevelt Institute;
Arlinda Locklear, 1st Native American Attorney to argue in front of the U.S. Supreme Court;
Alondra Nelson, Columbia University;
Allida Black, George Washington University; and
Noreen Farrell, Equal Rights Advocates.

At 1:15 p.m.

Women's Rights: Health/Reproduction, Family, Race, Violence with:

Andrea Flynn, Roosevelt Institute;
Suzan Shown Harjo, The Morning Star Institute;
Suzann Braun Levine, Ms. Magazine; and
Stephanie Totl, Center for Reproductive Rights.

At 2:30 p.m.

Advocacy & Action: Financial Empowerment, Business, Technology, Education with:

Soledad O'Brien, Award-Winning Journalist;
Marianne Schnall, Executive Director & Founder Feminist.com, contributor NPR: The 51%;
Dana Edell, PhD. Executive Director SPARK Movement;
Avis Jones-DeWeever, Founder Exceptional Leadership Institute for Women; and
Rachel Simmons, author Odd Girl Out: The Hidden Culture of Aggression in Girls.

At 3:30 p.m.

Performance by Aja Monet, poet.

At 3:45 p.m.

Closing Keynote by Joelle Gamble, Director of National Network of Emerging Thinkers, Roosevelt Institute.
Presented in part by AT&T, Ford Foundation, Seedlings Foundation, Carnegie Corporation of New York, and the National Archives Foundation.
Special thanks to Perkins Coie for their support of this event in New York City.