Featured Documents of the Month from the National Archives at Boston
Red Sox Nation!
Edward T. Collins: the guy who told Mr Yawkey to buy the Red Sox and then made them the team we love.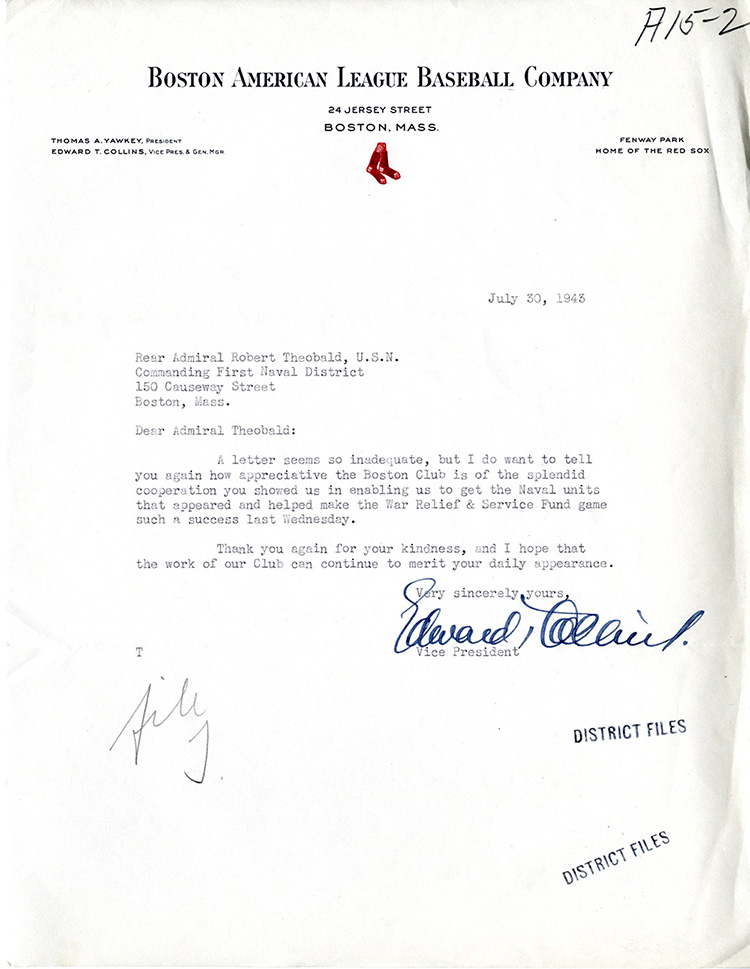 Eddie Collins is remembered for his 25-year Hall of Fame career as a second baseman. He played from 1906 to 1930 for the Philadelphia Athletics andChicago White Sox. Following the A's 1930 World Series victory, Collins officially retired as a player and immediately stepped into a full-time position ascoach for the A's. After two seasons as a coach, Collins was hired in the new position of the general manager of the Boston Red Sox. The new owner, Tom Yawkey, was a close friend and had actually bought the Red Sox in 1933 at Collins's suggestion. The Red Sox had finished last in nine of the preceding 11 years, but by the end of Collins's second year on the job the Red Sox had reached .500 with a fourth place finish.
On a West Coast road trip in 1936, Collins personally scouted a pair of teenagers, future Hall of Famers Bobby Doerr and Ted Williams. He remained GM until the 1947 season, and helped turn a dreadful team into a contender once again, including a trip to the World Series in 1946.
We must also remember that Collins instituted an unofficial policy of not signing black players. This practice remained in place throughout baseball until Jackie Robinson was signed by the Brooklyn Dodgers.
Here is a letter from Red Sox Vice President Edward Collins to Commandant of the First Naval District Rear Admiral Robert Theobald regarding the appearance of naval units at the War Relief and Service Fund game.
Citation: Letter from Edward Collins, Red Sox Vice President, to Rear Admiral Robert Theobald, Commandant of the First Naval District, 07/30/1943; RG 181 Records of Naval Districts and Shore Establishments, First Naval District; National Archives at Boston; National Archives Identifier: 6050398.