Contact Us
Getting to Denver Federal Center
Who Would You Like to Contact?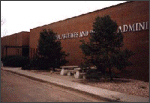 Location and Hours
Our hours and building location vary depending on the type of research you're doing.
Types of Research You Can Do
Select what type of research you will be doing to select the Building Location that you'll visit.
Microfilm Research (including genealogy-related microfilm)

Please note:  Effective February 7, 2011, the Federal Records Center Research Room will only be open two days per week, Tuesdays and Thursdays, 8:00 A.M. - Noon, by appointment only.   
Location:   17101 Huron Street, Broomfield, CO 80023
Hours:  
8:30-4:00 p.m., Monday-Friday,
Closed weekends and Federal holidays
Directions to the National Archives at Denver
Directions:
Take I-25 North to Exit 229 (Lafayette/Brighton), go up the ramp. Turn left at the stop light, cross over the interstate and turn right at the first opportunity (Huron Street, approximately 1/8 mile from the interstate). We are the blue and white building to the northwest. The road narrows right after you cross I-25, and then there is a Right Turn only lane; this is Huron St. and where you need to turn. There is no sign that points to our facility. If you go past Children's Hospital, you have gone too far.