Migration North to Alaska
Homesteading and Citizenship
Many who came to Alaska chose to make it their permanant home. Some did so by filing a homestead claim after the Homestead Act was extended to Alaska on December 6, 1897. This allowed settlers to receive land and railroad builders to obtain necessary rights-of-way from the government.
Foreign settlers began the citizenship process by filing a Declaration of Intention for Naturalization form with the Immigration and Naturalization Service.
More information on naturalization records is available from the National Archives.
---
The Documents
Extension of Homestead
Act to Alaska
Public Law 55-95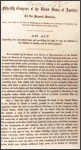 Click to Enlarge
National Archives and Records Administration
Records of the U.S. Government
Record Group 11
Declaration of Intention #445
Arne Simon Kristaffer Erickson,
9/1/10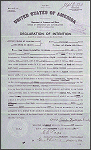 Click to Enlarge
National Archives and Records Administration
Records of the District Courts of the United States
Record Group 21
---
Migration North to Alaska Main Page
Homesteading and Citizenship