Education and Training Materials
Security education plays a critical role in the effectiveness of an agency's information security program. The Information Security Oversight Office (ISOO) continues to explore ways to coordinate the dissemination of as many security education aids as possible and to develop them within the context of budgetary considerations. Below are Security, Classification Management, CUI, Markings, and Industry training aids.
---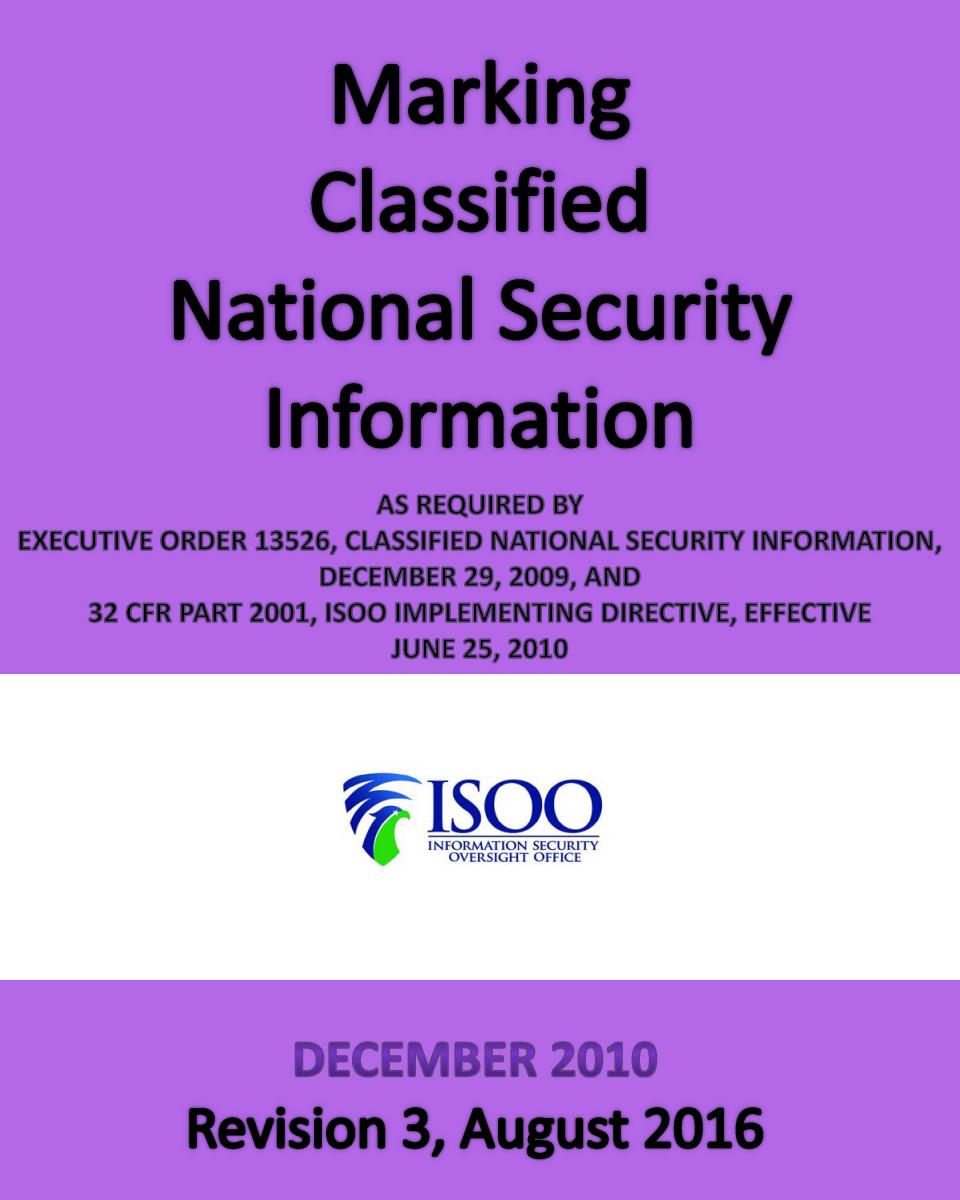 Marking Classified National Security Information (Updated February 2017)
ISOO has issued a Marking Booklet to reflect updates in marking procedures for classified national security information resulting from the issuance of Executive Order 13526 and 32 CFR Parts 2001 and 2003.  
---
Marking Controlled Unclassified Information(Version 1.1 – December 6, 2016)
-
ISOO has issued a Marking Handbook to reflect marking procedures for controlled unclassified information. For more information please visit CUI Policy and guidance:
Marking Controlled Unclassified Information Rev 1.1 (Marking Handbook)  
---
 Supplemental Training Aids on Classification Management and Marking Documents
2016 Open House
ISOO held its annual open house on November 3, 2016 for agencies to learn about Information on (ISOO), its mission, and the current state of the Classified National Security Information Program, the National Industrial Security Program, and the Controlled Unclassified Information (CUI) Program. See below for the open house materials
Presentations 
Videos
ISOO Panel
Classification Management
Controlled Unclassified Information
Operations and Industrial Security
National Industrial Security Program Information
ISOO has produced the following brochure on the "National Industrial Security Program, also known as NISP". It includes a brief discussion of the background and purpose of NISP and its four major tenets.

Outside Training
Courses on security training, derivative classification, and other professional certifications.
Center for Development of Security Excellence (CDSE) Provides a center of excellence for security training, professionalization, education, certification, research, and multimedia for the security community.  For more information please visit:  Center for Development of Security Excellence