9/11 Fireman's Son Sees Dad on National Archives Instagram
National Archives News
WASHINGTON, January 13, 2020 — When the National Archives marked the 18th anniversary of the 9/11 tragedy on social media, posts included images from the President George W. Bush's visit to Ground Zero on September 14, 2001. The President spoke through a bullhorn while standing on a pile of ruins, surrounded by first responders and still-smoldering rubble.
Mary King, National Archives digital engagement specialist, posted an image of firefighters listening to the President on the National Archives Instagram account: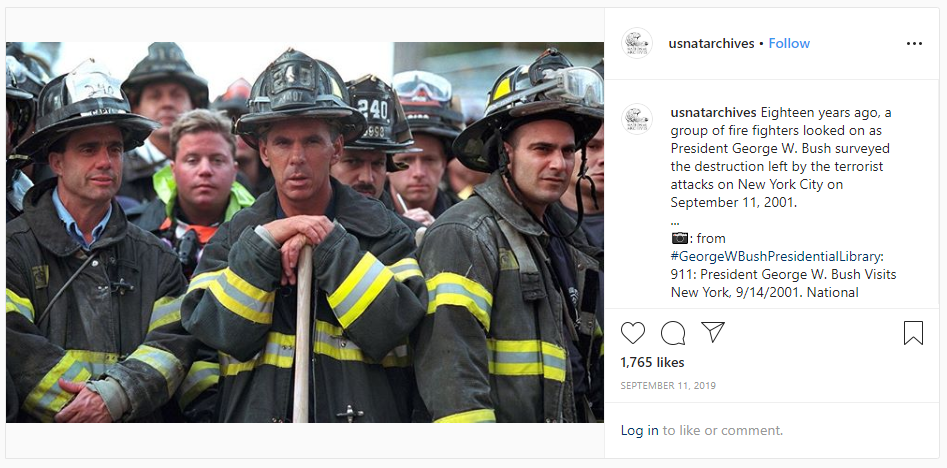 That evening, she received a direct message from Michael Bardo: "Hello, I just came across this picture that you posted and the firefighter in the middle is my dad. We don't have the original picture ourselves. Is there any way you can send me the original photo?"
Mary shared this message with the Public Affairs office, asking if anyone "would be interested in talking to him and seeing if there's a story there?" Miriam Kleiman, Program Director for Public Affairs, volunteered, responding: "What a great story idea. And a clear reminder that 'records matter.' "
"Records matter" is a familiar phrase at the National Archives. We strive to share stories that show how our holdings are relevant, and a powerful way to do this is by connecting with people from the records. During her time at the Archives, Kleiman has reached out to a number of people who appear in our holdings. "Making and sharing these personal connections remains the most meaningful part of my work," she said.
Given the sensitivity of the issue, the tremendous loss, and many first responders' continuing health challenges from toxic exposure, Kleiman was initially hesitant about contacting Bardo.
But she did email him and thanked him for contacting the National Archives, acknowledged the sensitivity of the issue, and asked to talk with him about how he found the picture and his own and his father's thoughts about the image and to the fact that it's part of the permanent collection of the National Archives. He responded immediately that he and his father would be willing to talk.
On the phone, Paul Bardo told the story of what he experienced that day. On September 11, 2001, New York City Fire Department firefighter Paul Bardo had a day off. He was jogging along the Upper New York Bay near his home in Brooklyn when he saw the second World Trade Tower hit. He immediately went to his firehouse, Brooklyn Engine Company 240, and rushed to the site later known as Ground Zero. He joined other firefighters to scour the buildings and grounds. They searched for survivors and bodies—and found none. One building collapsed just 30 minutes after they searched the basement.
Paul described Ground Zero as "total chaos." He worked for 24 hours straight, then went home and returned after a few hours of sleep. He remembers seeing and hearing President Bush speak on September 14 but didn't recall any press, and he certainly wasn't aware of a White House photographer. He and his fellow firefighters were "numb" and "shell-shocked." They spent the next several weeks working there. Paul said he's "honored" to have been part of the New York City Fire Department and to have been a first responder, and that 9/11 "should never be forgotten." He has not returned to the site where 343 firefighters were among the 2,977 lives lost.
This was not Paul's first emergency at the site. On February 26, 1993, a bomb exploded in the parking garage of 2 World Trade Center, blasting a crater six floors deep and 200 feet wide. Six people were killed, and more than 1,000 injured in what was at that time the deadliest terrorist act perpetrated on U.S. soil. Paul was a first responder then, and after that experience began learning more about terrorism and vulnerabilities.
The photo on Instagram was not a total surprise—the Bardos knew that this picture existed but had only seen fuzzy versions of it. The image was used on Inside 9/11, a documentary that aired in August 2005. In 2011, George W. Bush: The 9/11 Interview aired on television and used the image while President Bush describes: "still smoke in the air. . . . It was an ugly scene. . . . And there were firefighters, police, rescue workers. . . . I could see the bloodshot eyes from people that were working overtime." In both cases, friends took pictures of the television screen for the Bardos.
Michael Bardo was seven years old on 9/11. He was sent home from second grade along with the rest of his schoolmates and remembers it as "the quietest day." As Michael grew, he learned about his father's important role and decided to honor him by becoming a firefighter himself. He has completed the New York City Fire Department's rigorous testing and screening process and is on the waitlist. In the meantime, he teaches middle school and coaches a swim team in Park Slope, Brooklyn.
In the years since that memorable photograph was taken, Paul retired from the Fire Department, but he has continued to pursue his other passion—scuba diving. He called diving his "therapy" for the last 42 years. He owns a dive shop, is a scuba instructor, and leads dive trips around the world, to locations such as Cozumel, Mexico, and Paulau, Micronesia. Michael is now also a scuba instructor. Recently, at the suggestion of members of the NYPD Joint Terrorism Task Force, Paul shared the therapeutic properties of diving with Sanny Liu, the widow of a New York Police Department detective who was murdered in 2014. "She did take the course and joined us on a trip to Cozumel, Mexico. There I saw some of the most beautiful smiles I have ever seen. She enjoyed scuba diving, and we continue to be friends and stay in contact to this day," Paul said. Kleiman noted, "Based on his mention of recent spinal surgery, I was surprised and delighted to learn that he remains both so active and committed to helping others."
When Michael Bardo reached out to the National Archives last September to request the image, he did not know that the picture was a National Archives' record, one of a series of pictures by White House photographer Paul Morse, stored on a magnetic disc at the George W. Bush Presidential Library in Dallas, TX. He knew it was a photo of his dad, Paul Bardo, a 9/11 hero. Kleiman noted: "By reaching out and connecting us to his dad, he gave us the chance to thank Paul for his selfless work, and that of his fellow Brooklyn Engine Company 240 first responders. We were happy to trade that for a hi-res image, and hope to welcome him, his family, and former co-workers to the National Archives in the future."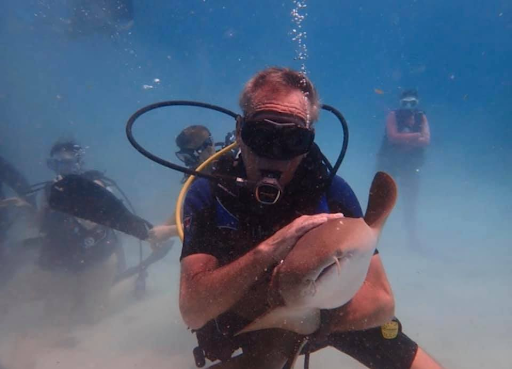 Paul Bardo on a dive trip. (Photos courtesy of Paul Bardo)