Civic Learning Week Debuts at National Archives
By Mary Ryan | National Archives News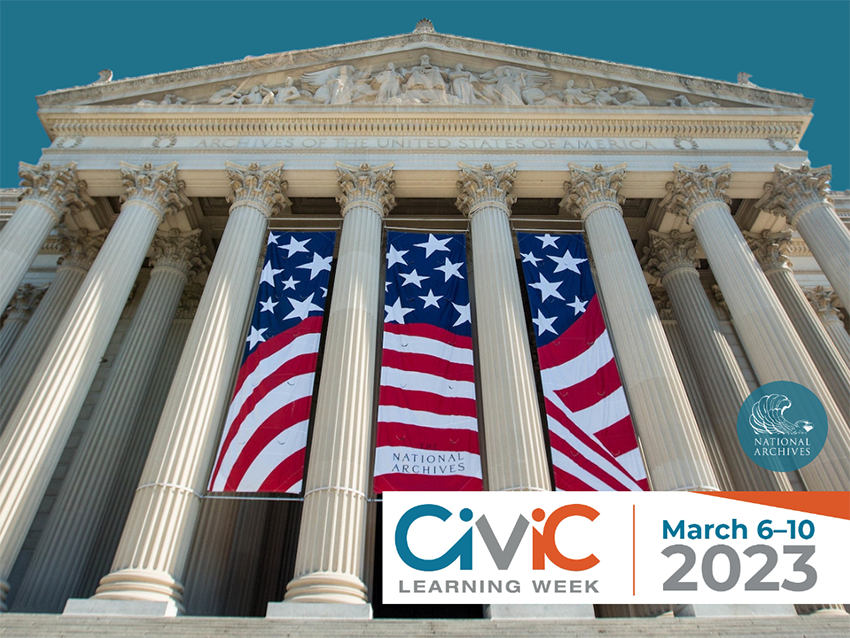 WASHINGTON, February 28, 2023 — The National Archives will host the opening forum for Civic Learning Week on March 7 in Washington, DC. The forum will be held in the William G. McGowan Theater in the National Archives Building and will bring together experts from around the country to discuss why civics matter, what resources are available, and what excellent civic education looks like.
The National Archives and the National Archives Foundation have joined iCivics in cosponsoring this first national Civic Learning Week (March 6–10, 2023).
Throughout the week, educators, students, and other community members will be able to participate in workshops, discussions, and other activities designed to promote civics and strengthen constitutional democracy in the United States.
Participants in the forum will also learn about the National Archives' new national civic education initiative, "Civics for All of US," through a special presentation. This national initiative, focused on building civic literacy and engagement, is supported by the National Archives' network of educators located in Washington DC, New York City, and its Presidential Libraries nationwide. In addition to this presentation, the National Archives will host two online student programs: "Voting Rights, the Constitution, and Representative Government" (March 8) and "The First Amendment: Five Rights in One!" (March 10).
The Civics for All of US website provides a gateway to distance-learning programs, student webinars, and teacher workshops using the records of the U.S. Government. Educators may join a scheduled webinar or arrange for a program for groups of 10 or more students from kindergarten through 12th grade. Acting Archivist of the United States Debra Steidel Wall will deliver the opening remarks at the March 7 forum. "As the home of our nation's Founding Documents, we are pleased to host the Civic Learning Week Opening Forum at the National Archives," said Wall. "We look forward to joining the conversation about the importance of civic education and sharing our national civic education initiative, Civics for All of US."
The National Archives is proud to be a leader in civics education. Check our online calendar to find out about civics programs throughout the year.
View the schedule for the opening forum of Civic Learning Week and register to attend.