Remembering 9/11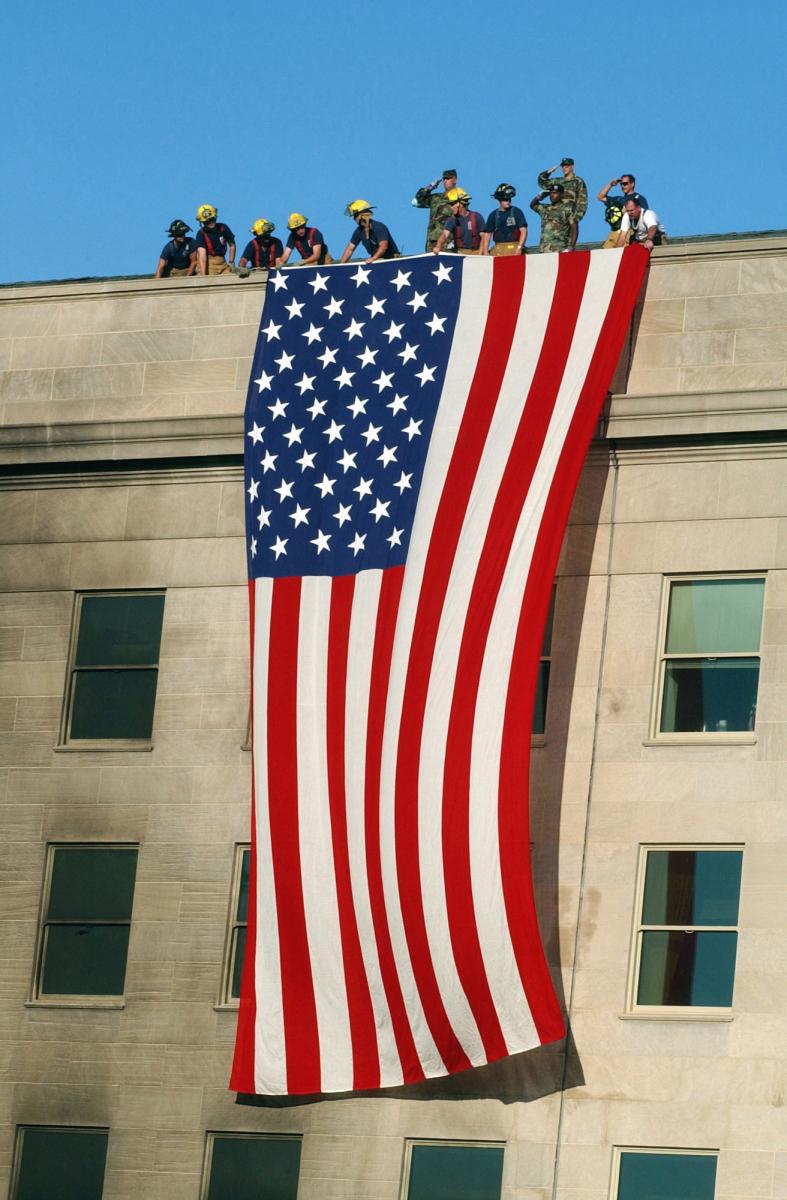 This year, we commemorate the 20th anniversary of the September 11, 2001, attacks on the United States. The National Archives safeguards many records related to 9/11, including those of the 9/11 Commission, the 9/11 Federal Aviation Administration records, and the records of the George W. Bush Presidential Library.
Most of us remember where we were, and how life changed that day. As an agency with facilities in Washington, DC, New York, Massachusetts, Pennsylvania, and California, the immediacy of the events felt that much closer to our homes and workplaces.
Left: Soldiers from the 3rd Infantry render honors as firefighters and rescue workers unfurl an American flag at the Pentagon. (Photo by U.S. Navy Petty Officer 1st Class Michael Pendergrass) View in National Archives Catalog
Click "+" to display more information:
Tuesday, September 7
7 p.m. ET
American Phoenix: Heroes of the Pentagon | National Archives Museum
Journalist Phil Hirschkorn speaks with Lincoln W. Starnes, author of American Phoenix, and Pentagon eyewitnesses/rescuers Lt. Col. Marilyn Wills, Army Sgt. 1st Class Christopher Braman, and Army Sgt. Maj. Tony Rose.
Wednesday, September 8
5 p.m ET
How We Remember: September 11 Memorials | National Archives Foundation
Patrick Madden, Executive Director of the National Archives Foundation, moderates a discussion on memorials to mark national tragedies. Panelists include Michael Arad, architect of NYC's 9/11 Memorial, Julie Beckman and Keith Kaseman, designers of the National 9/11 Pentagon Memorial; Paul Murdoch, architect of the Flight 93 National Memorial; and Spencer Bailey, journalist and author of In Memory Of: Designing Contemporary Memorials. Moderated by Patrick Madden, National Archives Foundation.
Friday, September 10
6 p.m. ET
A Life of Selfless Service, Sacrifice, and Civic Engagement | National Archives at New York
Although Colonel Cyril 'ÄúRick'ÄĚ Rescorla died on 9/11, he is credited with saving the lives of 2,700 fellow employees of Morgan Stanley. A panel will discuss his service, courage and leadership. Megan Jones, Senior Director of Education Programs, 9/11 Memorial and Museum, will moderate the conversation with Conrad Crane, Chief of Analysis and Research for the U.S. Army Heritage and Education Center, Carlisle Barracks, PA; Lissa Young, Assistant Professor in the Department of Behavioral Sciences and Leadership at the United States Military Academy in West Point, NY; and Jenna Ryall, Director of Civics for All at the New York City Department of Education.
On Exhibit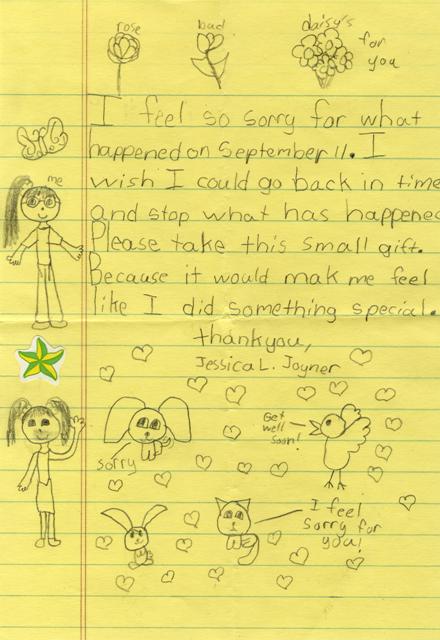 Children's Letters from the
American Red Cross Collection: September 11 Recovery Program
September 7'ÄďOctober 6, 2021, in the National Archives East Rotunda Gallery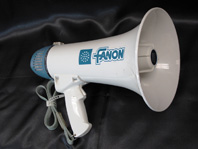 Featured artifact: Bullhorn used by President Bush at Ground Zero in New York City, September 14, 2001. (George W. Bush Presidential Library and Museum)
DocsTeach
Blogs and Social Media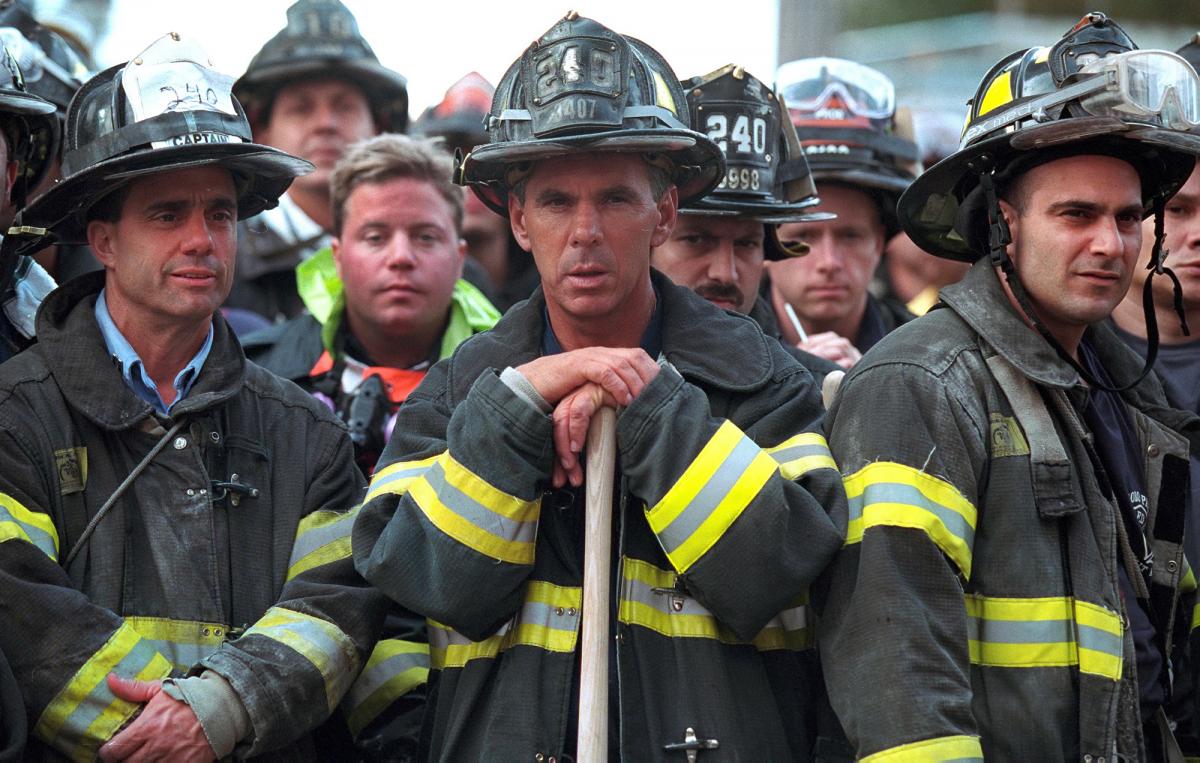 An Instagram post in honor of 9/11 connected the son of a New York firefighter with a meaningful photograph. (National Archives News) More
On the anniversary of the attacks, we reprint the firsthand account from staff at the National Archives at New York City. (National Archives News) More
Images from 9/11
9/11 Commission Records at the National Archives
The National Commission on Terrorist Attacks Upon the United States, aka the 9/11 Commission, was an independent, bipartisan commission created by Congress to provide a "full and complete accounting" of the 9/11 attacks. The Commission operated from 2003 to 2004 and held hearings, conducted interviews, and issued a final report.
When the 9/11 Commission closed on August 21, 2004, it transferred legal custody of its records (approximately 570 cubic feet of textual records alone) to the National Archives. As part of the Legislative Branch, the Commission's records are not subject to the Freedom of Information Act.
Due to the collection's volume and the large percentage of national security classified files, the National Archives staff continues to process these materials.
9/11 Commission Resources Online
9/11 Federal Aviation Administration (FAA) Records
Following the 9/11 terrorist attacks, the Federal Aviation Administration (FAA) compiled records to support internal and external investigations of the events. This collection consists of 126 cubic feet of textual, audio, and electronic files.
At the Presidential Libraries
Building the World Trade Center
"Constructing the World Trade Center" - VISION USA, No. 06, 1972 (National Archives Identifier 58975)
World Trade Center Photographs from the DOCUMERICA Project