The Flu Pandemic of 1918

Red Cross workers make anti-influenza masks for soldiers, Boston, Massachusetts. (National Archives Identifier 45499341)
Before COVID-19, the most severe pandemic in recent history was the 1918 influenza virus, often called "the Spanish Flu." The virus infected roughly 500 million people—one-third of the world's population—and caused 50 million deaths worldwide (double the number of deaths in World War I). In the United States, a quarter of the population caught the virus, 675,000 died, and life expectancy dropped by 12 years. With no vaccine to protect against the virus, people were urged to isolate, quarantine, practice good personal hygiene, and limit social interaction.

Until February 2020, the 1918 epidemic was largely overlooked in the teaching of American history, despite the ample documentation at the National Archives and elsewhere of the disease and its devastation. The 100-year-old pictures from 1918 that just months ago seemed quaint and dated now seem oddly prescient. We make these records more widely available in hopes that they contain lessons about what to expect over the coming months and ideas about ways to avoid a repeat and prepare for what may follow.
Online Exhibit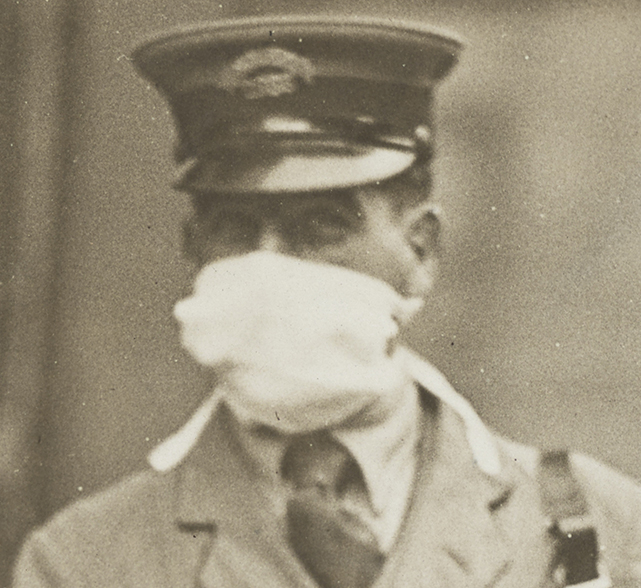 The Deadly Virus: The Influenza Epidemic of 1918
A selection of photographs and documents from the National Archives' nationwide holdings tell the story of the 1918 influenza pandemic.
---
Photographs
(Click image to view gallery)
Additional Photographs
---
Author Lecture
Dr. Jeremy Brown, Director of Emergency Care Research, National Institutes of Health, spoke about his book Influenza: The Hundred-Year Hunt to Cure the Deadliest Disease in History, at the National Archives in Washington, DC, on March 5, 2019.
Archival Film
Nurses make bandages for flu epidemic (stock newsreel footage from CBS)
---
Blogs and Social Media Posts
Forward with Roosevelt: One of the Millions: FDR and the Flu Pandemic of 1918–1920
Text Message: The "Spanish Flu" Pandemic of 1918–1919: A Death in Philadelphia
Pieces of History: Influenza Epidemic 1918—"Wear a mask and save your life"
Pieces of History: Gesundheit!
Unwritten Record: The 1918 Influenza Pandemic
Today's Document: Precautions Against Influenza
Tumblr: 1918 to COVID-19
Tumblr: Influenza Epidemic 1918—"Wear a mask and save your life"
---
For Educators
Influenza Directive from DC re: treatment and procedures, 9/26/1918
Influenza Prophylaxis Memo from Third Naval District Medical Officer
Documents Related to the Flu Pandemic of 1918
Memo Re: Sanitary Precautions, 9/12/1918
Additional primary sources and educational resources from DocsTeach
---
At the Presidential Libraries
Truman Library: Letter from Harry to Bess, referencing the influenza epidemic, and expressing relief that Bess has recovered from it.
Ford Library: Remarks Upon the Signing of National Swine Flu Immunization Program of 1976
Ford Library: President Asks Congress for $135 Million for Swine Flu VaccineFord Library: Fact Sheet on Swine Influenza Immunization Program
George W. Bush Library: Pandemic Flu: Preparing and Protecting against Avian Influenza
Barack Obama Library: Declaration of Nat'l Emergency - 2009 H1N1 Influenza Pandemic
Barack Obama Library: Press Briefing On Swine Influenza
---
Posts Related to COVID-19
National Archives COVID-19 Updates
AOTUS Blog: National Archives Operations During COVID-19: Mission Critical Functions Continue
AOTUS Blog: National Archives Donates Protective Gear for COVID-19 Response
National Archives News: National Personnel Records Center Continues Serving Veterans During COVID-19 Pandemic
National Archives News: National Archives Donates Protective Gear for COVID-19 Response
Office of the Federal Register: COVID-19 Procedures
Press Release: Information on NHPRC and COVID-19
Records Management: Frequently Asked Questions (FAQs) About Records Management During the COVID-19 Pandemic