National Archives Open Government Events
Informing Consumers through Smart Disclosure Summit

The White House and the National Archives and Records Administration, with support from ideas42, held the Smart Disclosure Summit on March 30, 2012 to discuss a powerful new policy approach to helping consumers make better informed decisions.
Smart Disclosure refers to providing consumers with access to the information they need to make informed decisions in machine readable data formats, in order to fuel the creation of interactive tools for consumers. Smart Disclosure is now being used in a variety of consumer sectors, including health, education, personal finance, energy, transportation, and telecommunications.
Are You In? Citizen Archivists, Crowdsourcing and Open Government Program
The National Archives hosted the program, "Are You In? Citizen Archivists, Crowdsourcing, and Open Government" on May 18, 2011, featuring Darla Adams from Ancestry.com's World Archives Project, Matt Knutzen from the New York Public Library's "Map Warper" project, and Jessica Zelt from the US Geological Survey's North American Bird Phenology Program.
Media Access to Government Information Conference (MAGIC)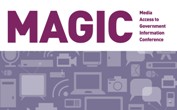 MAGIC was held by the National Archives and Records Administration and Duke University's DeWitt Wallace Center for Media and Democracy on April 12, 2011 to :
Explore obstacles and opportunities for access to government information by journalists and others writing about public affairs in the digital age;
Include government officials, reporters, scholars, and Non Government Organization (NGO) leaders who can contribute insights into how journalists can better discover, access, and use digital government information; and
Inform government professionals about the use of technology to provide better access to government information