Alaska Records
Alaska Records Digitization Project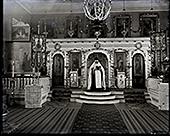 In order to make NARA's Alaska records more broadly available to the public, we are digitizing the most in-demand records.
The National Archives requested input from stakeholders and the public on those records that should be digitized first. In 2014, NARA combined this feedback with historical reference activity, access restrictions, and preservation issues to create a digitization list for 2015 and 2016.
For the 2017-2018 project list, the National Archives combined the public's initial input with a list of Alaska records requested in 2015 to 2016 and narrowed the list to the most popular records. NARA also received specific input from the Alaska Department of Transportation, Alaska Department of Natural Resources, and the US National Oceanic and Atmospheric Administration.
This digitization list has shifted as we made the determination that access issues prevented us from digitizing some of the promised records. Work on various series was halted and on others began ahead of schedule. Additionally, new series were added based on interest.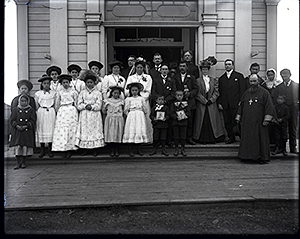 Digitization in 2017/2018
COMPLETED
Alaska Village Census 1966-68 (National Archives Identifier: 2655229)
Records of the Life-saving Stations (Nome), 1902-1941 (National Archives Identifier: 297164)
Meteorological Observation Reports, 1881-1924 (National Archives Identifier: 783087)
 
IN PROCESS
Alaska Village Census 1946-71 (partial release)
Alaska Reindeer Service (RG 75)
Pribilof Islands Program Material (RG370)
 
UPCOMING
1942 Japanese attack on Dutch Harbor

Aerial Photographs of Attu Island 

Civilian Conservation Corps Activities 

Directive Files - RG30

Tlingit-Haida Tribal Enrollments 1890-1976 

Central Subject Files - RG181
Project Case Files - Field Notebooks
Station Logbooks (Attu island) 
Historical Collection - RG342
Photographs (1945-1972) 
Newspapers 1960-1970 
Recreation Studies, 1974-1981
Endangered Species Delisting Files 
Endangered Species Recovery Plans
Alaska Native Claims Settlement Act (ANCSA) Case Files, Village Land Selections 
Weather Modification Project Files
Alaska Road commission drawings 
Digitization Process and Updates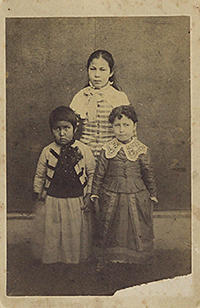 As Alaska records are entered into our National Archives Catalog, we will keep you updated through our list of Alaska records, adding links directly to their catalog entries. Links to some of our Alaska records are also available in our Docs Teach online tool. 
In addition to the work done by the Alaska Digitization Team, our partners at Family Search have also been busy digitizing records from Alaska. To date they have captured 712,000 images. 
PII Found, Will Not be Digitized
Alaska Village Census 1966-68
Patent Case Files (RG 49)
Digitization in 2015/2016 - Completed
National Park Service Photographic Print Mounted Cards - RG79 (National Archives Identifier: 2252773)
Naval Aerial Survey Photos (National Archives Identifier: 645089)
Wildlife Conservation Plan (National Archives Identifier: 4693288)
Endangered Species Listing Petition (National Archives Identifier: 5681094)
Information Releases Relating to Unidentified Flying Object, 1986 - 1986 (National Archives Identifier: 733667)
Mount Edgecumbe Yearbooks - RG75 (National Archives Identifier: 626793)
Indian Arts and Crafts Board - RG435 (National Archives Identifier: 605073)
Pribilof Island Log Books (National Archives Identifier: 297024)
Project Chariot files (National Archives Identifier: 642639)
Mt. Edgecumbe yearbooks 1947-1983 (National Archives Identifier: 626793)
1926 – 1929 Navy Aerial Survey photos (National Archives Identifier: 645089)
Pribilof Islands Images, (National Archives Identifier: 2555605)
Pribilof Islands Photographs, (National Archives Identifier: 2629271)
Cantwell Drawings NEW (RG 26) (Online Soon.)
1964 Alaska Earthquake Photographs, (RG 77) 1964-1965