Visa Application of Ng Shee
Chinese Exclusion 1882-1944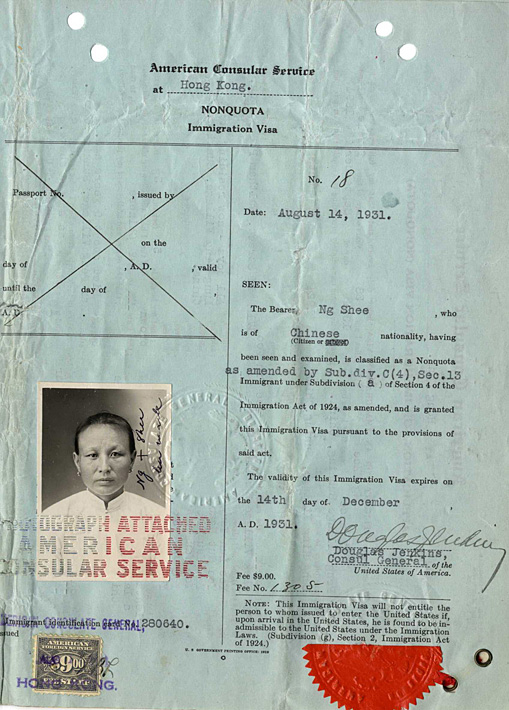 Citation: Application for Visa, Ng Shee, 1931. Case file 2500/9086. RG 85, Records of the Immigration and Naturalization Service, National Archives at Boston.
…it shall not be lawful for any Chinese laborer to come, or having so come after the expiration of said ninety days to remain within the United States.
--An act to execute certain treaty stipulations relating to the Chinese, May 6, 1882. RG 11, National Archives
From 1882 to 1943 the United States Government severely curtailed immigration from China to the United States. This Federal policy resulted from concern over the large numbers of Chinese immigrants, competition with American workers and a growing nativism. As a result, an act (22 Stat.58) was enacted on May 6, 1882 to suspend immigration of Chinese laborers for ten years; permitted those Chinese in the United States as of November 17, 1880, to stay, travel abroad, and return; prohibited the naturalization of Chinese; and created a "Section 6" exempt status for teachers, students, merchants, and travelers.
This document is from a file in the National Archives at Boston. This is an application for a visa by Ng Shee who hopes to join her husband in Waltham, MA, where he owns a laundry business. The file consists of as set of documents that were used to authenticate the identity of a person who was coming to America. They include the application for a visa, the husband's petition, a map that Ng Shee drew of her village, and an interrogation of her. Documents such as these are typical of the approximately 25,000 files pertaining to Chinese Exclusion in the National Archives at Boston. They were used to ensure that people seeking to immigrate to the US adhered to the immigration regulations of the times.