Election Collection Challenge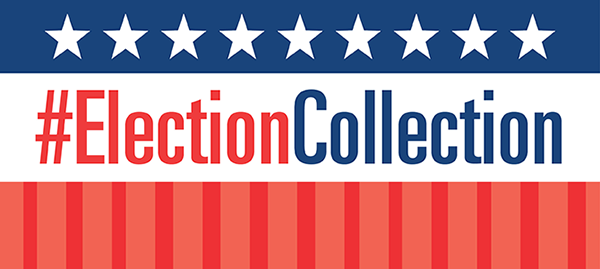 The 2016 #ElectionCollection challenge is over, but you can still explore our historic election memorabilia shared by the National Archives on DocsTeach and our community of Galleries, Libraries, Archives, and Museums! You can also find highlights of our favorite mementos from past campaigns on our Election Collection Pinterest board. 
Share your quirky, cool, and surprising historic memorabilia!
Get out your historic buttons, bumper stickers, hats, and banners! We've got a weekly Instagram challenge to feature your presidential campaign memorabilia -- #ElectionCollection.
The Presidential Libraries of the National Archives and American Experience PBS invite you to share the unique personal histories surrounding Presidential campaign memorabilia. Beyond the eye-catching pageantry of campaign memorabilia is a unique history of the American Presidency.
In honor of Election Tuesday, we'll publish a new #ElectionCollection Instagram challenge every Tuesday from July 26th until the Presidential election on November 8, 2016.
How it will Work:
Each week, we'll post a new #ElectionCollection challenge on Instagram.
Each challenge will ask people to feature a different category in election memorabilia.
Show off your cool memorabilia!

Post your memorabilia photos on Instagram and tag #ElectionCollection.
Tell your friends! Get your followers and community involved in showing off their own #ElectionCollection treasures. You never know what you'll find in Grandma's attic.
We'll share highlights from each week of what you all post.
Not on Instagram? No problem!
Share your #ElectionCollection on any social platform.  Here's where we'll be posting:
National Archives:

Instagram:
@USNatArchives
@Bush41Library
@FDRLibrary
@IkeLibrary
@JFKLibrary
@LBJLibraryNow
@NixonLibrary
@ReaganLibrary40
@WJCLibrary



Facebook:
@USNatArchives
@HooverPresLib
@FDRLibrary
@TrumanPresidentialLibrary
@JFKLibrary
@IkeLibrary
@LBJLibrary
@NixonPresidentialLibrary
@FordPresidentialLibrary
@CarterPresidentialLibrary
@ReaganLibrary
@Bush41Library
@GWBLibrary

Twitter: @OurPresidents


Pinterest: @USNatArchives


Tumblr: @OurPresidents
American Experience:

Instagram: @AmericanExperiencePBS


Facebook: @AmericanExperience


Twitter: @AmExperiencePBS
Partners
See all the Galleries, Libraries, Archives, Museums, and more sharing #ElectionCollection memorabilia!