Controlled Unclassified Information (CUI) Logo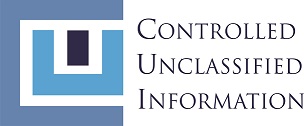 The CUI logo depicted above has been created by the US Government, National Archives and Records Administration for official use. For permission to reproduce or use this logo in conjunction with your CUI program, please contact the Executive Agent for the CUI program via postal or electronic mail at:
Information Security Oversight Office -
Controlled Unclassified Information
National Archives and Records Administration
700 Pennsylvania Ave, N.W., Room 100
Washington, DC 20408-0001
Phone:Â Â (202) 357-6870
Fax:Â Â (202) 357-6871
E-mail:Â Â  cui@nara.gov
Include in your request:
A. Address request to the "Archivist of the United States (N)"
B. Explain, in detail:
1. The name of the individual/organization requesting use and how it is associated with ISOO;
2. How the logo is going to be displayed. Provide a sample of the document or other material on which the logo would appear, marking the sample in all places where the logo would be displayed;
3. How the intended use of the CUI logo is connected to your work with ISOO on an event or activity (example: requesting to use the logo on a program brochure, poster, or other publicity announcing a co-sponsored symposium or conference.); and
4. The dates of the event or activity for which you intend to display the CUI logo.
5. Include that, if your request is approved, you will:
i. Use the CUI logo only for the specific purpose for which approval was granted;
ii. Submit additional written requests for any uses other than the use granted in the approval letter;
iii. Not delegate the approval to another individual(s) or organization without ISOO's prior approval;
iv. Not change the CUI logo itself. It must visually and physically appear as ISOO originally designed it, with no alterations; and
v. Use the CUI logo only for the time period designated in the approval response, if applicable (example: for the duration of a conference or exhibit).