Primarily Teaching
Summer Workshops for Educators on Using Historical Documents in the Classroom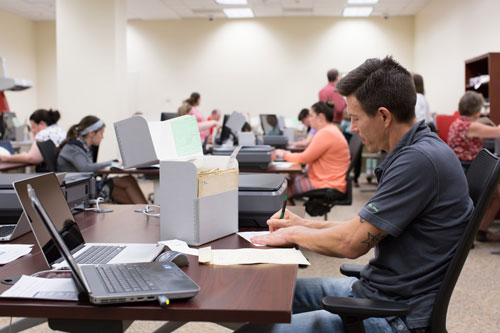 All workshops will have a national theme—Conflict and Compromise in History—matching that of National History Day (NHD) in 2018. (Participation in NHD is not required.)
Locations and Dates
Check back in early spring for more information.
On-site Workshops
You will explore a specific case study, with original documents in our archival holdings, that fits within the broader Conflict and Compromise in History theme:
Specific case studies will be announced this spring.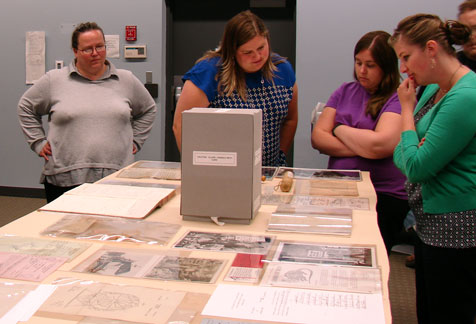 Digitization of documents related to our case studies is our priority. You will identify between 3 and 5 items (documents, photos, maps, etc.) to scan and describe. We will add these to our online tool for teaching with documents— DocsTeach.org—while you are onsite. During the workshop, you'll produce a DocsTeach learning activity using these digitized primary sources.
After guided research in the case study, you will have the opportunity to continue researching that topic, or to go on to independently research a more specific topic of your choice related to Conflict and Compromise in History.
Cost & Credit
The fee for each of the workshops is $100, which includes all materials.
Graduate credit from a major university is available for an additional fee for most sessions.
Participants will receive a stipend upon successful completion of the course.
Application
Apply no later than six weeks before the workshop. Participation in each session is limited to 10 members. Classes will be filled on a first-come, first-served basis. See the Workshop Information for an application and further details.
Primarily Teaching workshops are made possible in part by the National Archives Foundation, through the support of Texas Instruments.
Primarily Teaching Online
Through live webinars, you will learn tools and techniques to identify primary sources related to the Conflict and Compromise in History theme in our main online catalog. We will add your discoveries to DocsTeach.org and you will create a DocsTeach learning activity. The activity is your final exam.
Cost & Credit
Free
One graduate credit hour is available; you must attend all webinars.
Professional development clock-hour certificates from the National Archives are available upon request.
Application
Registration will begin this spring.
Past Workshops
Read about Primarily Teaching, including our past workshops, on our Education Updates blog.
Comments from Past Participants
"This was the best workshop I have ever attended."
"I loved the opportunity to do archival research...as well as the ability to select documents for digitization and for use in DocsTeach."
"It's really satisfying to see the result...appear online, and then to have all these documents made available to other teachers..."
"I am more confident using primary source documents in my teaching."
"I thoroughly enjoyed the excitement of discovery."
"I have a renewed sense of enthusiasm for beginning yet another school year."
"This is the BEST, most VALUABLE class I have ever taken. My vocabulary is insufficient to describe it properly. Thank you!"
"I loved looking through the boxes on the first day...I now feel confident reaching out to learn more."
"An energizing academic experience."