Federal Records Centers Account Manager Scott Thompson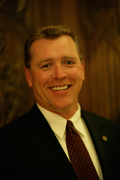 Scott Thompson is based in Riverside, California, and joined the National Archives in January 2011. He has spent the past 15 years in progressive leadership roles in the recruitment and staffing industry, where his responsibilities included account development and retention, business process analysis, systems enhancement, and client satisfaction measurement. Scott served 4 years in the United States Air Force as a Logistics Management Specialist Supervisor.
Scott can be reached at scott.thompson@nara.gov or 951-956-2018.
For a list of agencies Scott serves, please visit the Alphabetical list of Agencies with Contacts page.



Updated: February 19, 2013