Who We Are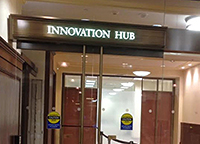 Welcome to the National Archives' Innovation Hub. We are located at the National Archives at Washington, DC
What You Can Do Here
The Innovation Hub provides a space for the public to:
transcribe documents
tag documents
scan documents in our holdings
When you scan your records in the Hub, you receive digital copies of your scans, free of charge. Your scans will also be uploaded into the National Archives Catalog. We are also a space for the public and staff to collaborate on projects that move the agency forward. These are just a few of the projects we are working on now, and we hope to do more in the future.
Citizen Scanning

If you're a researcher at the National Archives in Washington, DC, have your records brought directly to the Hub for scanning.
You'll take home a digital copy of your scans, and we'll upload a copy to our National Archives Catalog.
Box of the Month

While you are visiting the Hub, you can also help us out by scanning in some documents from our Boxes of the Month. Help us make our records more accessible.
Citizen Archivist Dashboard

Find out how you can tag and transcribe historical records online. With a variety of activities to choose from, you can help us make our historical records more accessible today!