Citizen Scanning
We Make Access Happen!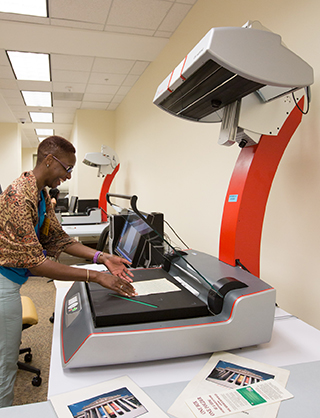 You can help the National Archives achieve its goal of digitizing all our records when you use the scanners in the Hub!
How it Works
If you're a researcher at the National Archives in Washington, DC, you can have records brought directly to the Hub to scan. You can take home a digital copy of your scans free of charge on your own USB drive, and we'll upload a copy to the National Archives Catalog (please note: uploading to the Catalog will take about 4 weeks).  We just ask that you commit to scanning an entire folder of the material that you are using. Right now, we are only scanning materials from the following series located in our Washington, DC facility:
Compiled Military Service Records
Pension Files
Bounty Land Records
Carded Medical Records
If you are interested in scanning other materials please contact an Innovation Hub staff member.
Boxes of the Month
While you are waiting for your records to arrive at the Hub, or if you are just visiting, we will also have a few "Boxes of the Month" available for you to scan. By the end of the month, we will have scanned all the materials in the boxes and get them online.
We appreciate your help in making our records accessible!
See some of the  recently scanned documents! 
Tag and Transcribe
While you are waiting for your records to arrive, you are also welcome to participate in our Citizen Archivist initiative.
We are constantly adding new records to our catalog. You are welcome to help us transcribe and tag our digitized records to help improve searchability for all.