Citizen Archivists Triple Contributions to National Archives Catalog During Pandemic
By Victoria Macchi | National Archives News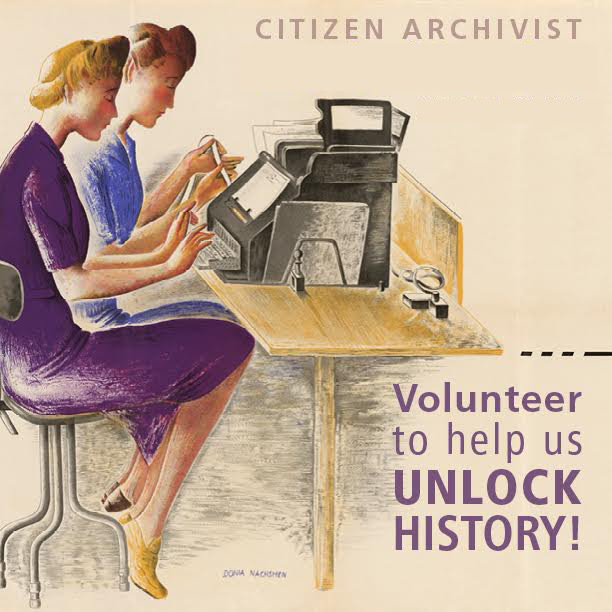 WASHINGTON, April 22, 2020 — With social distancing in place across the United States during the COVID-19 pandemic, Citizen Archivists are making a major contribution to increase access to historical records, more than tripling the number of pages that are tagged and transcribed each week in the online National Archives Catalog.
That effort has made tens of thousands of pages available for more in-depth searches, helping the National Archives in its mission of providing access to America's historical records.
"People are excited to help us and do volunteer projects," said Suzanne Isaacs, a National Archives Catalog community manager. "Their work unlocks some amazing things."
Before the pandemic pushed many Americans to a homebound lifestyle for much of the last month to prevent the spread of the virus, a busy week for the Citizen Archivist program looked very different. About 300 contributors would sift through about 6,000 pages of online records to tag them with keywords, make comments, or transcribe documents, tasks that make searching for records easier and allow more members of the public to find documents relevant to their research. (Read more about how keywords help researchers in the NARAtions blog.)
In recent weeks, though, that number has leapt to more than 600 volunteers completing nearly 20,000 pages a week.
The week of March 9, for example, members of the public completed 4,107 transcriptions, tags, and comments. As more communities across the U.S. sheltered at home by the end of last month, the number of contributions rose to 11,612 in the final week of March.
The public isn't alone in the mission—National Archives staff members, especially those who find themselves at home when their jobs mainly involve being on site and handling records in person, are lending a hand in tagging and transcribing after the agency switched to nearly 100-percent telework on March 23.
National Archives staff enhancements to the Catalog surged from 196 (week of March 9) to 6,278 (week of March 30), boosting overall contributions from the public and employees from 4,401 to 19,778 in that time period.
Since social distancing took stronger root in the U.S. in mid-March, the number of pages enhanced in the Catalog by Citizen Archivists each week is about 14,000, compared to 5,000 to 6,000 before.
"In this time of great disruption and uncertainty, both our Citizen Archivist contributors and NARA staff have stepped up their efforts in incredible fashion, continuing a long tradition of service and helping NARA meet its mission to make the public's records accessible," said Pamela Wright, National Archives Chief Innovation Officer.
Isaacs and community manager Meredith Doviak also write a biweekly newsletter featuring the latest projects available to Citizen Archivists. (Follow this link to sign up for the newsletter.)
Projects particularly benefit from Citizen Archivists with specialized knowledge—experts on planes, weaponry, or particular historical eras, for example, Doviak said. People who are particularly adept at reading the loping cursive script often found in 18th- and 19th-century records are also in high demand because those documents are difficult for automated tools like Optical Character Recognition to decipher.
There remains plenty of work for Citizen Archivists and National Archives staff in the catalog, Doviak said. About 634,000 pages have tags, transcriptions, or comments, out of 113 million scans of individual records, photographs, films, sound recordings, and other documents.
Read more about the Citizen Archivist program, including how to register to start tagging and transcribing records, and explore the ongoing missions that citizen archivists can work on from anywhere.