Five-Year Social Media Strategy Released
By Victoria Macchi | National Archives News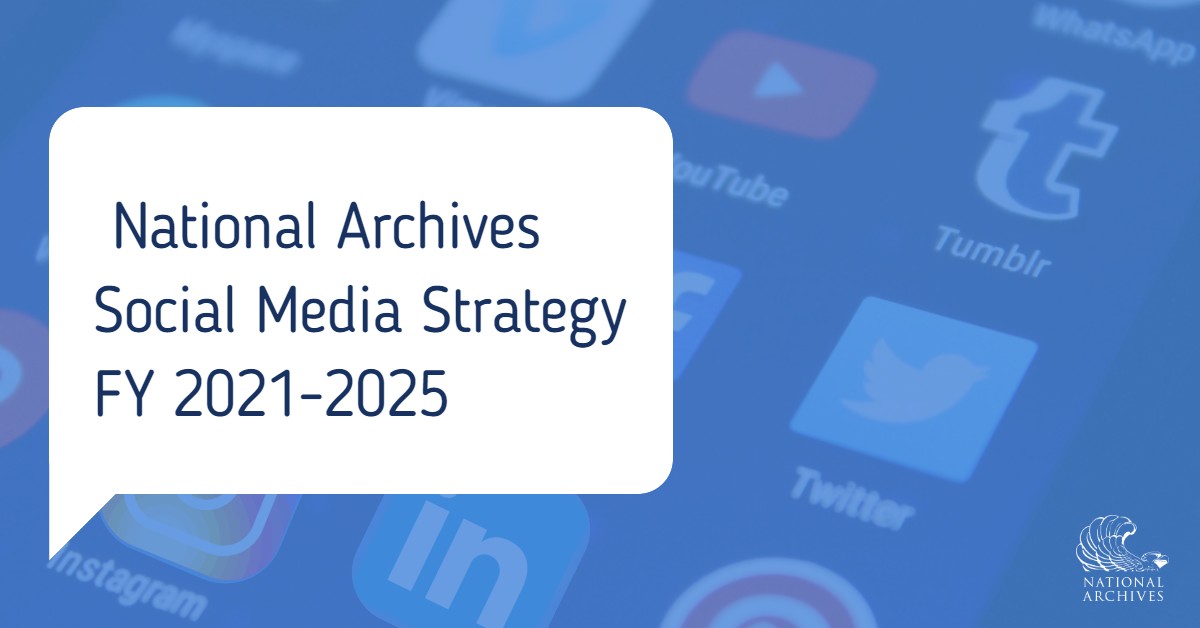 WASHINGTON, September 30, 2020—The National Archives and Records Administration released a new, streamlined social media strategy this week, with a focus on creating more engaging digital content and increasing participation by staff in the spectrum of online platforms.
Beginning in Fiscal Year 2021 and spanning the coming five years, the National Archives aims to expand digital storytelling and make the agency's records increasingly available and relevant with online audiences. The shift to working, studying, and experiencing culture almost exclusively online for much of the United States during the COVID-19 pandemic reinforced the timeliness and significance of the new strategy, noted staff who worked on its development.
"With so many cultural institutions closed due to the pandemic, including the National Archives Building, the only point of entry is online. The signpost to that is through social media," said social media team member Hilary Parkinson.
Starting in March, the National Archives joined other research facilities and museums in shutting its doors to on-site visitors in an attempt to curb public exposure to COVID-19.
"We have a robust presence already, and we had a lot in place that helped ease the transitions required in 2020," said social media team member Kristen Albrittain. "The last six months highlighted and emphasized the importance of what we were already trying to do."
The social media team interacts with the public daily through several platforms, ensuring that the diverse audiences for the National Archives resources are able to connect with what the agency can provide. Online platforms also link agency staff, like archivists and researchers, to the public. More than 130 National Archives employees actively contribute to 139 social media accounts on 14 different platforms, generating hundreds of millions of views annually. Those are relationships that the social media team hopes to cultivate further in the coming years.
"Online work, and specifically communicating with the public, has become even more important during the pandemic. The National Archives is no exception," said James B. Pritchett, Director of Public and Media Communications and Visual Services. "All of our staff have been working hard to adapt to customer needs during this challenging time. We are readjusting to the virtual ecosystem to collaborate and support the agency's key functions and support our customers."
"Engaging the public is not is not just an expectation," he added, "it is our responsibility to ensure that citizens have access to the records they need to secure benefits and hold the government accountable. It is our goal to reach people where they are and clear the path to access."
As with previous social media strategies in 2010 and 2016, the team aims to be transparent with the process to also provide other cultural institutions with ideas and roadmaps for their own development.
"It's important to us to continue to be a leader among other cultural organizations and federal agencies by sharing our social media strategy and best practices publicly," said social media team member Mary King. "Compared to 2010, we've developed a more mature program. We're refining it each time."
Read more in depth about the FY 2021-25 social media strategy through the team's page.