Posters
---
Topics
Charters of Freedom (Constitution, Bill of Rights, and Declaration of Independence)
Books and Booklets
---
Books and Booklets
(Note: All books and booklets are softcover.)
---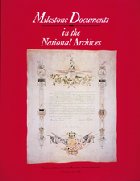 Milestone Documents in the National Archives
This book features 22 of the most important "permanently valuable" records of the Federal Government--records that protect public and private rights or contain useful information for researchers and the general public. Each chapter features a milestone document and includes other documents, maps, prints, photographs, posters, and cartoons selected from the National Archives holdings. The accompanying text and captions show the significance of each document and place it in historical context.
8-1/2" x 11"
112 pages, 220 illustrations, 2000
#200116
ISBN 0-911333-98-3
---
American Originals
Stacey Bredhoff
American Originals presents a selection of the nation's most significant and revealing documents, pieces of history in its most unprocessed form. George Washington's account of expenses, kept throughout the Revolutionary War. Harriet Tubman's pension claim for her service during the Civil War. Richard Nixon's letter resigning the Presidency. These and other rarely seen documents from the National Archives offer fascinating insights into the towering figures and events in American history. Combining the familiar with the obscure, American Originals presents glimpses of famous Americans through a selection of the nations's greatest documentary treasures.
8-1/2" x 11"
128 pages, 123 illustrations, 89 in full color, 2001
#200010
ISBN 0-295-98077-X
---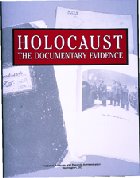 Holocaust: The Documentary Evidence
Compiled, translated, and captioned by Robert Wolfe
Once in power the Nazis attempted to build a new social order in Europe--a society based on race and created through military force, mass murder, and mass slavery. NARA has preserved thousands of captured documents of their effort. This catalog offers a small but important selection of these records, focusing primarily on Hitler's "final solution to the Jewish question." The introduction outlines the immediate historical context of the documents and discusses World War II, Nazi ideology, and the racial war against the Jews and other non-Aryans.
8-1/2" x 11"
40 pages, 35 illustrations, 1993
#200050
ISBN 0-911333-92-4
---