Shirley Chisholm (November 30, 1924 - January 1, 2005)
Shirley Anita St. Hill Chisholm was born in Brooklyn, New York to immigrant parents who came to the United States from Barbados. Chisholm graduated from Brooklyn College and the Teachers College at Columbia University. In 1968, she became the first Black woman elected to the United States Congress and represented New York's 12th congressional district for seven terms from 1969 to 1983. Early on in her Congressional term, Chisholm was first assigned to the House Agriculture Committee. She soon found more relevant committee assignments that would better serve her constituents, where she worked to expand the food stamp program and help to create the Special Supplemental Nutrition Program for Women, Infants, and Children (WIC). Legislation she introduced also focused on gender and racial equality, and ending the Vietnam War. In 1971, she became a founding member of the Congressional Black Caucus (CBC).
In the 1972 United States presidential election, she became the first Black candidate to seek a major party's nomination for President of the United States, and the first woman to run for the Democratic Party's presidential nomination. After the unsuccessful bid for President, Chisholm continued serving in the House of Representatives. In 1977, she was elected as Secretary of the House Democratic Caucus. Chisholm retired from Congress in 1983, where she was succeeded by Major Owens. In 2015, Chisholm was posthumously awarded the Presidential Medal of Freedom.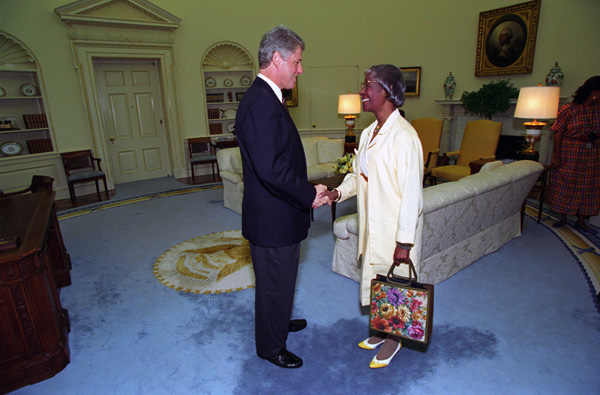 President Bill Clinton Greeting Shirley Chisholm, Ambassador-Designate to Jamaica (NAID 2842929)
Search the Catalog for Records relating to Shirley Chisholm Social Networks and Archival Context - Shirley Chisholm
Clip from Accomplished Women: Shirley Chisholm (NAID 54173)