Migrations and Labor
The jobs people work and the type of labor they do were often closely tied to their movement throughout or into the United States. African Americans have been driven to migrate to find better paying and higher quality jobs. The region a person was brought or moved to within the United States often determined what type of work was made available to Black people.
Labor demands linked immigration and migration when people of the African diaspora started coming to the United States in the 1940s and 1950s. Temporary Guest Worker Programs such as the H-2 program brought people from the Caribbean and Latin America to address shortages in agriculture, and later in domestic labor caused by the World Wars. Additionally, newly settled Black people would lead to strain with the existing workforce, spurring the need for supportive groups such as labor unions.
In 1904, the American-owned Panama Canal required an enormous workforce to build one of the largest engineering feats of all time. An estimated 75,000 people were employed to work on the Canal, most were people of African descent. Black people came from the United States, as well as the Caribbean islands including Barbados, and Central and South America.
Search the Catalog for Records Relating to Migrations and Labor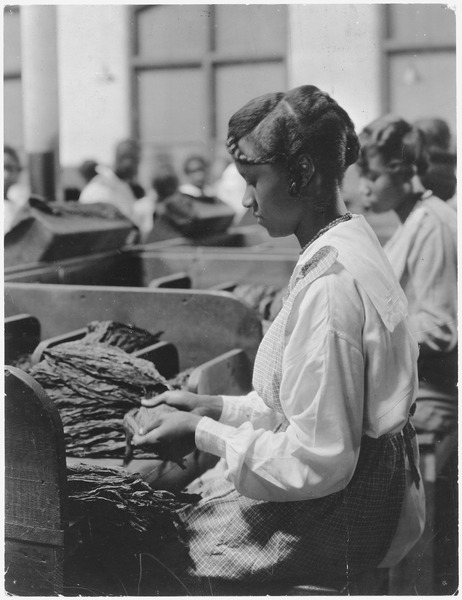 Women before work tables covered with tobacco plants, 1922 (NAID 522859)
Resources
Migrant Farm Workers and the Evolution of Farm Labor Programs in the US, Feb 10, 2021