Paul Robeson (April 9, 1898 - January 29, 1976)
Paul Leroy Robeson was born in Princeton, NJ, on April 9, 1898. His mother was a schoolteacher, and his father was a runaway slave who became a Presbyterian minister. Robeson graduated from Rutgers University, where he excelled in athletics and held a Phi Beta Kappa key. Afterwards, he played professional football and graduated from Columbia University School of Law.
Although he worked briefly as a lawyer, Robeson turned his back on a legal career due to issues of racism. Instead, he turned his attention toward acting and singing. During the Harlem Renaissance, he starred in the Broadway productions of The Emperor Jones and All God's Chillun Got Wings. He performed renditions of African American folk songs and spirituals alongside musician Lawrence Brown at Provincetown Playhouse in Manhattan. Later, his popularity rose when he starred in a production of Show Boat at the Theatre Royal, Drury Lane in London. He became increasingly well-known for his rendition of the song "Ol' Man River." His most notable film roles were in Body and Soul (1925) and Show Boat (1936).
Robeson was also involved in politics, receiving the 1953 Stalin Peace Prize for openly supporting the Soviet Union. He gained a reputation as an outspoken Black Nationalist who criticized the U.S. government's perpetuation of racism and imperialist activities. This stance earned him scrutiny from Senator Joseph McCarthy in the days of the Red Scare. In 1950, his passport was revoked as a result of being deemed a threat to national security, but his travel ban ended in 1958. He continued to perform concerts in Europe until he became ill and returned to the U.S. In 1976, he died of cerebral vascular disorder at the age of 77 in Philadelphia. To this day, he remains a symbol of pride and consciousness to many African Americans.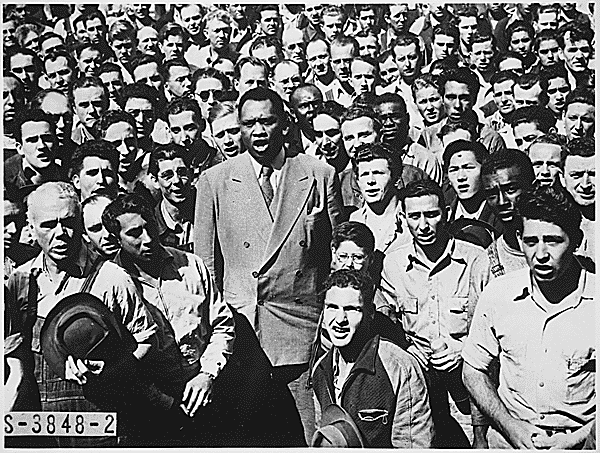 Paul Robeson leading Moore Shipyard workers in singing the Star-Spangled Banner (NAID 535874)
Search the Catalog for Records relating to Paul Robeson Social Networks and Archival Context - Paul Robeson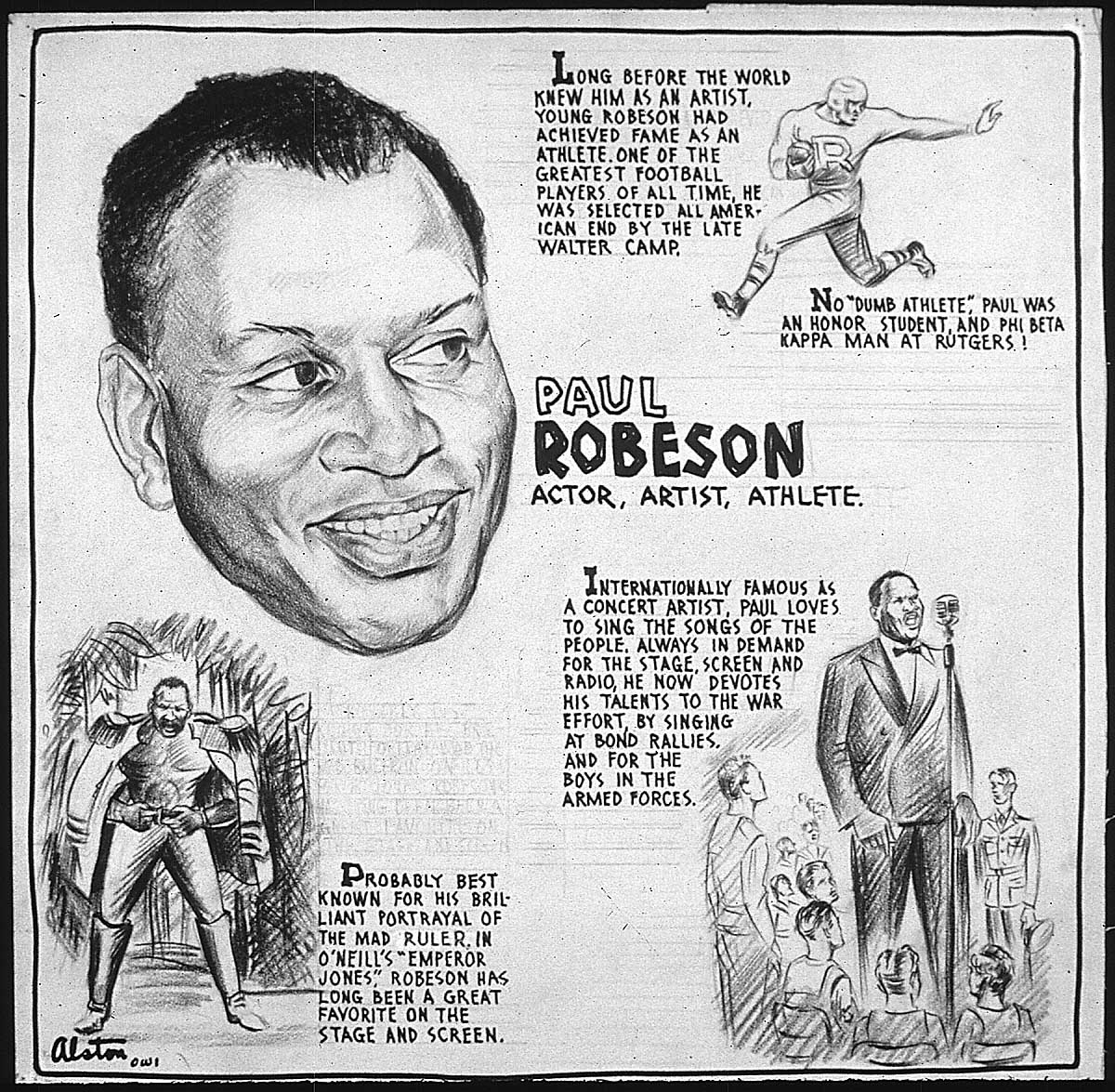 Paul Robeson - Actor, Artist, Athlete by Charles Alston (NAID 535624)