Using NARA's Census Microfilm Catalogs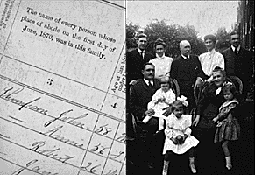 1790-1930

If you know the state, county, and town in which your ancestor lived in the census year, go to the microfilm catalog. Locate the census year, state, and county from the list. This shows the microfilm publication number and roll number. For example, The 1790-1890 Federal Population Censuses: Catalog of National Archives Microfilm (Washington, DC: National Archives Trust Fund Board, 1993), shows that the 1860 census for Medina County, Ohio, is on roll number 1007 of microfilm publication M653, Eighth Census of the United States, 1860. (The microfilm publication number and title is shown at the beginning of the listings for the 1860 census--just before Alabama.)
Microfilmed Indexes, 1880-1930

Microfilmed indexes are available for these censuses. Microfilmed indexes for the 1880 and 1900-1930 censuses use the soundex indexing system. Read How the Soundex Indexing System Works for instructions.

The microfilmed index to the 1890 census is arranged alphabetically by surname, thereunder by first name.

Published indexes to the 1790-1870 censuses have been published by various private companies; these can be found at many public libraries and other institutions with large genealogical collections.
How to Use Soundex Microfilm
Go to the catalog for the appropriate census year (1880, 1900, 1910, 1920, or 1930), then find the state, microfilm publication number, and roll containing the soundex code. Note that only the beginning and ending soundex codes contained on each roll are shown. For example, The 1920 Federal Population Censues: Catalog of National Archives Microfilm (Washington, DC: National Archives Trust Fund Board, 1995), the shows that, for California for 1920 soundex code A-266 is included on microfilm publication M1551, Index (Soundex) to the 1920 Federal Population Census Schedules for California, roll 3, because roll 3 begins at A-246 Nathan and ends with A-350 Douranana.
Special Note: Within each soundex code, the microfilmed index cards are arranged alphabetically by name of head of household, such as A-266 Albert, A-266 Ann, A-266 Arthur, etc.
For additional information how to use the soundex indexes and census schedules, read the on-line introductory material to each census microfilm catalog.

Once you have located a soundex index card for the person or household in which you are interested, note the following information: county of residence; city, town, village, or township of residence; and the four numbers located in the upper right hand corner of the index card: volume number, enumeration district (E.D.) number, sheet number, and line number. Use the county name and enumeration district number to determine which roll of census microfilm you need. For example, for 1920 only, Los Angeles County, CA, Enumeration Districts 1-11, 13, 14, 33-37, and 16-32 are located in microfilm publication T625, Fourteenth Census of the United States, 1920, roll 102, while other enumeration districts for that county are located on rolls 103-120.

Note that the soundex indexes and census schedules are on microfilm; you will not be able to search them on-line. Census microfilm is also widely available at public libraries, state archives, and other institutions with large genealogical collections.
Ordering information for requesting census records