Freedom Summer
In the summer of 1964 the Council of Federated Organizations (COFO) began organizing a movement regarding voting rights. COFO was a group of Mississippi branches of the four major civil rights organizations: the Student Nonviolent Coordinating Committee (SNCC), Congress of Racial Equality (CORE), National Association for the Advancement of Colored People (NAACP), and the Southern Christian Leadership Conference (SCLC). One thousand out-of-state volunteers came together with thousands of Black Mississippians that summer. The Freedom Summer Project resulted in various meetings, protests, freedom schools, freedom housing, freedom libraries, and a collective rise in awareness of voting rights and disenfranchisement experienced by African Americans in Mississippi.
During that summer the Mississippi Freedom Democratic Party was also formed with the hope of increasing representation at the Democratic National Convention and giving testimony about the grave mistreatment of African Americans who tried to register to vote. However, these actions and efforts to register Black voters were not well received by local officials and residents of the state. It is believed that 1,062 people were arrested, 80 Freedom Summer workers were beaten, 37 churches were bombed or burned, 30 Black homes or businesses were bombed or burned, four civil rights workers were killed, and at least three Mississippi African Americans were murdered because of their involvement in this movement. Among the most notable victims were: James Chaney of Meridian, MS, Andrew Goodman and Michael Schwerner, both from New York. NY.
In July of 1964 due to the increase in awareness of the civil rights movement and pressure from supporters across the nation, President Lyndon B. Johnson signed the Civil Rights Act of 1964. The following year saw the passage of the Voting Rights Act.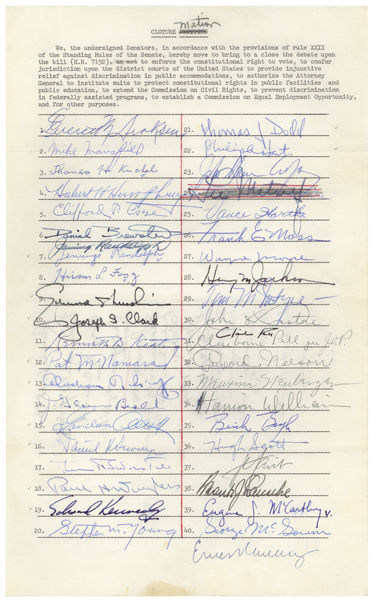 Motion to Cloture by US Senators for the Voting Rights Act of 1964 (NAID 5635105)
Search the Catalog for Records relating to Freedom Summer
Resources
Race Against TIme: A Reporter Reopens the Unsolved Murder Cases of the Civil Rights Era, Feb 18, 2020