Special Access and FOIA
Coronavirus Information:
Due to the COVID-19 pandemic and pursuant to guidance received from the Office of Management and Budget (OMB), NARA has adjusted its normal operations to balance the need of completing its mission-critical work while also adhering to the recommended social distancing for the safety of our staff. As a result of this re-prioritization of activities, you may experience a delay in receiving an initial acknowledgment as well as a substantive response to your reference or FOIA request or appeal. We apologize for this inconvenience and appreciate your understanding and patience. More information about the National Archives' response to coronavirus can be found at archives.gov/coronavirus.
About Us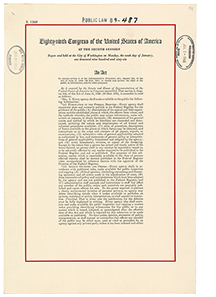 The Special Access and Freedom of Information Act (FOIA) Program of Research Services at the National Archives at College Park, MD is responsible for:
Logging and tracking requests for sensitive archival records under the FOIA
Processing and providing access to highly sensitive collections of records housed at the National Archives at College Park
How to File a FOIA Request
Popular FOIA Topics: