Archivist of the United States
Colleen Shogan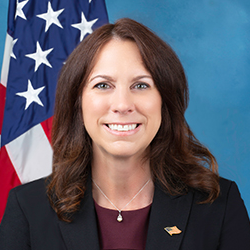 Colleen Shogan became the 11th Archivist of the United States in May 2023.
On August 3, 2022, President Joseph R. Biden nominated Dr. Colleen Shogan to be Archivist of the United States. The U.S. Senate confirmed Dr. Shogan on May 10, 2023, and she was sworn in as the 11th Archivist of the United States on May 17, 2023.
Most recently, Dr. Shogan served as Senior Vice President and Director of the David M. Rubenstein Center at the White House Historical Association. She previously worked in the United States Senate and as a senior executive at the Library of Congress. Dr. Shogan was the Vice Chair of the Women's Suffrage Centennial Commission and the Chair of the Board of Directors at the Women's Suffrage National Monument Foundation. She taught at Georgetown University in the Government Department and moderated seminars for the Aspen Institute. She is the previous President of the National Capital Area Political Science Association and served on the American Political Science Association Council, the governing body of the organization. Her research focuses on the American Presidency, Presidential rhetoric, women in politics, and Congress.
A native of the Pittsburgh area, Dr. Shogan holds a BA in Political Science from Boston College and a Ph.D. in American Politics from Yale University, where she was a National Science Foundation Graduate Fellow. She is a member of Phi Beta Kappa, the Order of the Cross and Crown, and the Washington, D.C. Literary Society.