Aerial Photography
The National Archives holds over 35,000,000 aerial photographs produced mostly by Federal Agencies. These records date from 1918-2011, covering both domestic and foreign sites. The vast majority of these aerial photographs are held by the Cartographic Branch, spread across various Record Groups and series.
Aerial photography became an important part of the mapmaking process in the twentieth century. Aerial photographs provide a straightforward depiction of the physical and cultural landscape of an area at a given time. When skillfully interpreted, these aerial images supply geographers, historians, ecologists, geologists, urban planners, archaeologists, and other professionals with a pictorial basis often critical to their studies. Increasingly, members of the legal profession have used aerial photography in the settlement of cases involving property disputes, riparian rights, and transportation rights-of-way. Recently, genealogists have used aerial photography to identify and locate ancestral sites.
Domestic Photography
Special List 25 is the starting point for accessing any domestic aerial photography. This Special List provides information on which record groups and series hold photographs for specific domestic locations. It is available digitally on-site or by request by emailing the Cartographic Branch at carto@nara.gov. An Excel version is available to download on the blog Researching Aerial Photography of the United States: RG 145 Aerial Indexes Now Digitized. Additionally, a paper copy is available in the Cartographic research room in College Park, Maryland. The list is arranged by state and thereunder by county. Once you find the county that includes your area of interest, a list of record groups with available photography will be listed.
The following record groups include domestic photography:
Record Group 57: Records of the U.S. Geological Survey
Record Group 95: Records of the Forest Service
Record Group 114: Records of the Natural Resources Conservation Service
Record Group 142: Tennessee Valley Authority
Record Group 145: Records of the Farm Service Agency
Record Group 328: Records of the National Capital Planning Commission
Record Group 373: Records of the Defense Intelligence Agency (Domestic Photography)
Foreign Photography
World War II brought a rapid acceleration in the use of aerial photography of foreign areas for both military operations and mapping purposes. The Cartographic Branch holds World War II aerial images covering parts of the European, Mediterranean, and Pacific Theaters of Operation, taken by units of the U.S. and Allied Air Forces. Included are both vertical mapping photography and oblique reconnaissance photography. The Cartographic Branch also holds approximately 1.2 million prints of aerial photographs taken by the German military. Coverage is widespread. Europe (from the British Isles to the Ural Mountains), the Middle East, and North Africa are included in this collection. Many of the prints are annotated to indicate military installations and defenses and other prints are marked to show potential bombing targets. While the scale and quality of the photographs in this collection vary considerably, the imagery provides unique wartime coverages of many of the contested areas. A smaller collection (about 37,000 images), taken by the Japanese military between about 1933 and 1945 consists of aerial photography of parts of China, Southeast Asia, and the Pacific Islands. The following record groups include foreign photography:
Record Group 120: Records of the American Expeditionary Forces (World War I)
Record Group 263: Records of the Central Intelligence Agency
Record Group 373: Records of the Defense Intelligence Agency - US Flown Foreign Photography
Record Group 373: Records of the Defense Intelligence Agency - German Flown Foreign Photography
Record Group 537: Records of the National Geospatial-Intelligence Agency
Satellite Photography (Domestic and Foreign)
The Cartographic Branch holds approximately 3.3 million satellite photography images covering 1959 - 1986. These photographs are spread across multiple series of records: RG 263: Satellite Imagery for the CORONA, ARGON, and LANYARD Program, 1959 - 1972, RG 263: Keyhole-7 (KH-7) Satellite Photography, 7/1/1963 - 6/30/1967, RG 263: Keyhole-9 (KH-9) Satellite Imagery, 3/1/1973 - 10/31/1980 and RG 537: Keyhole-9 (KH-9) Aerial Photographs, 6/1971 - 4/1986.
Satellite Photography (link)
Reproductions
If you would like to view or scan any photographs, you may wish to visit our research room, located at 8601 Adelphi Road, College Park, Maryland, where you can view and copy our records. Information about visiting our facility can be found on our website here. If you cannot make it to our facility, you may wish to hire a professional researcher to conduct research and make reproductions on your behalf. Information regarding this research option can be found here.
We have light tables available in our research room to view rolled aerial negative film.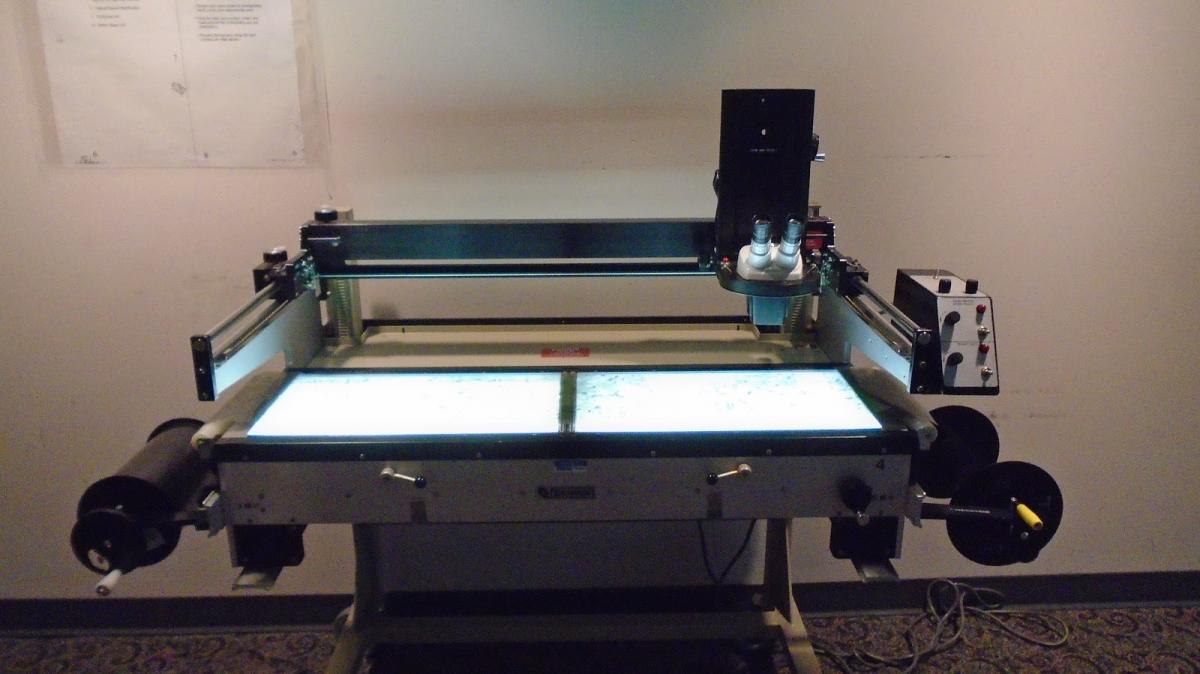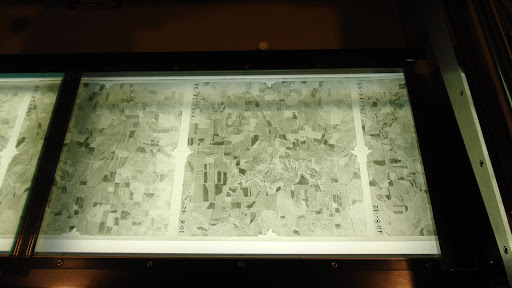 Reproductions of rolled aerial film can be made by taking photographs of the rolled film using privately owned cameras and tripods that can be brought to our facility. Researchers may also bring their own laptop to connect to a flatbed scanner (Epson Expression 11000XL Photo Scanner or Microtek ScanMaker 9800XL Plus) with the capability to make digital scans of rolled aerial film and prints.
Please note that we only have two aerial scanners available and use of these scanners may have to be limited and shared among researchers during your visit. You can also bring personal scanners onsite. Information regarding this option is available here. Rolled aerial scanners require approval from our preservation team prior to use in our research room. We do not have the ability to make any type of printed reproductions of rolled aerial negative film within our facility.
The vast majority of our aerial photographs are original negatives (ON can numbers) located on 9" by 9" rolled acetate film. Due to the unstable nature of acetate film, it has to be stored in climate controlled rooms at temperatures below 40 degrees Fahrenheit at our facility in Lenexa, Kansas. Researchers onsite in our College Park research room may request up to 10 specific cans of aerial film to be shipped to College Park per day. The turnaround time for these shipments is typically three business days before it can be made available for use here in our research room. A small amount of film has been duplicated (typically DN can numbers) onto a more stable polyester film base and is stored onsite for researchers to access at regular record pull times throughout the day.
Aerial Photography in the Still Picture Branch
Additional aerial photography is held in the Still Picture Branch at the National Archives. Series descriptions for these photographs can be found here. If you have any questions about these records, you can reach the Still Picture reference team at stillpix@nara.gov.
Other Resources
USGS Earth Resources Observation and Science (EROS) Center
USDA Aerial Photography Field Office