Virtual Programs Newsletter
Issue #24, March 10, 2021
A Message from the Archivist of the United States
In March, the National Archives is spotlighting the contributions of women throughout our history. In addition to the links in this newsletter, discover more on our website including the Women's History Month page, the National Archives Catalog, and the Women's Rights page.
Among our many resources are a new Citizen Archivist Mission, History Hub Question, tips for researching family history, and our Featured Exhibit, which highlights the life of Dr. Antonia Novello who became the first woman and Hispanic person to serve as Surgeon General of the United States on March 19, 1990.
Rightfully Hers: American Women and the Vote looks beyond suffrage parades and protests to the often overlooked story behind ratification of the 19th Amendment.
Please continue to practice social distancing and stay safe.
---
Archives from Home: Women's History Month
The National Archives celebrates Women's History Month, recognizing the great contributions that women have made to our nation. Learn about the history of women in the United States by exploring their stories through letters, photographs, film, and other primary sources.
---
Citizen Archivist Missions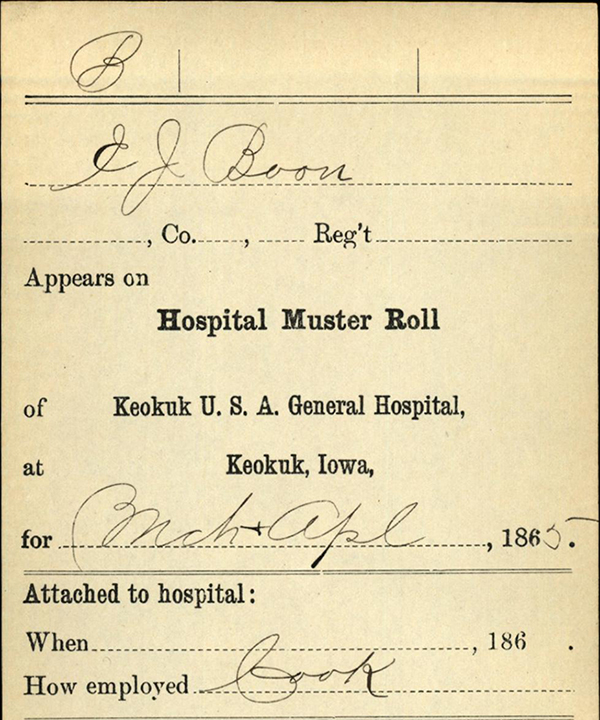 Carded Service Records of Hospital Attendants, Matrons and Nurses, 1861–65
Help us transcribe records relating to the service of hospital attendants, matrons and nurses.
Would you like to transcribe these records more efficiently? Try using our template for transcription! We've created a template for the standard typewritten form found in these records Simply copy and paste the template in the transcription field, and then type in the remaining handwritten details.
Research Family History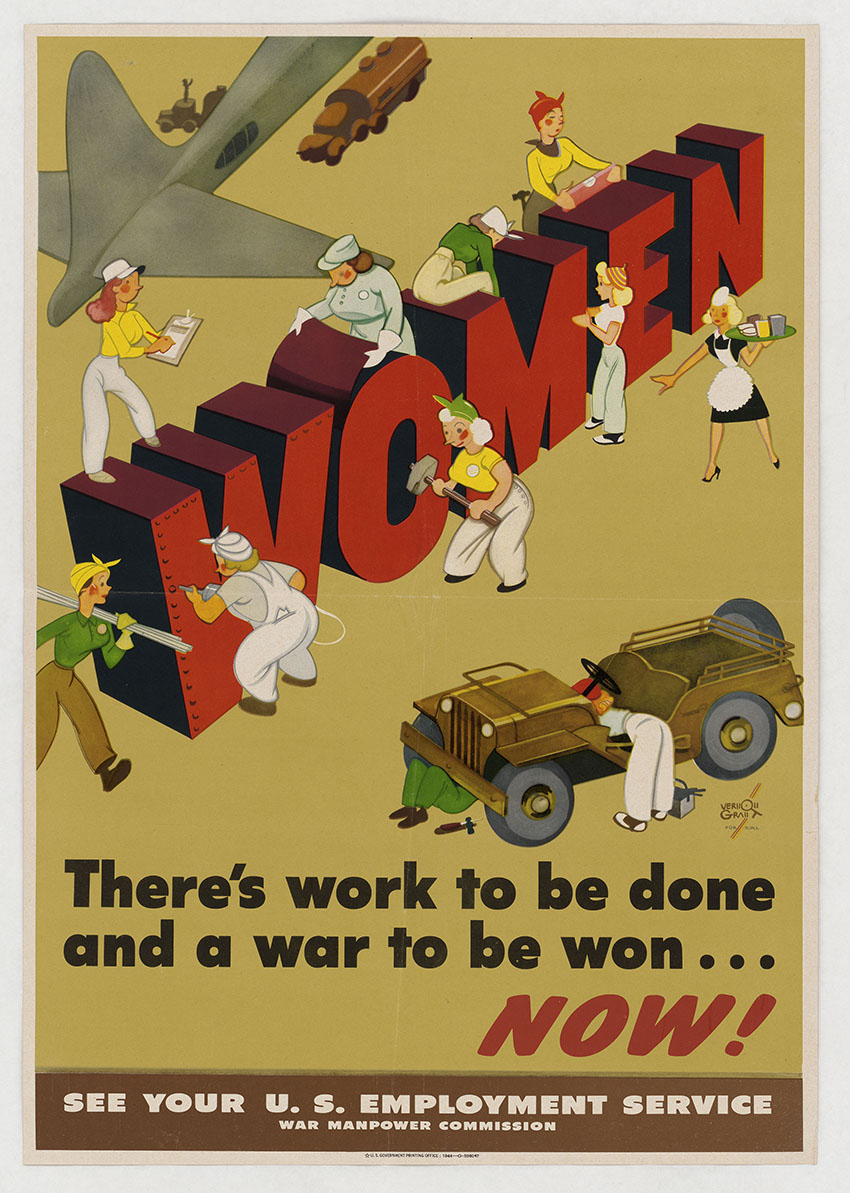 Women during World War II were filling new roles such as cryptographers, or "Code Girls."
World War II was a trying time for the United States but also an engaging one for women. Technology had advanced, and women were filling many new roles to meet those new demands. These positions were in many branches of the military and in Federal agencies, but due to varied types of service and last name, locating "Code Girl" personnel records can be challenging.
Learn how to find and decipher these records in this presentation.
Image: NAID 513682, from series World War II Posters, 1942–45
From the Catalog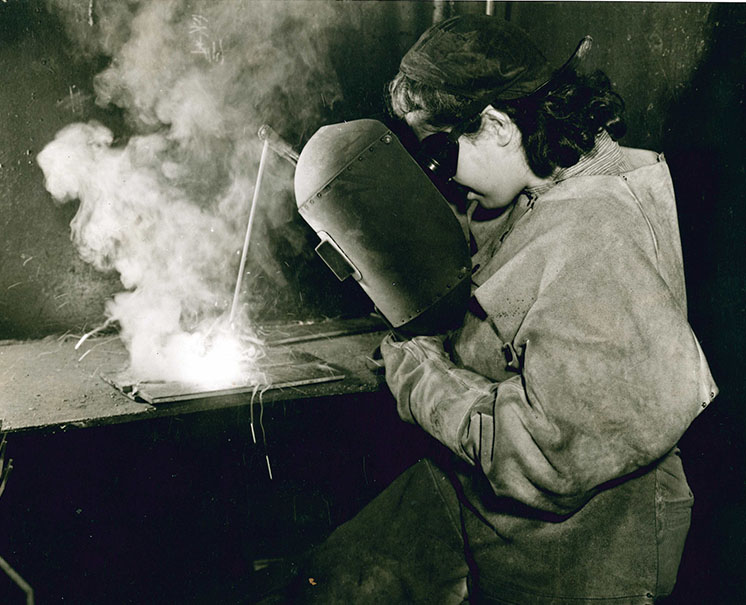 Photographs of women in the workforce from the Records of the War Manpower Commission, 1936–51
Photographs follow women throughout their work day; women were photographed posing for identification photographs and learning about proper attire, as well as working and relaxing with coworkers.
Image: NAID 192810653
Question of the Week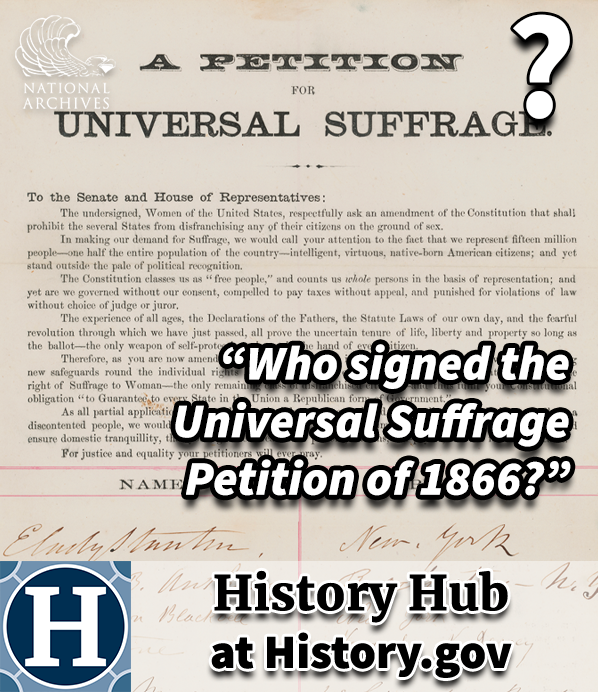 "Where can I find the names of everyone who signed the Universal Suffrage Petition of 1866?"
See the answer to our Question of the Week on History Hub, our crowdsourced platform for history and genealogical research where anyone can ask questions and get answers from archivists and other community members.
Stop by the History Hub and check out more questions about a variety of subjects. Register and get started on History Hub.
Featured Exhibit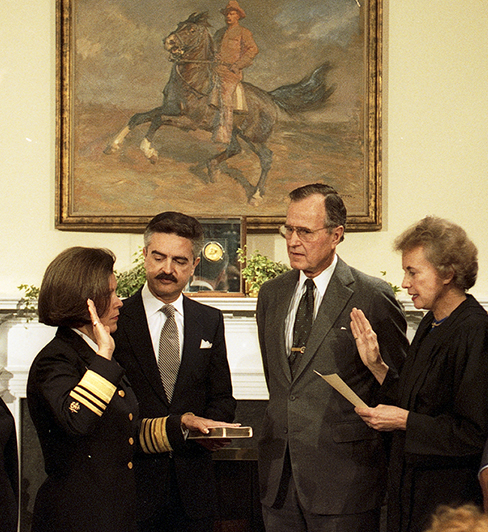 On March 9, 1990, Dr. Antonia Novello became the first woman and Hispanic person to serve as Surgeon General of the United States. To Americans today, the Surgeon General is the "nation's doctor," but it was originally a very different job. Visit the Featured Document 150 Years of the Surgeon General to learn about Dr. Novello's historic appointment.
GIPHY Women's History Collection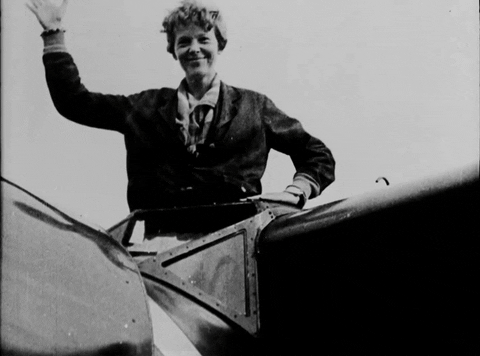 Have you seen our Women's History collection on GIPHY?Find historic footage of suffrage marchers, women contributing to the war effort, famous pioneering women, and more!
It's just one of several new GIF collections in the National Archives' GIPHY channel, which just surpassed 3 billion cumulative views!
Education Spotlight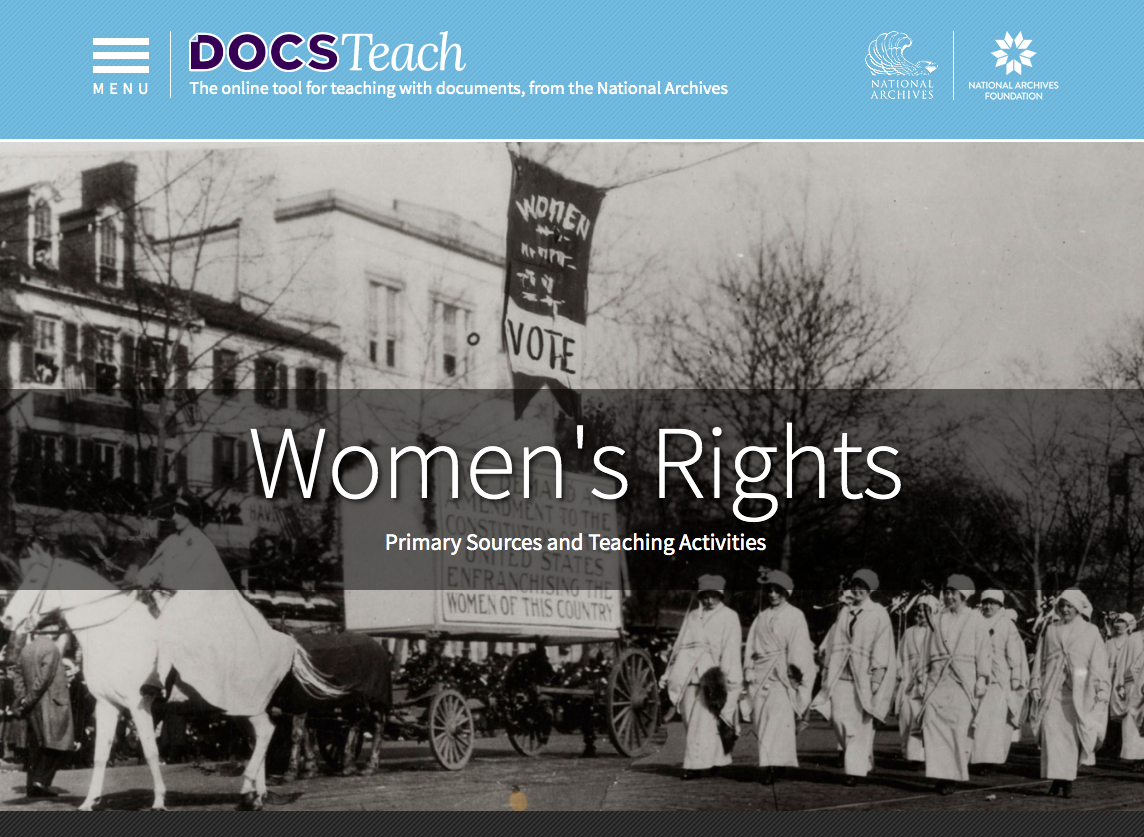 Find primary sources and document-based teaching activities related to women's rights and changing roles in American history on DocsTeach, the online tool for teaching with documents from the National Archives.
Visit our Women's Rights page for topics like women's suffrage, the ERA, women in the workforce, and more!
Public Program
From December 6, 2018, here is "Women and the Vote: Opposition to Women's Equality, from Suffrage to the ERA." The panel, which explored how the feminist movement has been shaped and changed by the systems, institutions, and individuals working against women's equality, included Elaine Weiss, author of The Woman's Hour; Marjorie J. Spruill, author of Divided We Stand; and Carol Robles-Román, Co-President and CEO of the ERA Coalition.
Virtual Pajama Party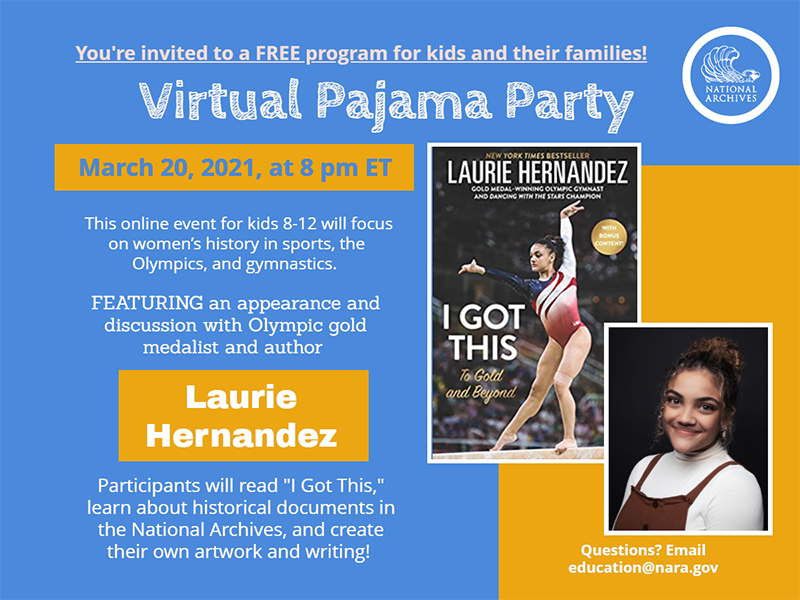 This free online event for kids aged 8–12 and their families will focus on women in sports, the Olympics, and gymnastics, featuring a special appearance by Olympic gymnastics gold medalist and author Laurie Hernandez. Participants will read I Got This: To Gold and Beyond, learn about historical documents in the National Archives, create their own artwork and writing, and participate in fun activities. Register here.
Gerald R. Ford Presidential Library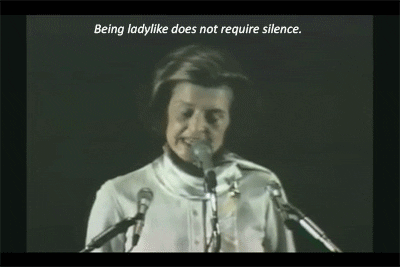 During the 1970s, debate over women's economic and civil rights, social role, and political power became a more prominent part of the public agenda. Visit the Gerald R. Ford Presidential Library's digitized resources page on women's rights to read Betty Ford's full speech from the Greater Cleveland International Women's Year Conference of 1975 and more.
Research Services
In October 1908, 20nurses reported for duty at the Naval Medical School Hospital in Washington, DC, officially becoming the first members of the U.S. Navy Nurse Corps. The Navy was the first branch of the U.S. military to formally admit women into their ranks; however, this opportunity was not open to all. Learn more in this blog post.
Image: NAID 520618
MoPix Video Selection
It's Your War, Too is a short film about the Women's Army Corps (WAC) during World War II. Created in 1944, it is part of a series of documentary films produced by the US Army Signal Corps. Read more about this film and others that spotlight women in the military, in NARA's Unwritten Record blog here, here, and here.
Visit the Online Store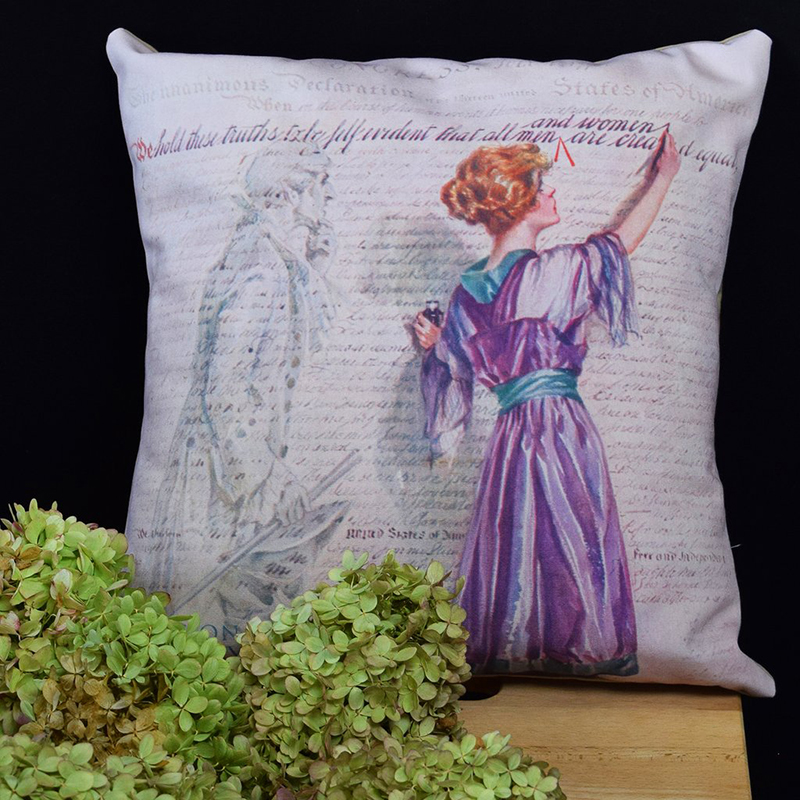 Commemorate the ladies of a movement that pushed forward in the fight for women's suffrage and beyond.
The Rightfully Hers collection from the National Archives Store is full of fun gifts and collectibles that celebrate these influential women, from Susan B. Anthony to Rosa Parks and more.